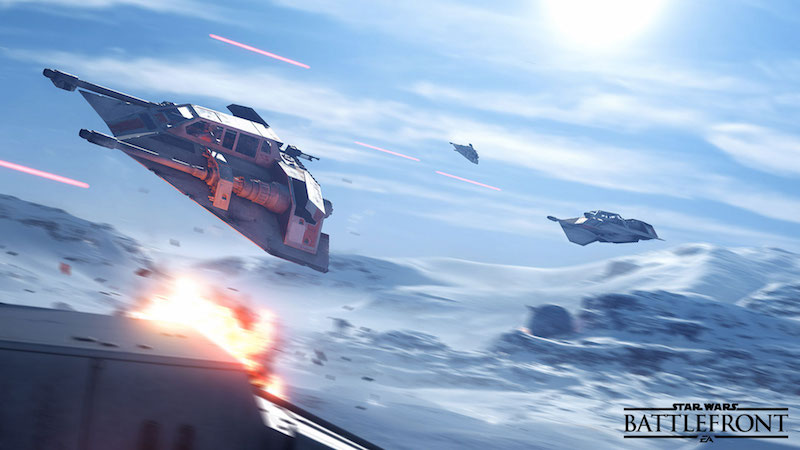 Much like Destiny, Call of Duty: Black Ops 3, Halo 5, and Titanfall, Star Wars Battlefront is receiving a beta. While the aforementioned titles had their betas revolving around multiplayer alone, things will be a bit different with Star Wars Battlefront.
"The beta will consist of both our offline and online modes including co-op and split-screen co-op, and it will take place on PlayStation 4, Xbox One, and via Origin for PC," said Mathew Everett, Community Manager for the game in a post on the game's official site.
(Also see:Star Wars: Aftermath Follows 'Jedi', But Doesn't Connect to 'Awakens')
Aside from a beta for those looking to play offline being a welcome turn of events, Everett also confirmed that it will be open to everyone. Usually, access to most betas involves an annoying process akin to acquiring an invite to buying a OnePlus 2. With Star Wars Battlefront, you can be rest assured this will not be the case.
"Well, we're excited to say that the beta is open to everyone! Get ready for the beta release date and also make sure your system is ready to download the beta the moment it goes live. Keep your eyes peeled for myself and many other developers during the live beta as we have some cool stuff planned," Everett said.
(Also see:Star Wars Battlefront Beta Will Let You Play as Darth Vader)
The beta will have multiplayer matches on the iconic ice planet, Hoth, while the offline component takes place on Tatooine. Called Survival Mission mode, it will also let you play with a friend on the same console or online if you so choose.
With Star Wars Battlefront out on November 20 and Star Wars: The Force Awakens movie out in December, coupled with the recently released smartphone game and toys, Star Wars fans have a lot to look forward to.
["source-gadgets.ndtv"]