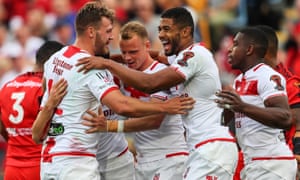 Wayne Bennett has admitted England have a lot of work to do if they are to beat Australia in Brisbane on Saturday and become the first British side since Great Britain in 1972 to win the World Cup.
After England were almost eliminated in the final seconds when Andrew Fifita was controversially adjudged to have knocked on, Bennett was asked if they were playing well enough to win the final against the favourites. Bennett, as deadpan as ever, said: "Probably not. But we'll still go to the game." The England coach was also quick to try to cool any talk over the last-gasp play, which Tonga felt should have been referred to the video referee.
Fifita eventually touched down after a hand from England's Elliott Whitehead forced the ball loose and Tonga felt play should have been allowed to continue. Bennett, however, disagreed, saying: "Why didn't he give us a penalty when the ball got stripped from [Jermaine] McGillvary [a minute earlier]? It's the same thing."
is Tongan counterpart, Kristian Woolf, disagreed with Bennett, questioning why the decision was not referred to the video referee given the timing and importance of the decision. "I would have thought in those circumstances, there is no way you don't have a look at what happened at the end," he said. "I don't know if we were robbed, I just cannot believe we don't have a look at that. You look at other tries 10 or 12 times and you don't look at that? How do we not go back and look at that last play?"
Bennett was in no doubt why England went through. "They had some chances but we kept turning up in defence, which was great. At the end of the day, our defence won the game for us."
Woolf agreed and went on to suggest that England could trouble Australia, although the drama in Auckland on Saturday may have an effect. "Australia were outstanding against Fiji, they're going to be hard to beat, they always are. I'd certainly like to think England could make it a real contest.
"England are going to struggle to get over our game to be honest. We've taken a fair bit of energy out of them. It was certainly very physical and they're going to wake up sore."
Bennett has at least two worries for the final, most notably concerning the quadriceps injury of his captain, Sean O'Loughlin. There is also a doubt over the hooker Josh Hodgson, who suffered a knee injury and did not come back after leaving the field in the first half.
source:-the guardian