An Olympic long-distance runner achieves faster speeds than any our vehicles do in an Indian metro, taxi aggregator Ola's research data derived out of its vehicular fleet reveals.
Ola has extrapolated data collected over the last six months on city transportation patterns across the country to reveal the seven worst traffic bottlenecks in the country.
Between 9am and 12 noon, when most people travel to their offices, the average speed remains at 19kmph Ola said. The lowest average speed stands at just 18kmph, when commuters return home, between 6pm and 9pm. The best time to travel is between 3am and 6am, when the top average speed of Indian traffic is 33kmph.
Across the seven metros, the worst traffic bottlenecks are faced in Domulur and Silk Board in Bengaluru, Park Street and Shyambazaar in Kolkata, Charminar in Hyderabad, and Powai and Saki Naka in Mumbai.
The fastest average vehicular movement across the top seven metros is witnessed in Delhi and Pune, with an average speed of 23kmph – slower than Ethiopian long distance runner Kenenisa Bekele's 5,000 metre run in 2004.
Chennai, Mumbai, and Hyderabad have average speeds of 21, 20 and 19kmph respectively, while Bengaluru and Kolkata have the slowest average speeds, at 18 and 17kmph respectively.
Ola's vehicle fleet, present across a hundred cities, relays rich data in real-time, helping it demand and plan inventory better, said Pranay Jivrajka, COO at Ola.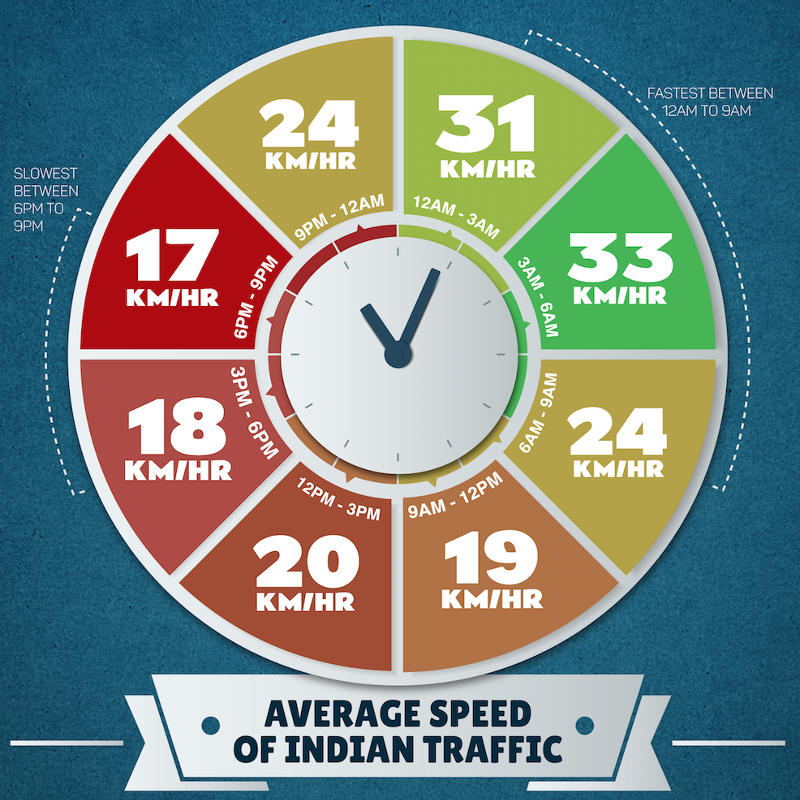 Ola Insights can be useful in addressing important issues like de-congestion, urban planning, and traffic management, he added.
"We are working with the government at multiple levels to put this rich data to use over the long term for improving the state of mobility in the cities we live in."
Ola had recently launched its 'CarPool' feature in Delhi NCR, enabling citizens to pool rides using their private cars through the mobile app.
["source-gadgets.ndtv"]