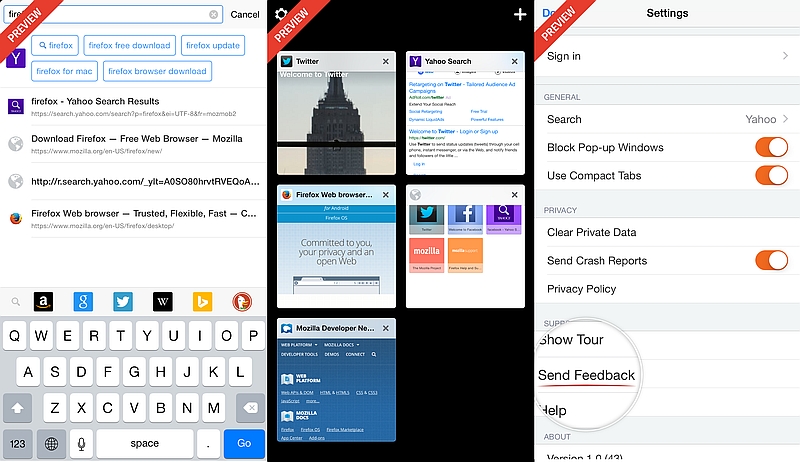 Back in December Lukas Blakk, Mozilla Firefox's Release Manager, confirmed that Firefox will reach the iOS platform. Following the confirmation, the company in May this year conducted a limited beta test for Firefox on iOS, and finally released its first public preview this week.
Mozilla has released the public preview to iOS users in New Zealand in order to get some user feedback. "Our goal is to create a great browsing experience for iOS with Firefox. With this first public preview we will be collecting feedback in one country, before we extend availability to get feedback in a few more countries prior to a full public launch," the firm said in its blog post.
It added that it is collecting user feedback on select features – Firefox Account, Search and Visual Tabs. Using Firefox Accounts users can get access to their Firefox browser history, passwords and tabs from desktop to iOS. The Visual Tabs are to let users easily keep track of their opened tabs.
Users would be able to directly send the feedback to Mozilla via the app. They would have to tap the numeric tab icon on the top right of the app, go to "Settings" followed by "Support" and send the feedback. Interested users can sign up to get notified when Firefox reaches their country.
Mozilla last month announced that it will be possible to run Chrome and Opera extensions in Firefox. Chief among a fleet of changes in Firefox is the replacement of its extension API with a new one called WebExtension. The firm also added new security features in to the private browsing mode of its Firefox Web browser.
["source-gadgets.ndtv"]