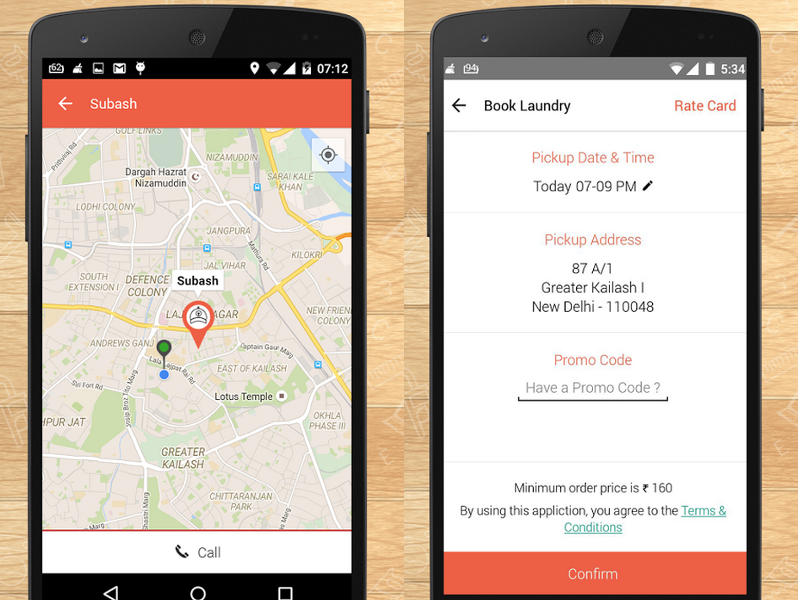 Operational for 100 days in the Delhi-NCR region, Tooler is a bootstrapped startup with an Android app and a web-based reservation system for five services – laundry, dry-cleaning, plumber, carpenter, electrician.
Tooler was founded by Himanshu Arora, Vishal Gupta, Sukanth Srivastav, who collectively have over eight years of experience in product management, product integration, app development and design.
Sukanth Srivastav, Co-Founder at Tooler, who handles the product, marketing, and operations, said the firm has a different model from Uber on its app, operating on a full stack model in which it manages the entire user experience.
"There are many others who do Uber for home services, they just connect you to people," Srivastav said, adding that Tooler's full stack model makes it a much more secure and transaction-friendly platform.
Srivastav said that the full stack model allows it to provide a standardised user experience like Oyo Rooms. "If I outsource my logistics, then I have no control over when to pick up, and when not to pick up," he said. The firm plans to launch an overnight delivery soon, and launch its app for the iPhone next month.
While the website has a functional Web front-end, Srivastav said that the firm is more focused on the app experience, as makes the service available all the time, makes it promotional, and provides more information on a user.
In the company pitch deck, the founders said they want Tooler to be the next on-demand 'Washio' of the capital. One of the tent pole features of Tooler is its laundry service, which forms over a third of its transactions.
Tooler works with laundromats who wash the clothes, choosing from vendors who are good enough to handle their load, adding a technical system if they need one, to tag, match, and bar-code laundry items.
Some of the other Indian players in the home services marketplace include Mumbai-based Justdial, Bengaluru-based Localoye and Housejoy, Gurgaon-based Near, and Delhi-based Urbanclap, Goodservice, and Noida-based Mr. Right.
According to startup data tracker Tracxn, two notable mobile-first home services marketplace startups have had funding activity this year – Mumbai-based Doormint raised $3 million (roughly Rs. 20 crores) in funding, while Taskbob raised $1.28 million (roughly Rs. 8.5 crores). Pickmylaundry raised a seed funding round in late August.
(Also Read: Is There a Market for 'Uber for Handymen' in India? These Startups Think So)
Srivastav said that Tooler did over a 1,000 transactions last month, and that the laundry service has a monthly repeat percentage of 80. Bookings can be made on the website and the app on Google Play, which has around 2,000 downloads and a rating of 4.3.
["source-gadgets.ndtv"]