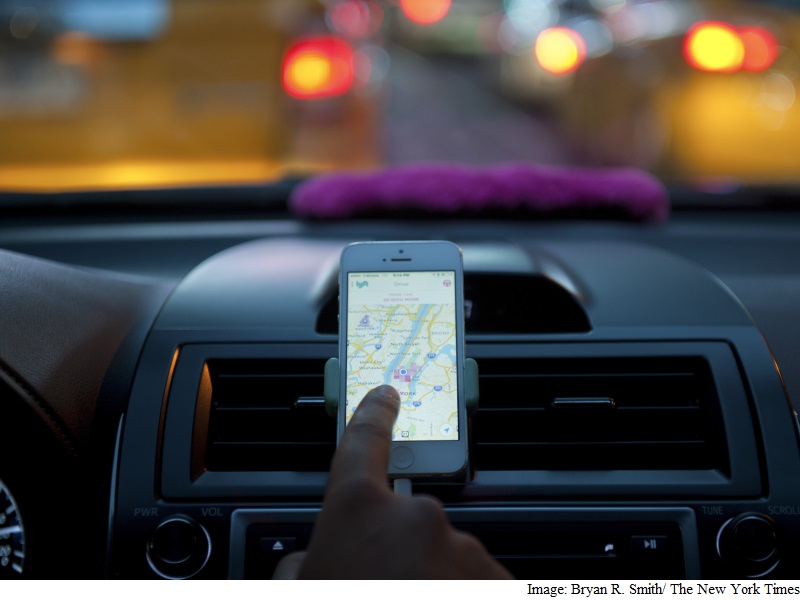 The pink mustache is coming to China. And it will receive a warm welcome – not a snub – from its new hosts.
Lyft, the San Francisco-based ride-hailing startup that has its drivers affix a striking pink mustache logo to their cars, announced a partnership with Didi Kuaidi, China's pre-eminent ride-hailing company, that will allow the US company to operate in China for the first time. The cross-border deal will also let Didi Kuaidi operate in the United States.
The partnership between the two companies is perhaps the clearest sign yet of the race to conquer different parts of the world in the global ride-hailing industry. The handful of major companies in the business of providing car rides have raised giant sums of money – some into the billions of dollars – and are using the money to open in new markets and release new product offerings.
The French ride-hailing service BlaBlaCar also said on Wednesday that it had raised $200 million (roughly Rs. 1,323 crores), primarily from United States investors, which valued the company at $1.6 billion (roughly Rs. 10,590 crores).
Nearly all of these companies have their eye on Uber, the huge on-demand ride company that has raised more than $7 billion (roughly Rs. 46,331 crores) in venture capital and is valued at more than $50 billion (roughly Rs. 3,30,941 crores). Over the last five years, Uber has exploded in growth to more than 300 cities across 60 countries.
China, in particular, has recently been a hotbed of contention and competition for ride-hailing startups. Uber has earmarked more than $1 billion (roughly Rs. 6,619 crores) for its aggressive push into Asia – and particularly China – and is spending millions in subsidies to attract drivers and riders to its service with lucrative promotions. Still, Uber's presence in China is dwarfed by that of Didi Kuaidi, which controls 80 percent of the overall ride-hailing market in China.
Lyft's partnership with Didi Kuaidi offers a somewhat novel approach to international expansion. Didi Kuaidi, which comprises China's two largest ride-hailing startups, will let Lyft users from the United States find rides in China using the Lyft app. Didi Kuaidi will fulfill those ride requests using its drivers, while Lyft users will not have to leave the app to download or sign up for any new services.
Didi Kuaidi will have much the same agreement with Lyft for its users. Chinese users entering the United States can find a ride using the Didi Kuaidi app, with those rides being fulfilled by Lyft.
"For Lyft, this is the best possible way for the US population to enter into China and find a ride," John Zimmer, co-founder and president of Lyft, said in an interview. "If I'm an American traveling to China, I can land in Beijing, step off the plane and have the best coverage possible to find a ride."
Jean Liu, the president of Didi Kuaidi, said the partnership heralded a new era for the ride-hailing app industry.
"When we work together, we will be able to push the evolution of this industry to the next level," Liu said at a press event in Manhattan on Wednesday.
Among other things, Liu said that the two companies planned to collaborate on product development. For instance, her company recently introduced a social ride-sharing service called Hitch, where drivers can choose to pick up a passenger with common interests and headed in the same direction, and they split the fuel cost.
"I think Hitch is a very interesting product," she said. "I'm sure people here will love it as well."
The idea transfer goes both ways. Allen Zhu, managing director of GSR Ventures, an investor in Didi Kuaidi, said the Chinese app was already incorporating ideas from Lyft. When users in the United States want a ride from Lyft Line, the app's car pool service, the app directs them to the nearest pickup location, called a HotSpot.
"We are adopting this HotSpot concept as well," Zhu said.
For Lyft, a partnership with a local operator like Didi Kuaidi could also help it sidestep some difficulties that an American company entering a foreign market may encounter.
"When we look at a market like China, there are various complexities, including local cultural differences," Zimmer said. "Didi Kuaidi is the only player that has coverage in all cities."
Uber has faced significant pushback from some regional governmental bodies in Europe and elsewhere. In China, it has faced off against the Ministry of Transport, which has tightened its restrictions on ride-hailing apps operating inside the country. In May, an Uber office in Southern China was raided by authorities as part of a broader crackdown on ride-hailing apps.
Zimmer would not discuss the financial terms of the agreement, nor did he say whether Lyft would pay Didi Kuaidi for any rides fulfilled by the latter company.
Both companies certainly have financial skin in the game. Lyft said Didi Kuaidi had invested $100 million (roughly Rs. 661 crores)  in it in a round of financing completed in March. Among the participants were Carl C. Icahn, the hedge fund manager, and Rakuten, Alibaba and Tencent. That round valued Lyft at $2.5 billion (roughly Rs. 16,553 crores). The company operates in more than 60 cities in the United States and has long expressed caution about moving outside the country.
Last week, Didi Kuaidi said it had raised $3 billion (roughly Rs. 19,863 crores) in a new round of financing, led by investors including the China Investment Corp., the Capital International Private Equity Fund and Ping An Ventures.
When it announced the new financing, Didi Kuaidi said its service aided 99 percent of taxi rides hailed by mobile phones in China every day, adding up to 3 million rides a day, and 80 percent of private car rides, or another 3 million rides in those cars.
The partnership comes with trade-offs. Lyft passengers will not see any Lyft branding on the Didi Kuaidi cars in China – including its famous pink mustache – nor will the Didi Kuaidi passengers see any Didi Kuaidi branding inside Lyft cars in the United States. Since the deal allows each company an easier passage into the other's country, that may lead to a competitive threat in the future.
In the last year, however, intensified global competition has created many strange bedfellows of companies that were once fierce competitors. Didi Kuaidi was born when the ride-hailing services Didi Dache and Kuaidi Dache, both of which were spending enormous sums of money trying to outmaneuver the other, merged. Tencent, Alibaba and Rakuten, all of which are Lyft investors, regularly compete in the Asian e-commerce and Internet industries.
It is not clear how many Americans entering China use ride-sharing services, and it is similarly unclear how many Chinese wish to use US ride-sharing apps.
Lyft and Didi Kuaidi believe that the market opportunity is growing. Lyft pointed to the more than 5.6 million Americans who visited China in 2014, citing a report from the National Travel and Tourism Office, a part of the US Department of Commerce. More than 2.1 million Chinese visited the United States last year, another report said.
["source-gadgets.ndtv"]