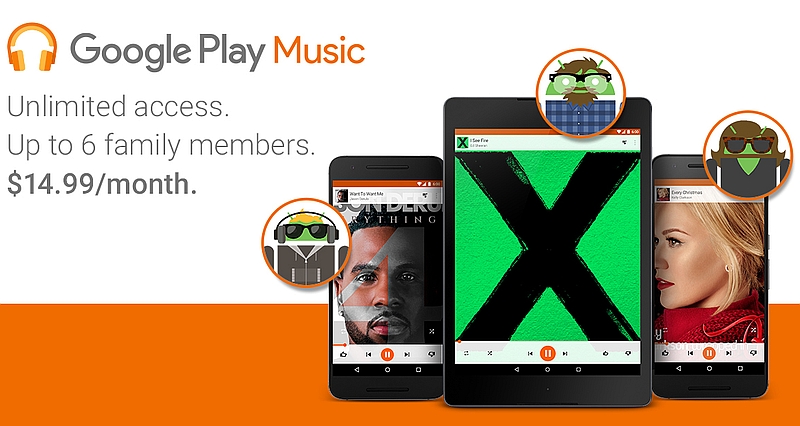 Google in September this year unveiled the family plan for its Google Play Music All Access service. The company on Wednesday announced that the service will finally start rolling out in the "coming days".
The Google Play Music family plan will initially be available in the US, the UK, Canada, Australia, France, and Germany, with more countries "coming soon". The feature will first reach Android devices, followed by iOS and Web.
The search giant in September announced that it is introducing a family plan for its music streamingGoogle Play Music All Access subscription. The family plan is for up to six users, with each using their own ID, priced at $14.99 (roughly Rs. 1,000) per month.
The company says that by subscribing to the plan, users will unlock the same features that are included in the individual subscriptions, including ad free, unlimited access to more than 35 million songs. It will also allow each family member to stream simultaneously on any device. In addition, the Google Play Music Family Plan will also give users access to YouTube Red in the US.
Apple Music's family plan is also priced at $14.99 in the US. The family plan on Spotify, however, ranges between $14.99 and $29.99, depending on the number of users. The $14.99 tier allows you to add up to two accounts.
Available in over 58 countries on Android and iOS platforms, Google Play Music All Access allows users to stream songs using over a Web interface as well. It's worth pointing out that Google Play Music All Access isn't available in India as of yet. Perhaps it's not going to happen soon enough as Google will have to partner with many local giants to get rights to get their songs on its service. It will also have to compete with many music streaming services in the country already offering extremely competitive plans.
["source-gadgets.ndtv"]