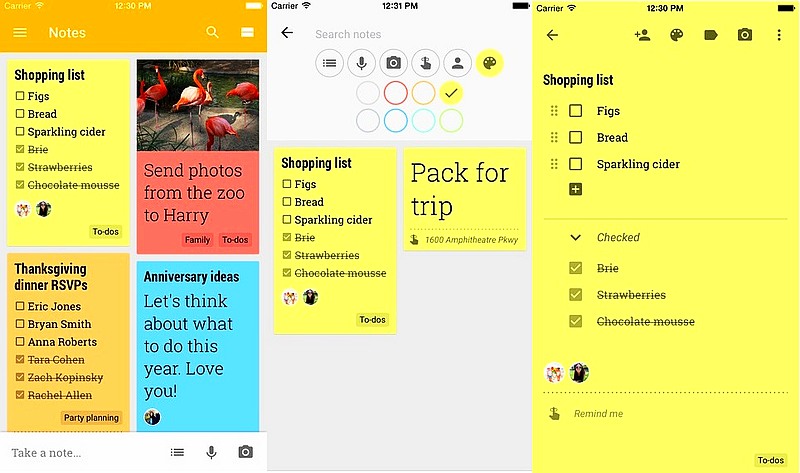 Google on Thursday finally brought its popular note-taking app Google Keep to Apple's iOS platform. The app appears to come with all the same features seen in its Web and Android counterparts.
Google Keep for iOS lets users make lists, notes, and also record voice memos. Users can categorise these based with colours, types (images, audio or text) and labels, making it easier to search and filter. Setting up date and location-based note reminders, as well as sharing notes with other users (across supported platforms) for real-time collaboration, is also possible. Besides these features, Google Keep for iOS can also enable users to automatically transcribe voice memos. They can even grab the text from an image to help quickly find the note again through search.
Google Keep v1.0.4 for iOS weighs 28MB, is compatible with iOS 8 and later OS versions, and is already available to download from the App Store. The app sticks with Google's Material Design theme, which might be a turn off for some on Apple's platform.
Since the iOS platform already has other popular note-taking apps such as OneNote and Evernote, it might be difficult for Google Keep to gain traction as it has arrived late. In addition, the Notes app, which comes pre-installed in iOS devices, recently received a major update.
It is worth mentioning that Google introduced the Keep note-making app for Android and Web users back in March 2013. The company in 2014 brought it to Android Wear. We are yet to see the app arriving on Windows platform.
Google seems to have shifted its focus towards apps recently. Besides updating its Google Clock and Gmail apps with new features for Android, it also updated Google Wallet for iOS earlier this month. Google Search app with 'Now on Tap' feature also rolled out this month to Android M developer preview users.
["source-gadgets.ndtv"]