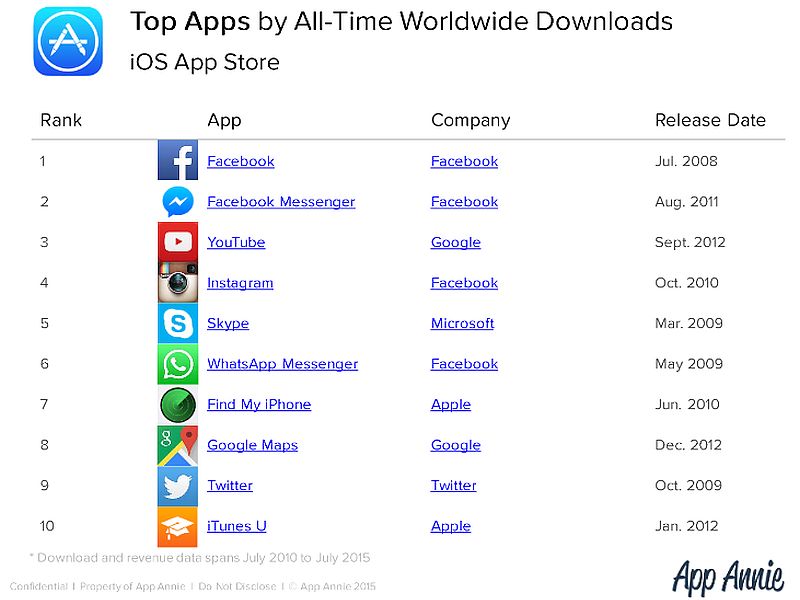 According to the latest report by app ranking and analytics experts App Annie, Facebook, Google, and Apple dominated the top apps of all time list. The latest report also claims that the Candy Crush Saga and Clash of Clans were the most downloaded and the highest revenue generator games respectively.
App Annie has come out with a list of apps that topped the Apple App Store downloads and who were the top revenue collectors in 5 years. The new data comes out just a week before Apple's anticipated keynote event on September 9 where the company is likely to launch its new iPhone models alongside showcasing other products.
"We calculated iOS' top-downloaded and top-grossing apps (split by games and apps excluding games) since we activated our trackers in July 2010," said the new App Annie report. It also includes recent usage data showing which of these top apps are still widely used today.
The report titled "The Most Popular iPhone and iPad Apps of All Time" includes top games list (download), top games (revenue), top apps (downloaded), and top apps (revenue).
The top games by all-time worldwide downloads list shows that Candy Crush Saga, Fruit Ninja, Angry Birds, and Subway Surfers were the top apps downloaded. In terms of revenue, the Clash of Clans topped the list. It was followed by Candy Crush Saga and Puzzle and Dragons next.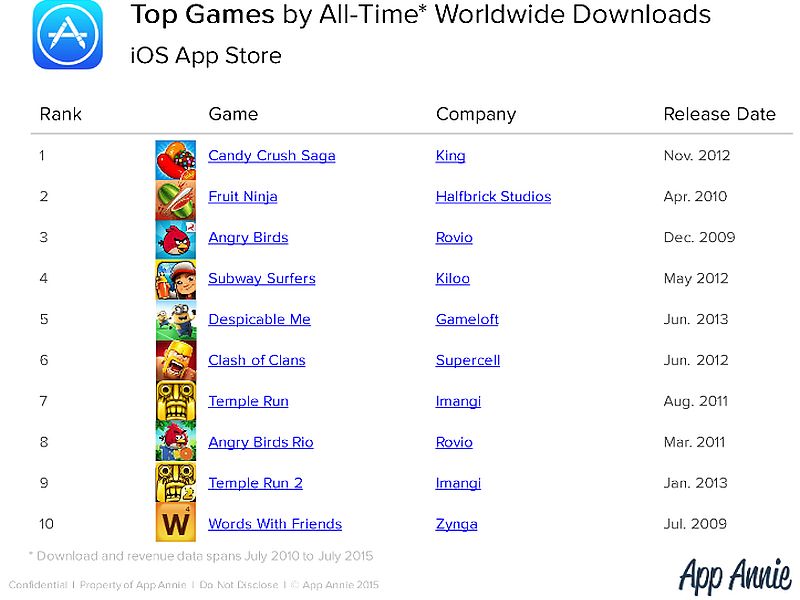 The report added that casual gaming dominated comprising 9 of the 10 ranks. The Candy Crush Saga and Clash of Clans were the only two games that topped both downloaded and revenue lists.
In apps, Facebook edged past Google and Apple with four apps in top 10 list of downloaded apps. Facebook was the top downloaded app followed by its standalone Messenger app. Google's YouTube stood at third and Maps was eighth. Instagram and WhatsApp (both now owned by Facebook) were fourth and sixth respectively. Apple's Find My iPhone was ranked seventh while the iTunes U app was at tenth position. Microsoft's Skype was the fifth most downloaded app while Twitter stood a ninth rank.
The report pointed out that for all 10 apps, the US lead in downloads.
Pandora Radio topped the list of top apps by all-time worldwide revenue in App Store. It was followed by Line and Zoosk. Popular Spotify app stood at fifth while Skype was at seventh position. The report added that Pandora Radio's position was largely driven by the US which is said to contribute all of its revenues. Skype was the only app that appeared on both top download and top revenue grossing app list.
Some of the key takeaways from the report noted that the top-grossing iOS apps were mostly entertainment and dating.
["source-gadgets.ndtv"]