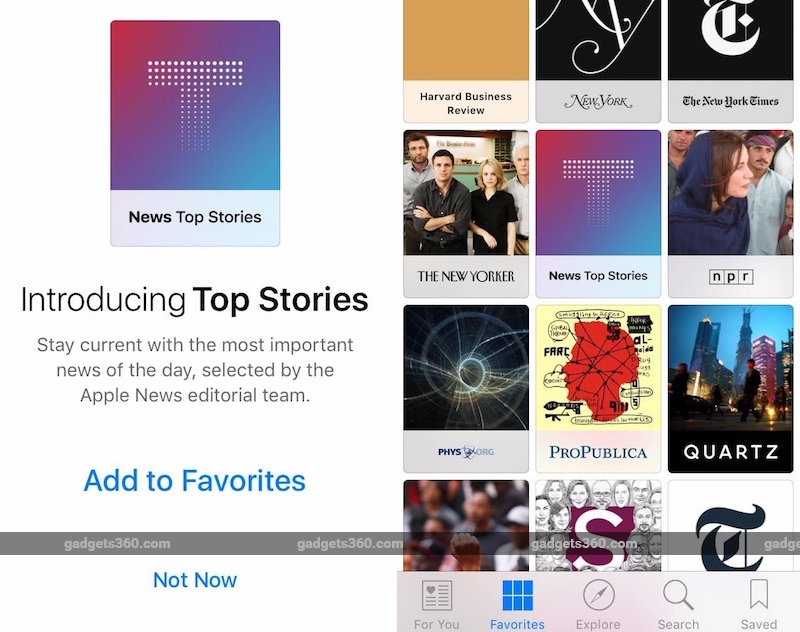 Apple is getting more serious about its News app. What was launched as a personalised newsreader app, now also showcases stories curated by human editors. The company is also integrating comScore, a Web-traffic counter to help publishers get more accurate numbers for the views their content generates on the app. The changes come with iOS 9.2, released on Tuesday.
Apple News, which comes as part of iOS 9 in select regions, now features a list of "top stories" curated by Apple's editors. These stories are set to appear in the app a couple of times a day. It isn't a distinctive attraction as a handful of other newsreader apps such as Flipboard also rely on human editors to curate news, but it's a step away from the company's announcement in September, in which it noted that the app will highlight stories based on its user's reading behaviour and taste.
As with any service that relies on human editors to curate stories, Apple News will also be investigated closely by many to see whether the company offers an unbiased, broad coverage of every major tech development, including of its rivals.
The other major addition to Apple News with iOS 9.2 is that it now integrates comScore. This is a welcome move, as many publishers weren't exactly sure about the traffic the stories that they publish on Apple News were generating. Many publishers had noted that the data Apple was providing to them was essentially "non-existent." Some said that the traffic they were receiving was "underwhelming."
On a side note, it's an alarming time for publishers to pick or stick to a platform to serve content to their readers. Apple isn't the only player that is offering a lucrative 100 percent cut or 70 percent cut on the ads it sells to publishers. Facebook too offers a similar platform to the publishers with its Instant Articles.
["source-gadgets.ndtv"]