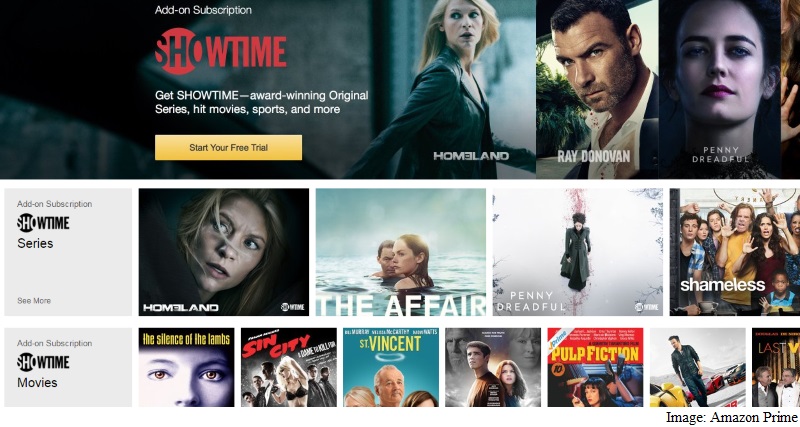 Amazon seriously beefed up its video offerings Tuesday, announcing that users will be able to add subscriptions for Showtime, AMC, Starz and other networks to their existing Amazon Prime subscriptions.
Through the company's new "Streaming Partners Program," Prime customers will be able to add the cost of channel subscriptions to the annual $99 (roughly Rs. 6,620) bill they already pay – a program that grants them access to streaming video and waives fees for two-day shipping, among other extras such as unlimited photo storage. (Amazon chief executive Jeffrey P. Bezos is also the owner of The Washington Post.)
That could simplify billing for cord-cutters who are tired of keeping track of multiple streaming accounts – Amazon handles sign-in and billing for all the services. And while it will add to existing bills overall, Amazon is able to offer users discounted rates. For example, an add-on subscription to Showtime costs Amazon users $9 (roughly Rs. 600) per month instead of the normal $11 (roughly Rs. 735) per month.
The program, in some ways, mirrors a similar offer from Hulu, which also lets users add in a subscription to Showtime for an additional $9 per month. But the big difference with Amazon's program is variety: It's offering all programmers the option to become Prime add-ons, supplementing its own original content and a somewhat anemic catalogue of Prime movies and television shows.
If the partner program succeeds in signing up more big-name players, consumers could theoretically turn to Amazon to become a sort of one-stop shop for content down the line.
Amazon, of course, is not the only company angling to be the master of the living room. In addition toNetflix, Hulu and traditional networks, the company also faces competition from its fellow tech firms. Google's YouTube is a media powerhouse, and the company has invested a lot of effort into making fresh online content that users can stream to their televisions. And Apple, with its new Apple TV set-top box, has loaded the device with video, games and a full app store filled with programs specifically designed for the TV.
The competition has been fierce. Amazon even stopped selling Google's Chromecast and the Apple TVon its site, saying it wouldn't carry devices that lack support for its Amazon Video service. Analysts called that decision a calculated, even anti-consumer move in the name of competition that underscored how badly Amazon wants to win the video wars.
The strategy seems to be working, at least for now. A report released Monday by networking equipment company Sandvine showed that just over 65 percent of broadband Internet use in North America was for entertainment. As usual, the largest chunk of that is Netflix, which accounted for 37 percent of the traffic. Google's YouTube is second, with 18 percent of traffic. Amazon Video is now the third-largest source for video traffic, with 3.1 percent. Last year, the service was eighth.
["source-gadgets.ndtv"]