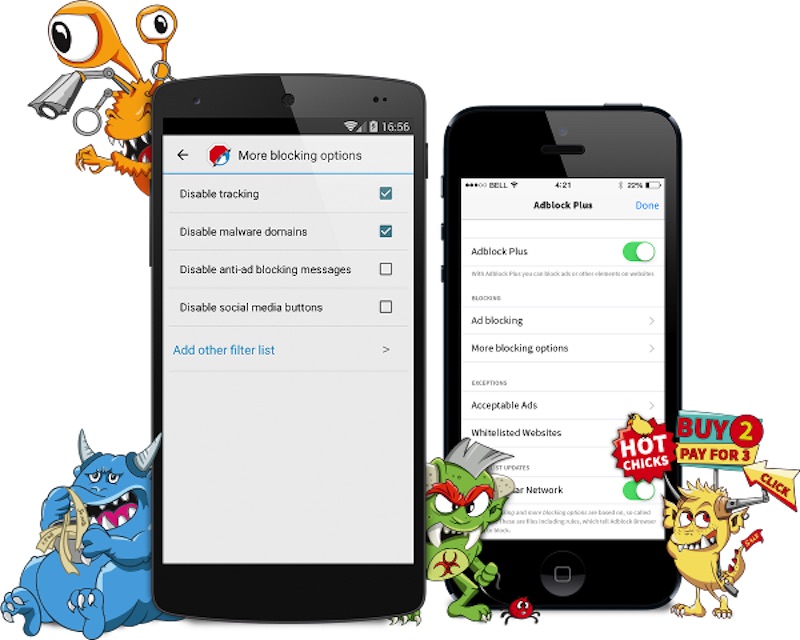 Hours ahead of the Apple's mega-event where it is expected to announce the public availability of iOS 9 which introduces powerful content and ad-blocking capabilities, Adblock, the company which is known for its popular ad -blocking tool Adblock Plus has released its new Web browser by the same name on the App Store (and Google Play).
Adblock Plus is just like any other mobile browser, except that it blocks "annoying ads." There are some other features as well, of course. The company said that Adblock Plus can protect users from malware, and save battery life and mobile data while browsing the Web.
A beta version of the app arrived on Android in May, and was earlier this week updated to version 1.0.0, marking the general release. Adblock Plus has notably previously existed as a standalone ad-blocking tool for the Android platform, but was pulled from Google Play by the search giant in 2013.
It is worth pointing out that similar features have existed on both Android and iOS for years. On Android, apps like Adaway allow a user to block ads, while on Apple too, several ad-blockers exist. But both the operating systems disallow such apps by default. One needs to root an Android device, or jailbreak an Apple device to bypass the built-in security restriction.
The launch time is interesting as much as the app itself. It is happening hours before Apple takes the wraps off the iPhone 6s, and the iPhone 6s Plus (alongside new iPad models and the Apple Watch) at an event later on Wednesday. At the event, the company is expected to announce the public availability of iOS 9, its latest mobile operating system. iOS 9, among other features, introduces support for content blocking extensions and apps, which would help block ads in Safari as well as other browsers and Web views, and all without hampering system performance dramatically – the main problem with other system-level and browser-level ad-blocking tools.
["source-gadgets.ndtv"]