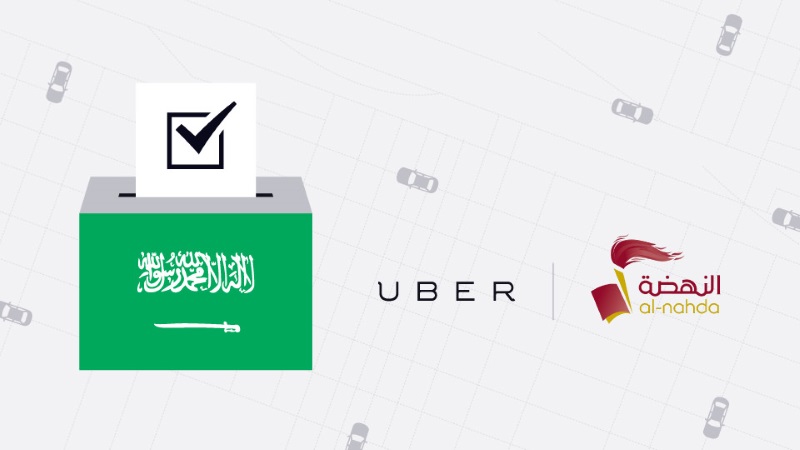 Online taxi-hailing service Uber will give Saudi Arabian women lifts to polling stations for free on Saturday to help boost female participation at the first elections in the deeply conservative Islamic kingdom open to female voters.
Saudi Arabian women are both running for election and voting for the first time in local elections in what is viewed as a pigeon step towards gender equality in the autocratic nation where women are still legally barred from driving.
The free service to take women to vote is a joint effort between US-based tech company Uber and Al-Nahda Philanthropic Society for Women, a Saudi women's empowerment group.
Uber has proved popular with women in the wealthy desert state to get around amid limited public transportation and general unease about the safety of taxis, said Al-Nahda's Chief Executive Rasha Alturki.
"We needed to play a role because we found this really empowering to women," she told the Thomson Reuters Foundation. "With regards to Uber itself … it's good for our cause because it helps women get out and vote."
The initiative is part of a wider campaign by Al-Nahda to get Saudi women to vote and to campaign for gender equality.
Saudi Arabia is the only country that bars women from driving and requires them to have a male "guardian" who can stop them travelling, marrying, working and from some medical procedures.
Saudi Arabia is the last country in the world to allow women to vote except for the Vatican City where male cardinals elect the pope.
Other aspects of the campaign involved turning about 120 women into election trainers to pound the pavements to spread the word about voting registration and a media campaign on social media, billboards, television and radio.
Uber spokesman Shaden Abdellatif said women could have free lifts on Saturday in all areas of the kingdom where Uber operates. Uber operates in more than 300 cities in about 67 countries.
The election is for 284 municipal councils with more than 900 women registered as candidates. The pledge to allow women to take part was made by the late Saudi King Abdullah bin Abdulaziz in response to the Arab spring.
"All cars will be available tomorrow," said Abdellatif.
Rothna Begum, a women's rights researcher for the Middle East and North Africa region at Human Rights Watch, said the political first for women was a small step for greater female political participation in the Arabian peninsula kingdom.
According to election rules, female candidates can be fined if they are caught speaking directly to male voters. Men and women will cast ballots at separate voting centres.
"It continues to happen in the context of wider discrimination against women, particularly the male guardianship system in which women have to, still, require permission for travelling abroad, to marry or to undertake higher education," she said.
But she hoped Uber's offer "hopefully may help towards getting more women to the polling stations".
Among the 6,917 registered candidates for Saturday's election, 979 were women as of Nov. 29, according to Human Rights Watch. Women make up less than 10 percent of the voting pool, the New York-based watchdog said in an online briefing.
Alturki, a self-described avid Uber user, said she would likely not use the car service tomorrow to cast her vote.
"My husband will drive me there," she said.
["source-gadgets.ndtv"]