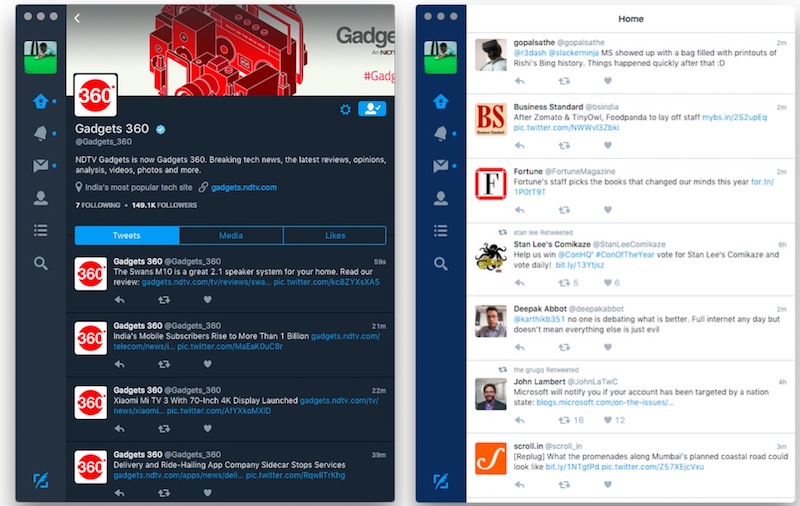 Twitter is finally bringing its official Mac client up to speed with third-party counterparts. In addition to a graphical revamp, the update for the OS X app also adds support for in-line videos and gif images among other features.
Twitter has long been criticised for neglecting its desktop clients, but on Wednesday, the micro-blogging platform changed some of that. The update dubbed version 4.0, brings with it support for several of Twitter features that the Web and mobile clients have added in the past few months. There's also a dark theme option in Twitter for Mac, which many users should find interesting.
These additions include support for group DMs, muting, and the ability to quote a tweet. In addition, Twitter 4.0 for Mac now also has a Today Widget Notification Center, where you can see global trends and highlights.
Not everything works as efficiently as you would like, however. Chatter on the social platform suggests performance issues and repetitive notifications in the app. Also, Twitter app doesn't support Poll feature yet, and there's also no option to scale the app full-screen.
The company didn't make the new Twitter app but instead outsourced the work to a third-party developer called Black Pixel. Jonathan Wight, a former Twitter employee disclosed on Wednesday, The Verge later corroborated it. Black Pixel, for those that don't recall, has also previously worked with the New York Times, ESPN, Starbucks, and other top companies.
This also further reveals that Twitter is no longer interested in making apps for a desktop platform. When a company as large as Twitter goes to another firm for making an app, it goes on suggest where its priorities are. It is worth noting that Twitter doesn't have a desktop app. Windows 8 and Windows 10users can however use a Universal Windows app with the Modern UI.
["source-gadgets.ndtv"]