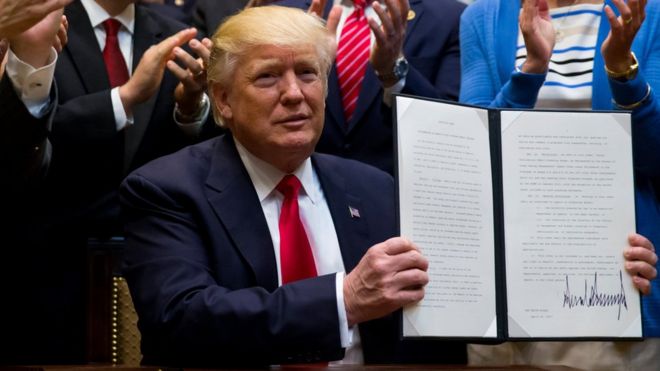 Donald Trump has signed an executive order aimed at reducing restrictions on oil drilling in the Arctic and Atlantic in order to "unleash American energy".
The US president said it would create "thousands and thousands" of jobs, despite a downturn in the oil market.
It could undo a ban put in place by Barack Obamain order to protect swathes of the ocean from development.
But Interior Secretary Ryan Zinke said the decision was better than being held hostage by "foreign entities".
Getting rid of Mr Obama's environmental protections was one of Mr Trump's promises to voters while on the campaign trail.
As he signed the order, called the America-First Offshore Energy Strategy, Mr Trump said: "Our country's blessed with incredible natural resources, including abundant offshore oil and natural gas reserves, but the federal government has kept 94% of these offshore areas closed for exploration and production.
"This deprives our country of potentially thousands and thousands of jobs and billions of dollars in wealth."
Trump scraps Obama's climate change policies
Trump's 'control-alt-delete' on climate change policy
The order instructs the US Department of Interior to come up with a new development plan for all federal waters off US coasts.
It is debatable how much income might be generated by a reversal of Mr Obama's order. Worldwide prices for oil have dropped in recent years, with a review by news agency Reuters finding the amount of money oil companies spent in the central Gulf of Mexico's annual lease sale dropped by more than 75% between 2012 and 2017.
Meanwhile, environmental groups have already said they will challenge Mr Trump.
David Jenkins, president of Conservatives for Responsible Stewardship, a non-profit conservation group, said: "The Trump administration's hasty move today toward expanding offshore oil drilling … defies market realities and is as reckless as it is unnecessary."
["Source-bbc"]