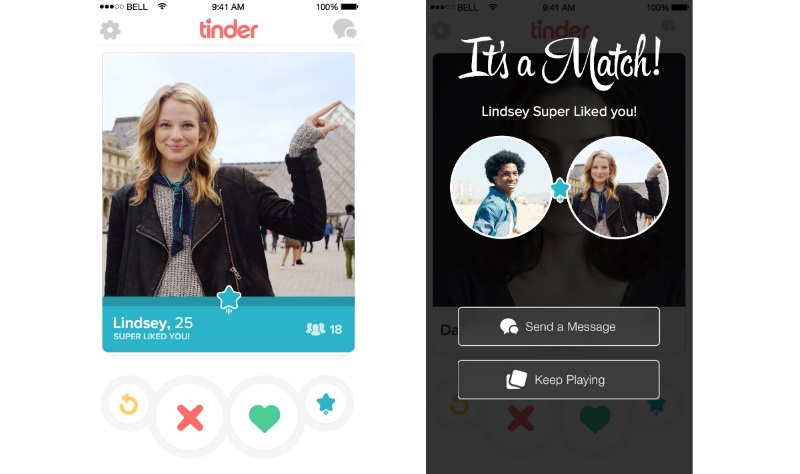 As if swiping left and right was not stressful enough, Tinder has unveiled a third swiping direction: up. Just what does swiping up do, you ask? It lets you 'super like' someone, which is essentially the online dating equivalent of declaring your unconditional love for a complete stranger.
The 'super like' feature comes with certain features of its own. Normally, when you swipe right to like someone on the world's most superficial app where everything is based on appearances, the other person does not find out about this unless they have also swiped right. With 'super like' the recipient of your above-average affection is given the information before they even respond themselves, with a small blue icon appearing on your profile. Maybe they'll find this cute and endearing, and then swipe right, too. Then you can go ahead and get married and live happily ever after.
"I've always said that a match on Tinder is a lot like meeting eyes across the room," said CEO and Co-Founder Sean Rad. "Super Like is more like going up to someone and saying 'hello'." Or it could mean you're in love, but we won't judge.
As per the report by TechCrunch, the 'super like' feature is only being implemented in Australia for now, with a worldwide rollout expected in the coming weeks. Fortunately, there are certain checks in place meant to prevent the new feature from being misused, and to maintain the sanctity of the all-powerful match. Initially, users will be allowed to 'super like' a person only once a day (unless you're a Tinder Plus user), but Rad says that the number may go up based on initial testing.
These measures are being implemented because it has been found that many users simply right-swipe everyone and then decide later who they actually want to talk to based on who has right-swiped them back. We know that this may be hard to believe, but such people actually exist and are ruining the world's favourite mobile dating app.