In a fast-forward era, the social algorithms work in mysterious ways, and there's no certainty that what's a killer piece of content today may still work tomorrow.
However, overseeing social media trends, and adapting to them as quickly as possible is the one thing that can get a boost to your social media strategy, and help you gain competitive advantage.
So, without further ado, let's take a quick look at the most important five social media marketing trends according to data to skyrocket your brand on social in the year to come.
1. A greater interest in TikTok
Wherever we turn our ears these days, we hear about TikTok – the hottest social media platform of the moment.
Since its initial launch, TikTok has rapidly gained the hearts of the digital natives – Millennials, and Gen Z. And so far, it seems to be the social media platform with the fastest growth.
In order to understand TikTok's meteoritic rise, we should mention the milestone discovery the guys from Cloudfare did: that in 2021 TikTok ranked above Google and Facebook as most-visited domains.
Also, according to Insider Intelligence's forecast, in 2022, TikTok is expected to become the world's third-largest social network.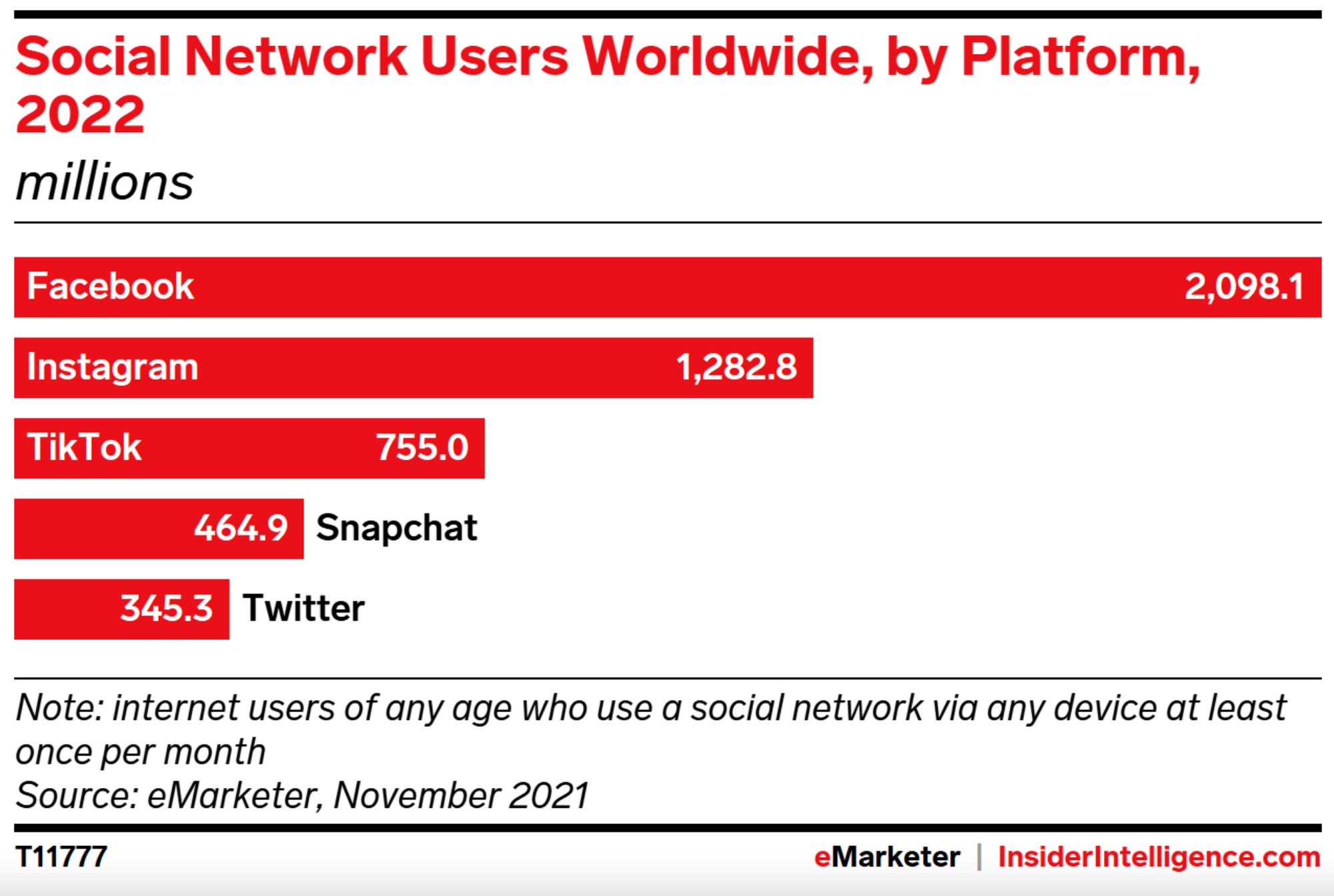 Therefore, more and more brands are expected to join the platform in 2022.
Zoom, for example, launched its TikTok account in 2021, thanks to a constant need that most – if not all brands have had for a very long time: being able to see what and how the online communities are talking about the business.
Melissa – global social media manager at Zoom gave us a most-welcomed tip in an interview for Insider Insights podcast: that you should always try to be where your audiences are.
What you don't know can cost you a great deal if we're talking about marketing.
To emphasize TikTok's importance when talking about the most effective social media trends that you should consider when creating your social strategy for 2022, we must also state a discovery of our own.
When doing a case study to uncover which are the most engaging social media platforms for Christmas marketing campaigns, TikTok ranked number one, with a pretty huge difference from all the other major social media platforms.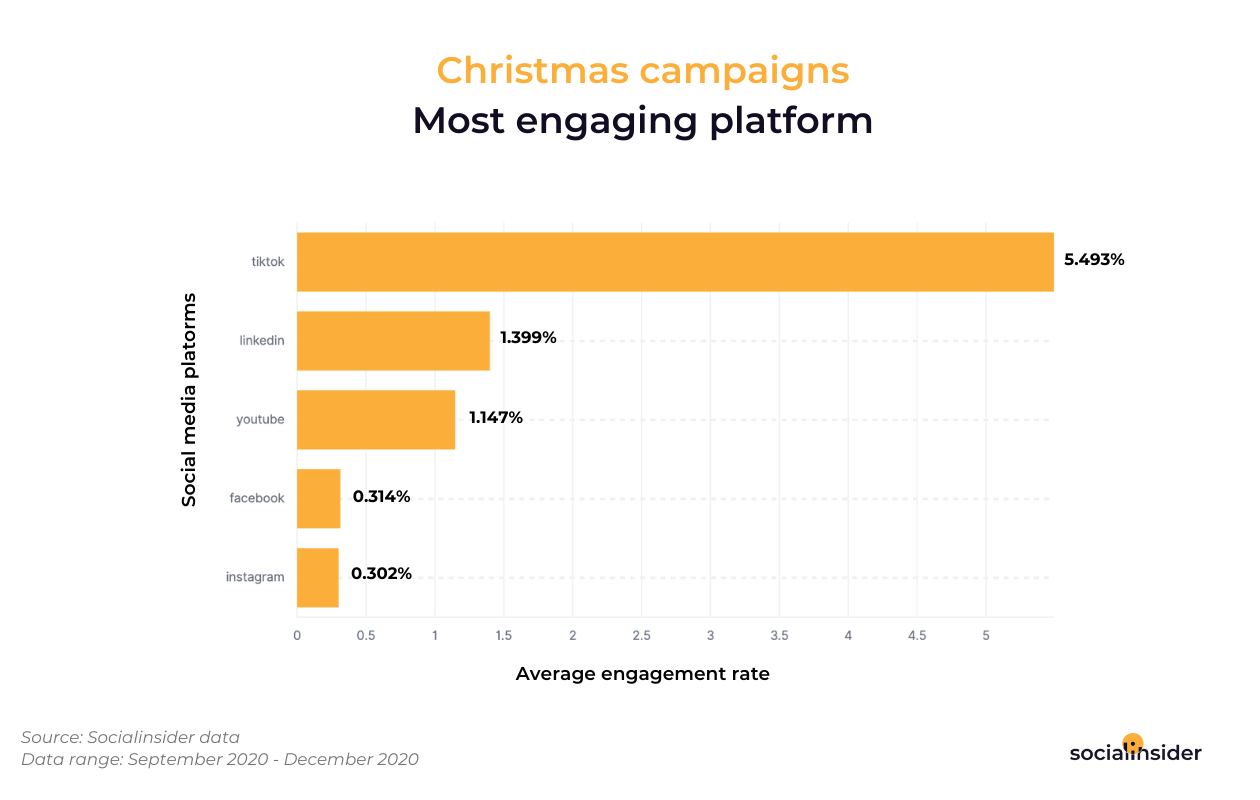 So, by taking a look at all this data, is there any doubt that creating a TikTok marketing strategy is an absolute must for 2022?
The good news is that by keeping up with the current social media trends, the chances of falling behind and letting your competitors take the wheel are pretty low.
Therefore, are you ready to put yourself up to date with the latest social media trends and become a leader in your market?
2. The supremacy of video content
Back to TikTok for a second, the platform must certainly be given some credit for the propulsion of video content among all social media networks.
As Instagram's many new video features have proven, there is no greater push toward innovation than the pressure of overcoming your competitors.
Today, most anything related to trends on social media is about videos.
And truth be told, for generating higher engagement levels on all social platforms, we must recognize its supremacy.
For example, on that thought, Facebook has created a dedicated ad placement for video content – the Video Feed.
This, according to our Facebook and Instagram ads study, has the lowest CPC – $0.13 on average, and the second-highest CTR – 2.05% on average, being the second-best option for paid advertising, coming after the regular feed.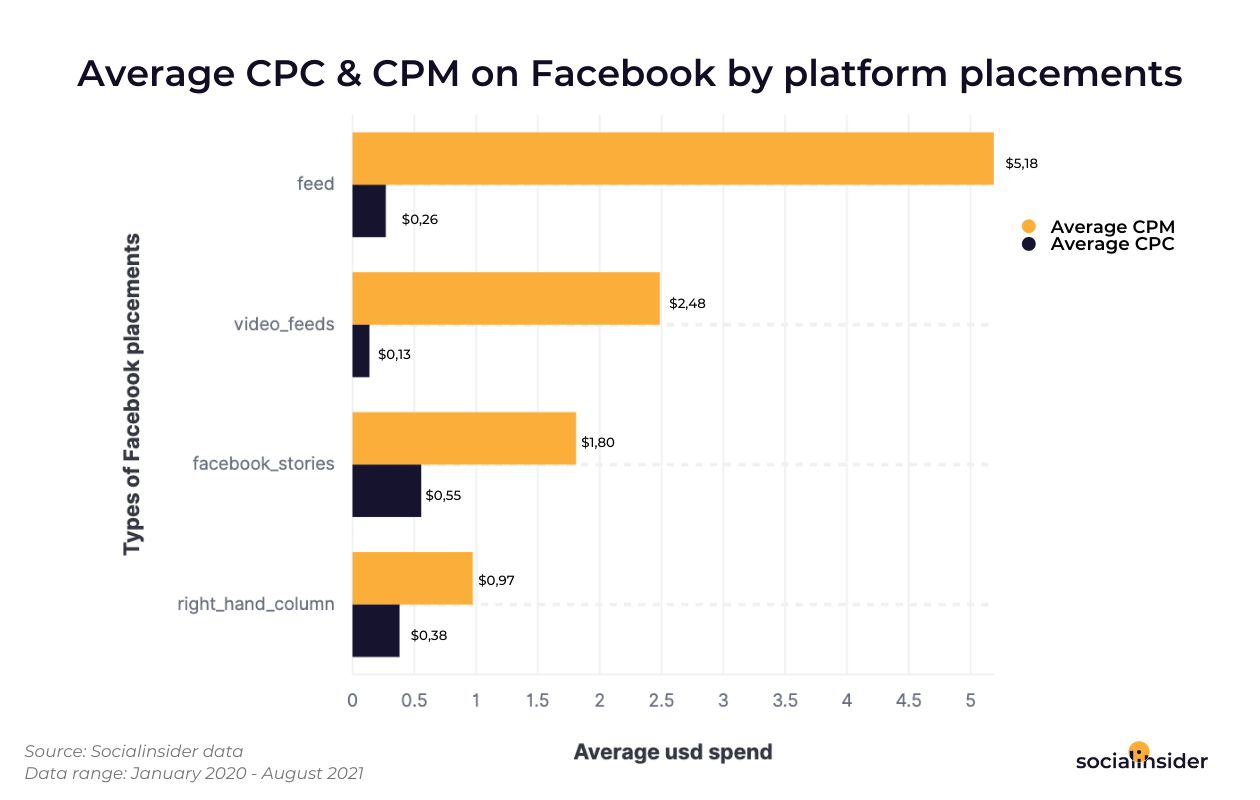 Now that we've established video content is the future, we can go even deeper and dive into video trends on social media to see exactly what type of videos are the best performing, so that you can boost your video marketing strategy in 2022.
Indeed, posting more videos can be great for your social media engagement.
But posting short-form videos can be your ticket to having an awesome social presence, as social media video trends indicate.
And speaking of shortness, social media managers should keep in mind the user's attention span is slightly declining.
So besides choosing short video lengths, the captions used are also better to be under 10 words for maximum of engagement.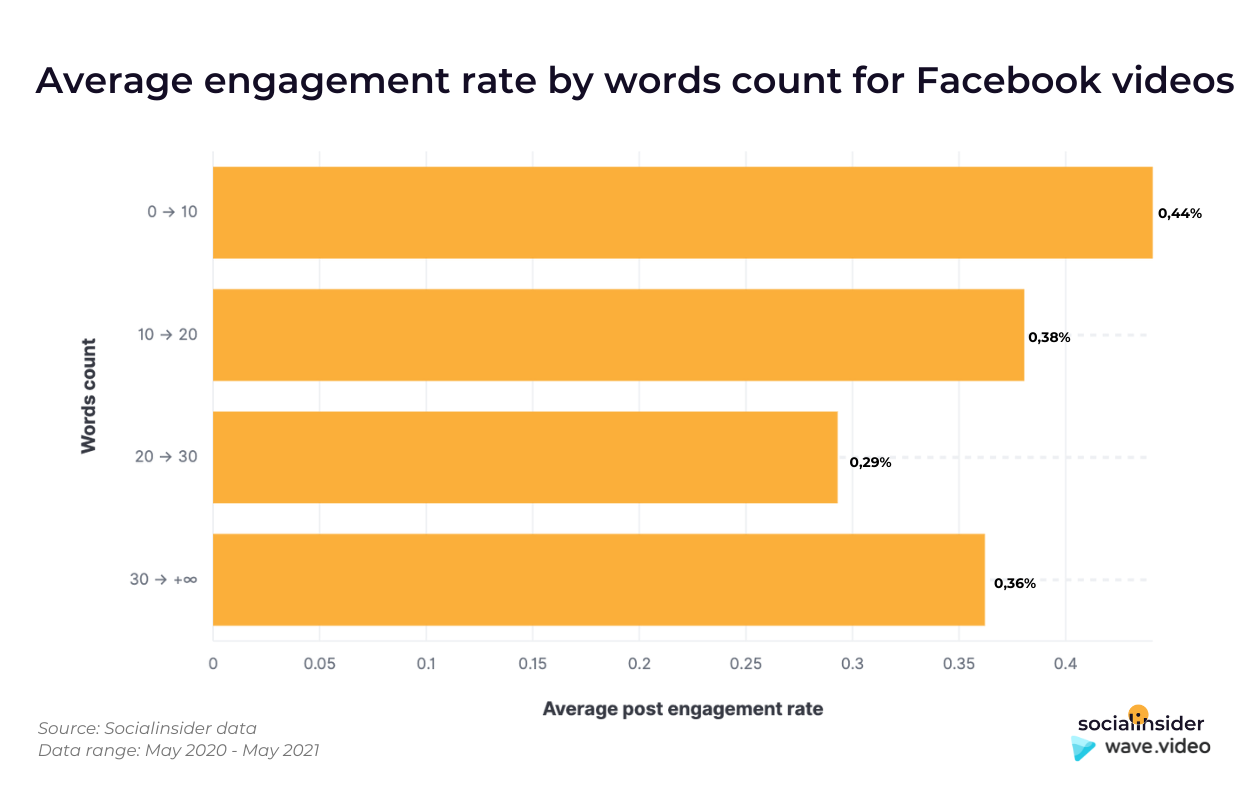 TIP: When choosing the format for your social media videos, opt for the vertical mode. As data indicates, the vertical format seems to be the most engaging one, at least in Facebook's case.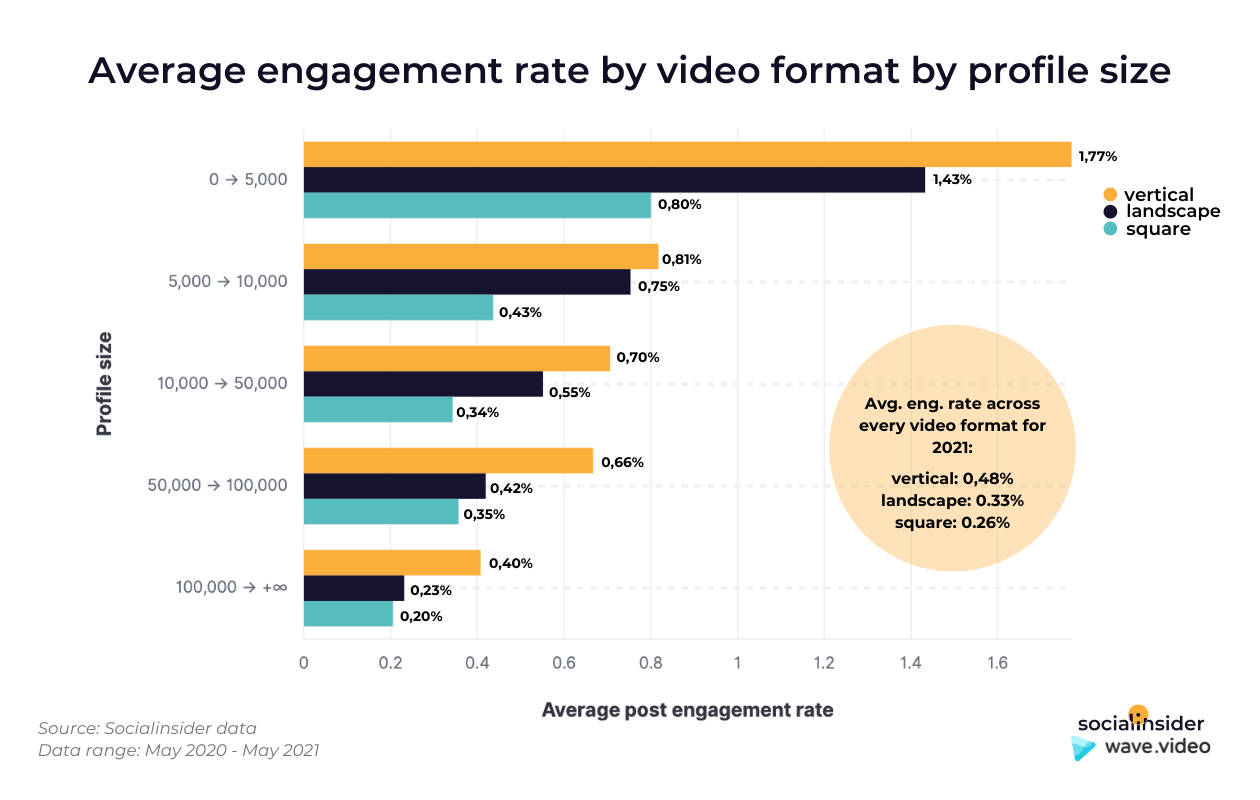 With the popularity of video Stories, the launch of Reels, and now with the update that has removed IGTV, Instagram as well seems to be headed in a direction where short-form videos are pushed more upfront.
And since we're at it, did you know that the biggest brands have doubled their Instagram Story's usage in 2021?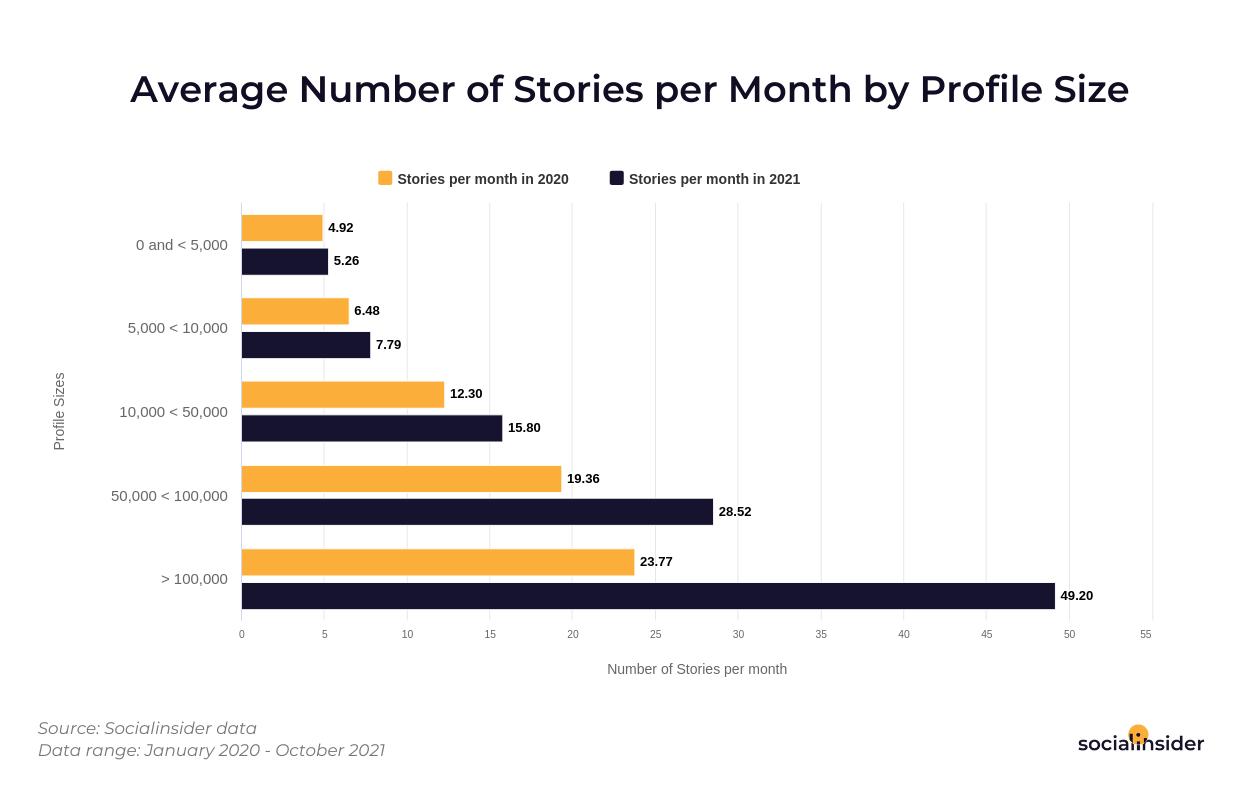 According to our Instagram Stories Study, video stories are more successful in retaining an Instagram user to watch more of a brand's story, having a tap-forward rate of 0,80% lower than image stories.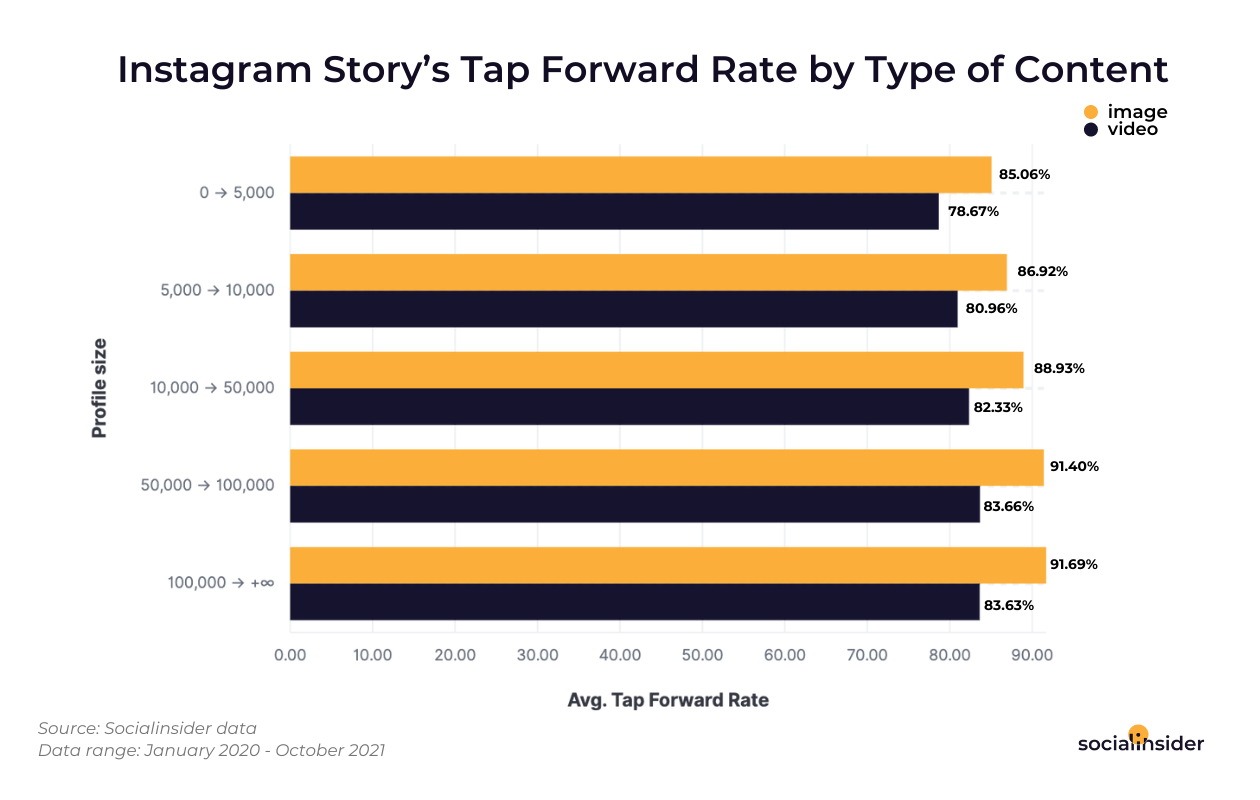 Now, having all this data and knowing the latest social media trends in video marketing is not a great start for crafting a successful social media strategy for 2022?
And the good news is that there's more.
With the lockdowns worldwide caused by the COVID19 pandemic, live streaming sessions on social have become the next big thing.
And since this tactic has known increasing popularity, it is most expected to have a continuous growing consumption in the future.
According to our Facebook videos study, live videos are on the rise, having a 55% usage increase in 2021.
Also, as the same study has shown, live videos generate double the engagement compared to pre-recorded ones.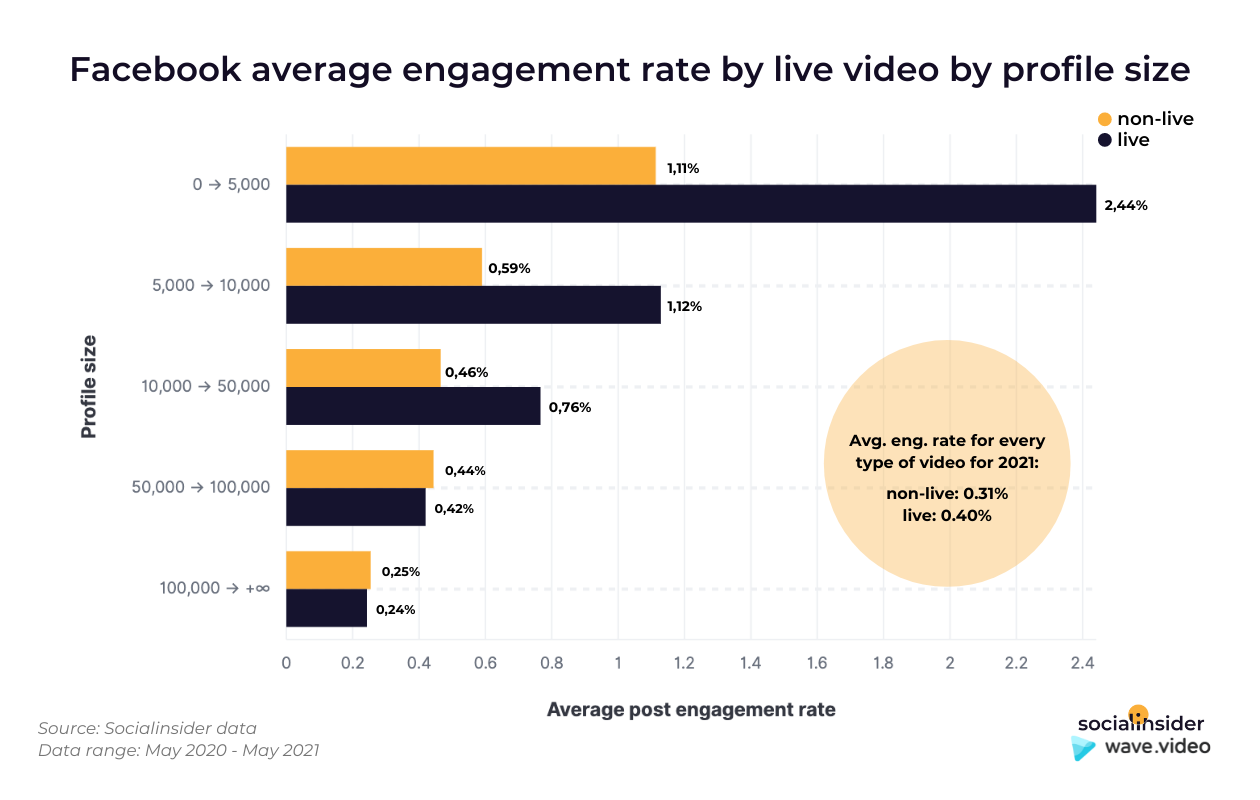 When analyzing the most recent social media trends, we also discovered that live videos that last over one hour increase engagement from 0.26% to 0.46%.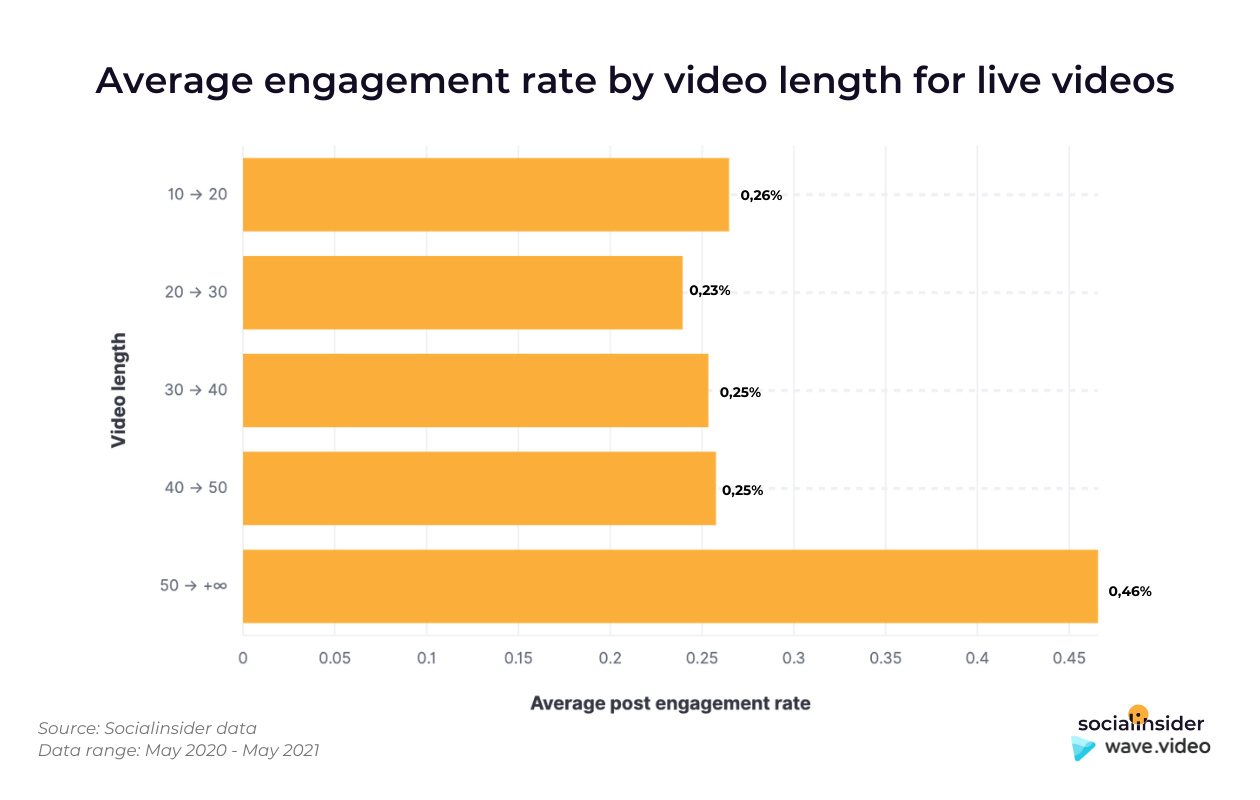 Therefore, consider creating longer webinars if you want to introduce live streaming in your social media strategy for 2022.
Even if you need longer research and preparation for them, be sure the results will be worth it.
3. Growing ads budgets
Social media grows day by day in its importance for the marketing field.
Especially now, when most brands were forced to cut down on marketing activations due to the COVID19 pandemic and redirected some of their marketing budgets into social media paid advertising.
Which is no surprise, given its ability to reach the most targeted audiences.
As the latest trends in social media advertising have shown, as a results, in 2021 worldwide brands have doubled their paid advertising budgets, both for Facebook and Instagram.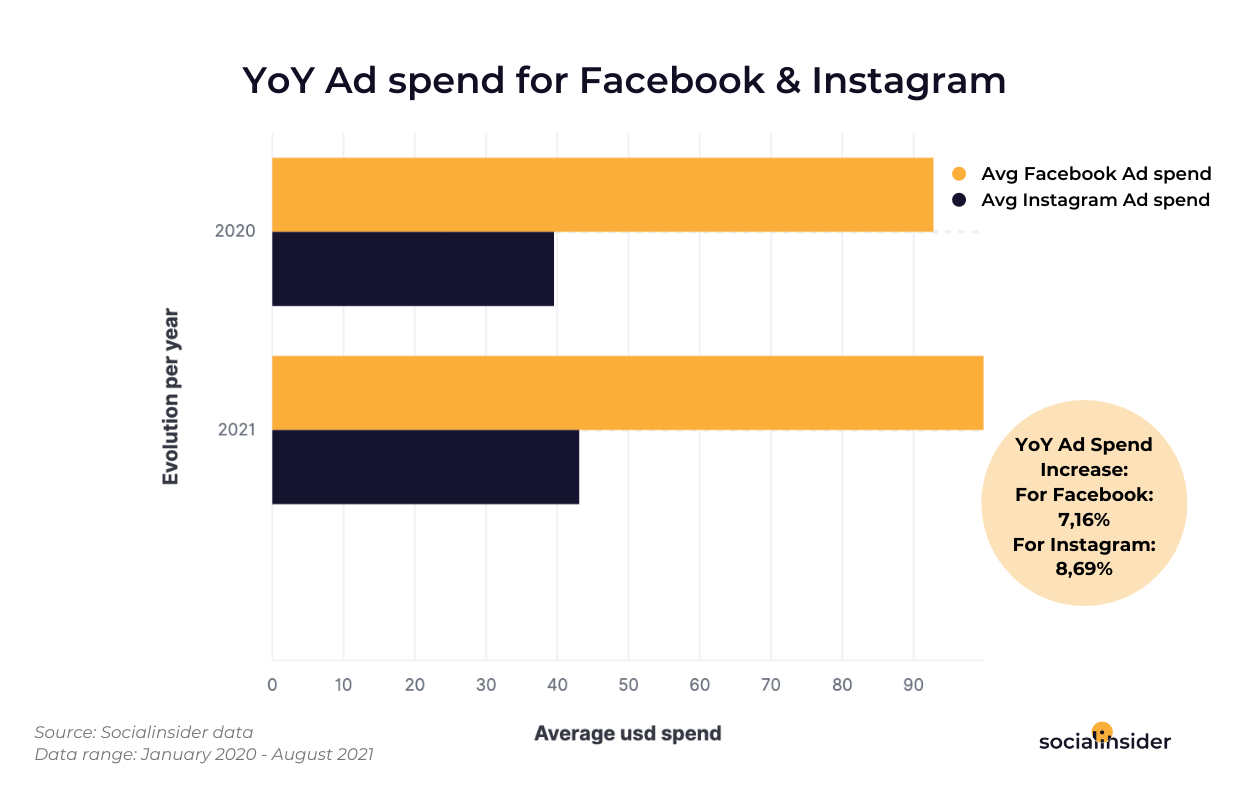 This is expected to happen again in 2022, as the amount of money invested into paid advertising increases year after year.
For now, Instagram ads have proven to be more suited for increasing brand awareness, while Facebook ads for conversion purposes.
However, the growing interest in Instagram advertising may be a strong sign of where the future of social media paid advertising lies.
4. The expansion of social selling
With the on and off lockdowns caused by the COVID19 pandemic, people turned even more to social media for being a way to stay connected with their loved ones.
And with social media's usage increasing, online shopping also exploded.
Make no mistake; we're here referring to both the classical e-commerce realm, where the user manually goes to a website and orders something as well as to social selling.
In 2021 all the major social media platforms have found a way to facilitate the customer's journey and incorporated shopping features.
Just look at Facebook, TikTok, Pinterest, and Instagram, which besides opening the "Shop" feature, has also introduced Shoppable Stories, which allows tapping on a product sticker and buying a certain product without leaving the app.
So, how did social selling become one of the latest trends in social media marketing?
The great advantage of introducing in-app purchases is that it reduces the churn rate.
By facilitating the buying process, you reduce the risk of losing your prospects along the way until they reach the end of the marketing funnel and order something.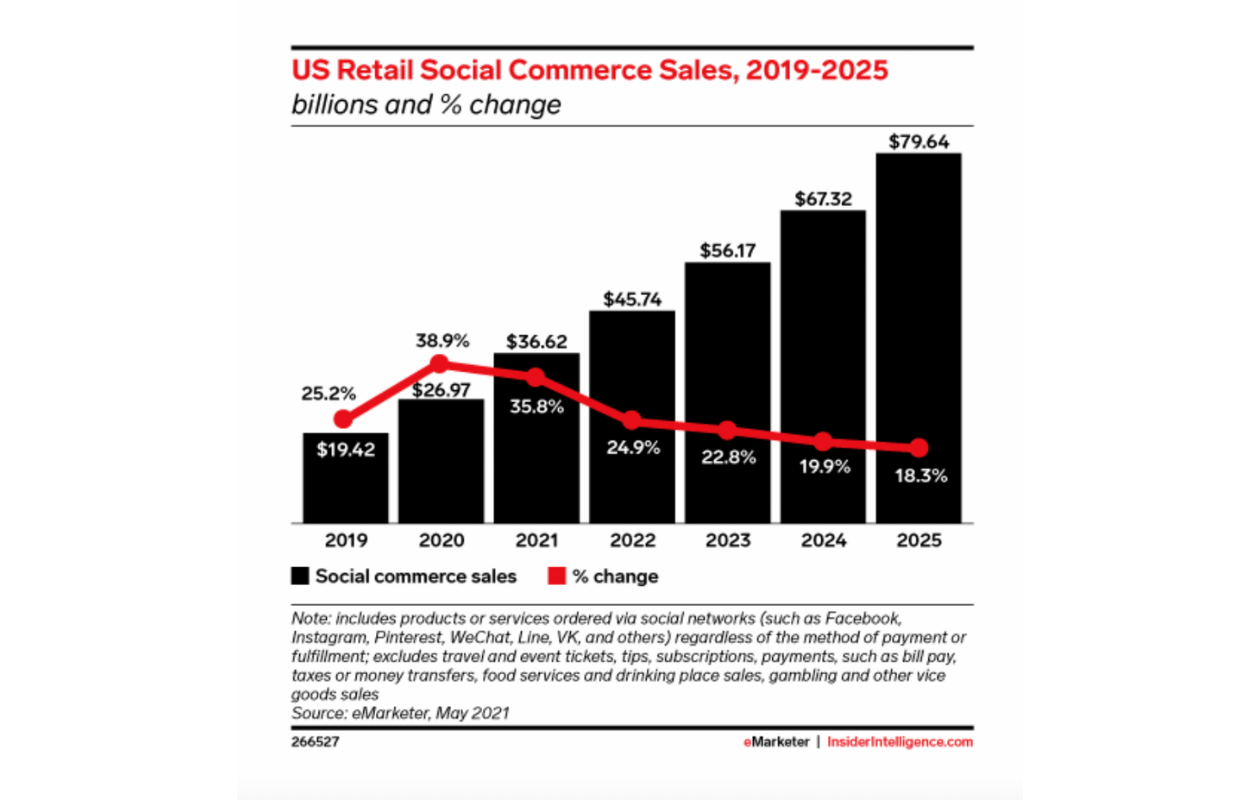 As this has proven to be a quicker way for customers to shop their desired items and a more profitable technique of an e-commerce brand of reaching their potential buyers, social selling is expected to develop in many ways in the years to come.
According to eMarketer's predictions, by 2025 social selling may become a $80 billion industry.
5. An increased demand for AR content
Word of mouth has long been known as the most reliable source for many buying processes.
But as helpful as it is, nothing compares to a personal experience with a product.
Which was probably the mindset behind the creation of AR filters.
AR filters are, by far, one of the latest social media trends that have started to gain incredible popularity, especially among brands from the home&deco or fashion industry.
Huge cosmetic brands like Estée Lauder or MAC Cosmetics have created numerous AR filters to give their prospect the chance of trying their products and offering immersive experiences.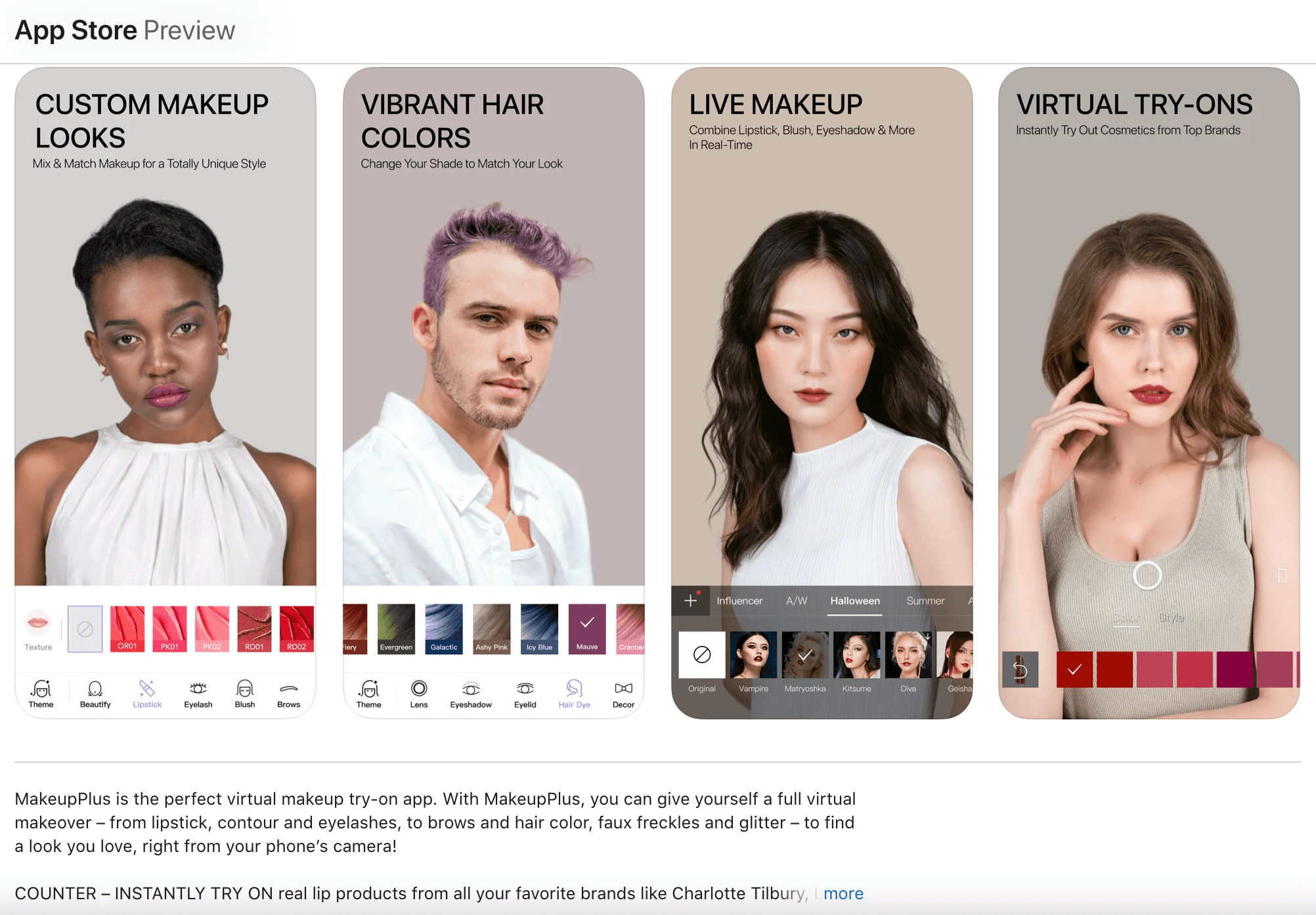 AR filters like Glossy Plumb Lips not only let potential buyers get familiar with the products but are also highly effective for engagement.
This kind of personal experience that an AR filter implies is likely to also increase the click-through-rate in the acquisition process.
Brands like L'Oréal, for example, have even taken things one step further and have come up with a new concept: virtual make-up try-on during video calls.
In a reality where work from home is here to stay, this kind of innovation may be most welcomed for those times when one has to jump on call after call, especially if those are important presentations with clients, being relevant for the company's image.
Final thoughts
With many new features, not to mention new platforms that enter the market once in a while, social media platforms are expanding more than ever.
The social network's updates for 2022 are pretty hard to predict. But there's one thing we can be certain of: social media will continue to be a powerhouse in the marketing industry.
As social media platforms grow, it's paramount to be aware of consumer social media trends if you want to maximize your social media success.
["source=socialinsider"]