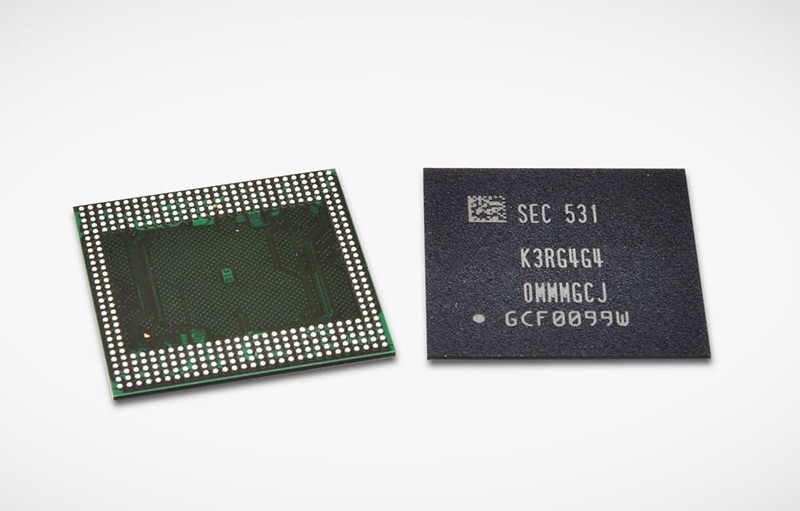 Samsung has started the mass production of the industry's first 12Gb LPDDR4 mobile DRAM module, paving the way for smartphones and tablets with up to 6GB of RAM.
The new 12Gb LPDDR4 RAM is fabricated on the company's own 20nm manufacturing process, Samsung announced on a blog post. It offers a 50 percent greater density than the existing 8Gb chips that currently power smartphones with 4GB of LPDDR4 RAM. More excitingly, the new memory module opens up the possibility of bringing 6GB of RAM on future smartphones and tablets.
The company, which recently launched the Galaxy Note 5 and Edge 6+ with 4GB of RAM, has made several remarkable achievements in the production of RAM modules. The company announced that its new 12Gb chips are 30 percent faster than its current 8Gb chips lineup. The per-pin speed has been upped to 4,266Mbps, resulting in 34Gbps of bandwidth over a 64-bit bus.
The higher density of the new chip will also make it possible to stack two memory chips to create 3GB mobile DRAM, and four sticks to create 6GB of mobile DRAM.
"By initiating mass production of 12Gb LPDDR4 (low power double data rate 4) mobile DRAM in an extremely timely manner, we now are not only helping OEMs to accelerate their moves to the next generation of mobile devices, but also providing functionality that will give mobile consumers greatly enhanced user experiences," said Joo Sun Choi, executive vice president of Memory Sales and Marketing at Samsung Electronics.
"Furthermore, we intend to closely collaborate with our global customers to move beyond premium smartphones and tablets in creating new digital markets that embrace the full potential of cutting-edge technologies like next-generation mobile DRAM."
["source-gadgets.ndtv"]