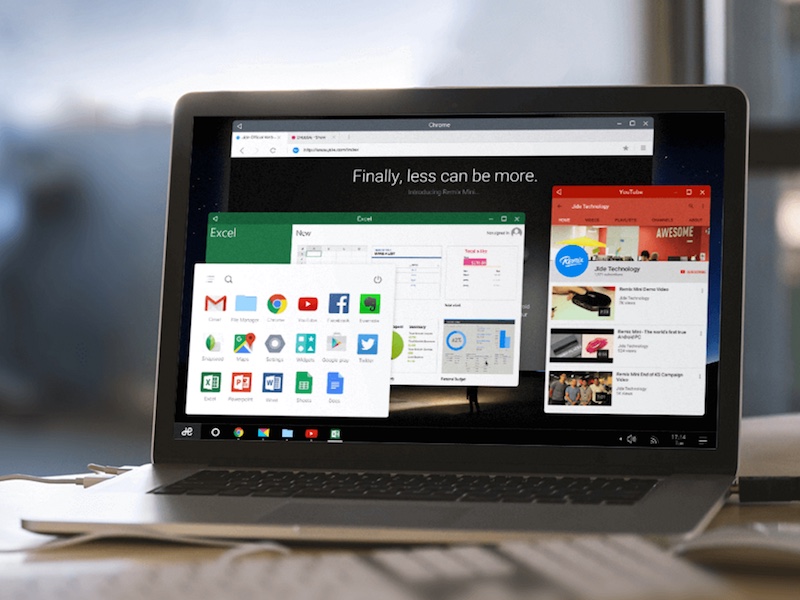 Jide, the company behind Microsoft Surface-like Remix OS-powered "ultra-tablet," took to CES trade show to announce that it will be making its Android-based operating system a free download worldwide on January 12. Remix OS, among other features, offers multi-windows.
Remix OS will be made available for x86-supported (32-bit system architecture) computers – which is pretty much any desktop computer or laptop you can find, whether Linux, OS X, and Windows. For those unfamiliar, Remix OS is an Android 4.3 Jelly Bean-based operating system which supports Google Play Store. It offers multi-window support, a feature that is dearly missed on most Android devices. The company says that it will soon upgrade it to Android Marshmallow. The alpha-version of the build will be available to download from January 12.
Remix OS is pretty light too. Anyone can download the system image and put it on a USB 3.0 Fat32-supported flash drive (basically to ensure that the data read/write speeds are at least 20MB/s) with 8GB of minimum storage capacity. The idea behind making Remix OS portable is, the company says, that it allows users especially in emerging markets to no longer need to rely on a personal computer to get their work done.
Jide, a company made by three ex-Google employees, came to the spotlight last year at CES when it launched an ultra-tablet that looked very similar to Microsoft's Surface. The device sported an 11.6-inch full-HD (1920×1080 pixels) display, 2GB of RAM, and an Nvidia Tegra SoC. Later in the year, Jide also held a Kickstarter campaign for a device called Remix Mini, a $70 device that a user can plug-in their TV's HDMI port and run Android on it.
["source-gadgets.ndtv"]