PES 2018 beta is for PS4 and Xbox One
It runs from July 20 – July 31
Online Co-op is a new addition to PES
The online multiplayer beta for Pro Evolution Soccer (PES) 2018 is slated to go live later this week for PlayStation 4and Xbox One, which will give football fans the first chance to see what to expect from Konami's annual franchise, before it arrives in September. If you're as excited as we are to get your hands on the PES online beta, here's what you should know.
PES 2018 beta unlock time
The PES 2018 beta will kick-off at 8am UTC (1:30pm IST) on Thursday, July 20, and will run for 11 days until 4am UTC (9:30am IST) on Monday, July 31.
PES 2018 beta platform availability
The online beta for PES 2018 will be available only on current-gen consoles, that is, the PlayStation 4 and Xbox One. You don't need a PlayStation Plus membership to take part, but Xbox players will have to subscribe to Xbox Live Gold in order to play the beta.
Konami has promised PC gamers significant improvements this year, but they won't be able to participate in the PES beta test.
PES 2018 release date
The beta starts on Thursday, and the final product, PES 2018, will release on PS4, PS3, Xbox One, Xbox 360, and Steam for Windows PCs, on September 12 in North America, and September 14 in Asia and Europe.
PES 2018 price
In India, Pro Evolution Soccer 2018 will cost Rs. 3,499 on PlayStation 4 and Xbox One, and Rs. 2,499 on PS3 and Xbox 360. The PC edition pricing hasn't been announced yet.
PES 2018 will cost $59.99 on PlayStation 4, Xbox One, and PC in the US. On PS3 and Xbox 360, it will cost $39.99 in the US.
The game is already up for pre-order, which provides a few bonuses for myClub.
Beyond that, there are two special editions for the same price: one digital and one on disc, with different bonuses. The former is called PES 2018 FC Barcelona Edition, while the latter is known as PES 2018 Legendary Edition.
The Barcelona edition will give you five special Barcelona myClub agents, a top UEFA Champions League player, a top club and legend player from Barcelona, a Barcelona theme, and 1,000 myClub coins.
The Legendary edition gets you a collector's card, sticker, sling bag, Diego Maradona and Usain Bolt as agents, UEFA Champions League agent, FC Barcelona agent, and 1,000 myClub coins.
FC Barcelona Edition costs Rs. 3,999 on PS4 and Rs. 4,500 on Xbox One in India, while the Legendary Edition is not yet available. In the US, both the FC Barcelona and Legendary editions cost $69.99.
PES 2018 online beta is a precursor to demo
If you thought 'beta' was just another way of saying 'demo', that's not the case here. PES 2018's online beta is like one of Nintendo's global playtests, giving the developer much-needed data on how the online code is performing. By analysing that, Konami can then improve upon it, and hopefully deliver a more stable online experience.
PES global product and brand manager Adam Bhatti said in a tweet that there would be a demo closer to launch that will be based on the final game, and added that the beta is "not to sell the game".
View image on Twitter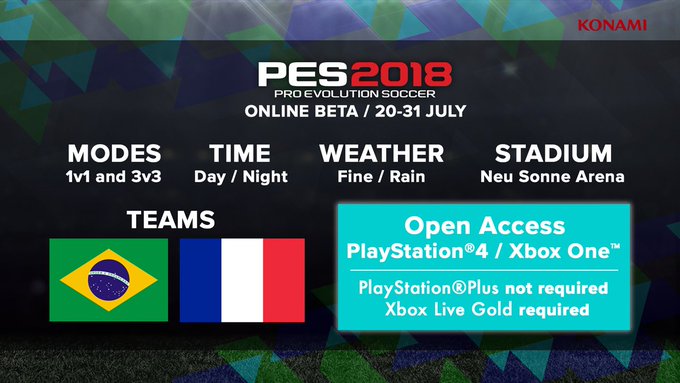 PES 2018 online beta game modes
Since this is a test of Konami's online service, only two game modes will be available for PES 2018 online beta: Quick Match and Online Co-op.
Online Co-op is coming to the PES franchise for the first time. It allows for 2v2 and 3v3 matches, with support for both local and online guests. You can take part in a competitive or friendly environment. For the beta, Online Co-op will be restricted to 3v3, and local guests only. That means if you want to play PES 2018 with friends in three-player co-op, you'll need to have them on the same console.
PES 2018 online beta teams, stadiums, and weather
Only two teams will be available during PES 2018 online beta: Brazil and France. In terms of venue, the fictional stadium Neu Sonne Arena will be your only option. Both day and night matches will be available, with weather options including 'fine' or 'rain'.
PES 2018 gameplay
Though the beta options are limited, you'll still be able to experience the various gameplay and visual enhancements Konami has made since last year. Konami has been talking up various improvements on the gameplay front, including a more realistic game speed, Strategic Dribbling, Real Touch+, and reworked set pieces. Of course, beta releases aren't usually the finished deal, so expect gameplay in PES 2018 to change with demo/ public version.
Strategic Dribbling is meant to give players more control in possession, along with "contextual shielding" to help protect the ball. If this works as advertised, it should help cut down on the ease of tackles in PES, and allow armchair footballers to bring out their tiki-taka style. In addition, you'll also be able to use stick controls for subtle movements that wrong foot defenders.
Real Touch+ is an effort by Konami to make pixel-players act more like their real-world counterparts, in the sense that they use various parts of the body to control the ball. As for set pieces, the free kick and penalty system has been rewritten in PES 2018.
PES 2018 graphics
On the visuals side, PES 2018 is promising a "true-to-life" stadium lighting system, and "a complete rework" of the player animation system. The former has been created with over 20,000 components by carefully studying the turf, tunnels, and surrounding areas of stadiums such as Barcelona's Camp Nou and Borussia Dortmund's Signal Iduna Park.
For the latter, Konami claims to have gone back to the basics of movement, such as walking, turning and body posture. In earlier PES titles, players tended to feel a little rigid, so hopefully this will make it more natural.
PES 2018 will also offer greater variety with player models, brought together by how different-sized kits fit different physiques. And for the teams that Konami has partnered with – such as FC Barcelona and Liverpool – PES 2018 will have player tattoos recreated as well.
And as is the case each year, PES will have a new UI for all menus, along with real player images for game-plan screen. There's also a promise of new in-game presentation for a more broadcast atmosphere. Since the beta is limited to a few modes, you won't be able to experience some of it before release.
["Source-gadgets.ndtv"]