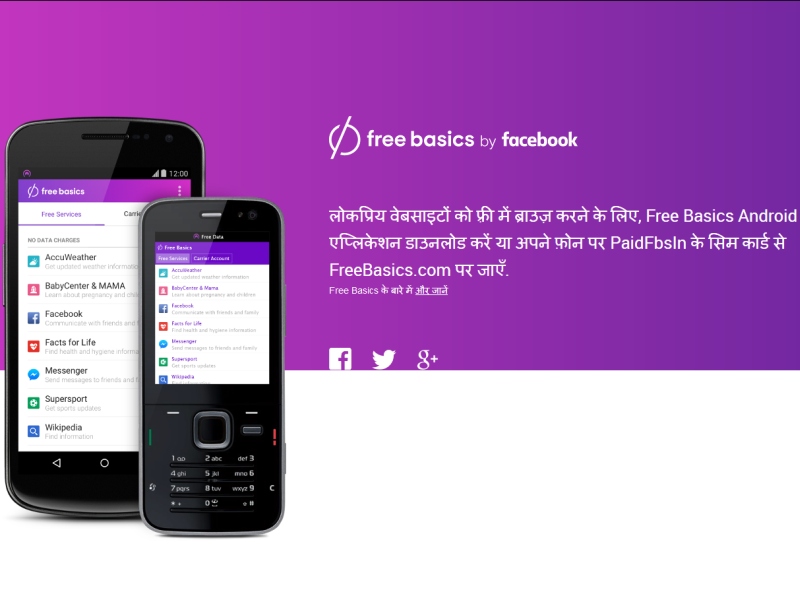 Telecom operators have supported differential pricing for data usage for accessing different websites, applications or platforms as they feel it is critical for promoting innovation in the Internet eco-system and bringing more people online.
In a joint representation submitted to telecom regulator Trai through industry bodies COAI and AUSPI, operators have said differential pricing schemes should be non-discriminatory.
In its submissions to Trai, the industry bodies in a joint letter said, "For the growth of data service, price differentiation for data services can be allowed."
The Telecom Regulatory Authority of India (Trai) has received around 24 lakh comments on its consultation paper on differential pricing for data services, a key aspect of net neutrality.
A debate on net neutrality stirred across the country after Airtel decided to charge separately for Internet-based calls but withdrew it later after people protested. The debate heated up after Airtellaunched free Internet platform Airtel Zero and later Facebook also launched its Internet.org platform,renamed as Free Basics.
"We firmly believe that the differential pricing is critical for promoting innovation in the Internet eco-system, bringing more people online and for greater digital equality, digital economy, digital infrastructure, digital empowerment and promoting government and services on demand," operators have submitted.
They said differential pricing is also essential for promoting the vision of 'Make in India' where getting small manufacturers on to supply chain of e-commerce players will need significant innovation in pricing and access.
The bodies said telecom operators are already offering differential tariffs for various voice and SMS components, such as local call, STD call, ISD call, roaming call, on and off net call, day and night call.
"Such differential tariffs for voice have only enhanced the affordability of telecom services in India. On the contrary, a uniform tariff for all types of calls would have increased the call rates in India especially the local call and would have adversely affect the interest of low-pricing customers," it said.
The industry bodies said currently, Internet-based companies are experimenting with various marketing innovations and business models to promote their services and differential data service plans including platform offering free Internet that can facilitate such marketing innovation or business models.
"Therefore, TSPs should be allowed to offer differential tariff for specific content/ website till it is non-discriminatory," it said.
COAI represents telecom majors like Airtel, Vodafone, Reliance Jio Infocomm, Idea Cellular, Telenorwhile AUSPI represents Reliance Communications, Tata Teleservices, Sistema Shyam Teleservices and Quadrant Televentures.
The associations in a joint letter said differential pricing is permitted under present regime as long as there is a clear differentiation in the classification of subscribers.
The letter further said a content provider can have a non-exclusive agreement with the TSP so that the zero-rated service could be made available to other TSPs.
The associations have opposed the Direct Benefit Transfer (DBT) method saying it is not the right way of differential tariff as the same has the potential to be misused.
To justify their stand, telecom operators cited example of e-commerce companies signing exclusive deals to sell mobile handsets, tatkal tickets offered by Indian Railways for travelling in same train, mineral waters at higher price in multiplexes etc. Industry chamber Assocham, ACTO, global telecom body GSMA also favoured allowing of differential pricing for data.
The debate which at some point became Facebook's Free Basics versus net neutrality saw mixed reaction from public.
"Seeking discriminatory data plans is it self a privilege wanted by the data companies. Now free basics by facebook is also on its way to ensure that net neutrality becomes a history in India. As they do not promise it to be unbiased in future, they reserve the right to reject a website or a consumer," an individual Amritesh Praksh Dixit said.
In support of Free Basics, an individual Devi Dileep said "In my opinion,Net Neutrality must be retained. But, at the same time let us not completely discard Free Basics. Government could work out a modified model with Facebook. Let them give the Free Basics on a trial basis."
However, as per initial comments released by Trai, individuals were against regulator permitting different pricing of data or Internet.
["source-gadgets.ndtv"]