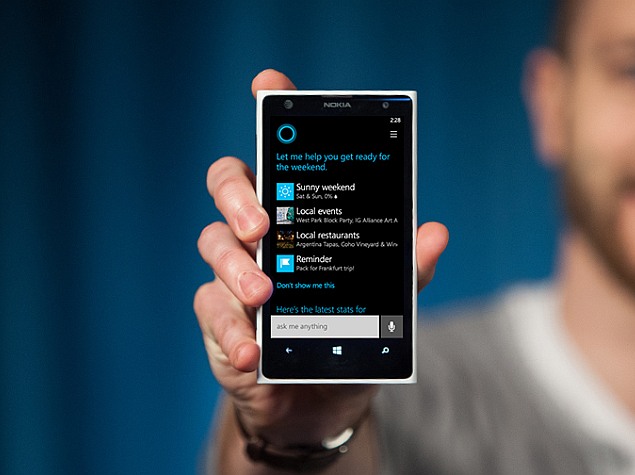 We last saw Microsoft showing its 'Windows in the Car' concept during last year's Build Developer conference in April. The concept was at that time in its early stages. However, the firm this year has demonstrated an upgraded version of its in-car concept featuring Cortana. The Redmond-based tech giant has separately announced a pilot programme in which Cortana would recommend coupons to users in the Microsoft Edge browser.
Samuel Shen, Chief Operating Officer at Microsoft Asia-Pacific Research, revealed at the TechDays Taiwan developer conference in Taipei that Microsoft has managed to project Cortana onto the car's wind-shield. The integration would let drivers make restaurant reservations or see their favourite locations using a virtual map, all on the car's windscreen without moving their eyes away from the road, using voice commands.
The firm is also looking forward to team up with Taiwanese partners for the project. Taipei Times quoted Shen saying, "we have not launched similar products due to the high cost, but we hope to have further discussions with Taiwanese partners to jointly explore future possibilities."
The Windows in the Car concept unveiled in April last year features the same Metro-based user interface. Swiping left or right would let drivers skip through different tabs inside applications such as maps, phone dialler, music, and Home. For instance, inside the maps navigation section, swiping left or right would show the current location of the user, saved places, or other options.
Although Cortana for cars is still a concept for Microsoft, the platform would be eventually taking on rivals – Android Auto and Apple CarPlay. Also, since Cortana is already available for Android and is due for iOS, it is possible that Cortana for cars will support both Android and iOS smartphones at launch – unlike the exclusive approach of Android Auto and Apple CarPlay. In-car infotainment system manufacturers have however circumvented this limitation, by supporting both Android Auto and Apple CarPlay in some of their offerings.
In other news, Microsoft has announced a pilot feature for Cortana. The feature would let the voice-based virtual assistant to suggest coupons while browsing shopping websites on the Microsoft Edge browser. On clicking the coupon, Cortana's side bar would pop up, showing the available deals. As per the company, coupons are currently available for Staples, Macy's and Best Buy.
Microsoft has collaborated with Shopular, a coupon provider service to suggest coupons to users. Also, the coupons work for restaurants in the US for now. "For exclusive restaurants, Cortana will show details like hours, directions, menu, reviews and even instant access to reservation options. For chain restaurants, Cortana will list other available locations with easy access to directions and contact," said the blog post.
["source-gadgets.ndtv"]