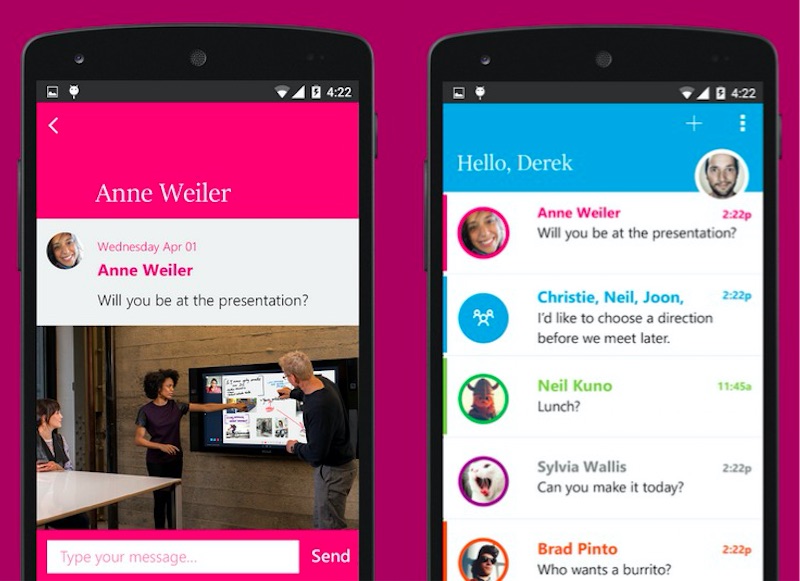 Send, the part messenger and part email client that Microsoft had released for iPhone back in July, is now available for Android smartphones. The app, much like before, however still requires you to have an Office 365 subscription to use. Also, it is yet to expand beyond the US and Canada regions as of now.
The Send app is Microsoft's take on the increasingly competitive messenger and email apps space. The company says that with Send, users can instantly communicate with each other. The app's take on how we formally talk over the Internet is remarkable. Send lets people send quick messages without the need of a subject line, greeting, or signature – reducing the friction and time spent on emails that more often than act as barriers in our daily communication.
"Imagine you're walking into a big presentation and someone asks you to find out if your colleague will be attending. Chances are, you don't have your colleague's phone number, but you will probably have their email address – especially if you've been emailing with them recently," the Outlook team describes Send, adding, "You don't have time to search your inbox, start a new thread, or even type out a subject line. You just want to ask that person, 'Will you be at the presentation?'"
The Microsoft Send app is now available via Google Play, and requires you to have a handset with Android 4.2 or above software version. The app is yet to arrive on Windows Phone.
Much like several other Android and iOS apps recently released by Microsoft such as Keyboard for Excel, Next Lock Screen, Picturesque, and Torque Voice Search, Send is also a product of Microsoft Garage. For those unfamiliar, Microsoft Garage is a project inside Microsoft wherein employees are encouraged to work on out-of-the-box ideas, including making interesting apps even if they are aimed at rival platforms.
["source-gadgets.ndtv"]