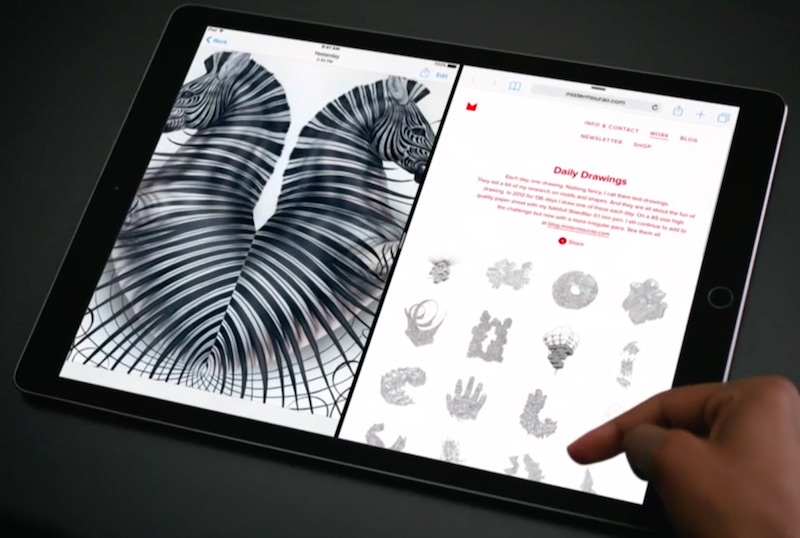 At a media event on Wednesday, Apple unveiled the iPad Pro, its 12.9-inch tablet sporting a whopping screen resolution of 2732x 2048 pixels. While the company revealed information about the processor, and the all-new large and high resolution display, it didn't say anything about the memory (as is usual for Apple). Adobe did that job for Apple, however.
In a blog post detailing its latest products for mobile devices including the name of the Project Rigel app – Photoshop Fix – Adobe noted that the iPad Pro comes with a 4GB RAM. Here's exactly what it said.
"During Apple's keynote, we also demonstrated the extraordinary speed and precision of Adobe's Creative Cloud mobile apps on Apple's new iPad Pro. iPad Pro is great for creative workflows with a high res 12.9″ touch screen display at 2732 x 2048 pixels, A9X chip, and 4GB RAM."
After getting some attention from media, the company quietly updated its blog post to remove the information about the processor and more importantly, the memory module. If the iPad Pro indeed comes with 4GB of RAM, it would be a huge improvement over any other iOS device the company has previously shipped. The iPad Air 2 famously ships with 2GB of RAM, the most yet.
Adobe was invited by Apple for the demonstration of its imaging apps on the iPad Pro, including Adobe Comp CC, Adobe Photoshop Sketch, and Adobe Photoshop Fix. The firm also demonstrated its CreativeSync technology for mobile app interoperability. The apps were also shown to make full use of the new pressure-sensitive Apple Pencil for the iPad Pro, the Cupertino-based company's first stylus input device for an iPad.
Unveiled on September 9, the iPad Pro is Apple's first tablet with 12.9-inch display. It also sports four speakers, and supports multitasking feature that iOS 9 offers for select devices. The iPad Pro packs more pixel (5.6 million) than any other iPad, as well as MacBook Air and even the MacBook which was launched earlier this year.
["source-gadgets.ndtv"]