Data Loss
Data loss situation is a common one among data users. The data that is stored in a system or storage device is subjected to loss. Different situations lead data to lose. Some of the common data loss situations are
Virus attacks
System failure
OS crash
Hard drive failure
Formatting
Unexpected deletion
Partition etc
As these situations occur unexpectedly, any user who use data or store data in any storage device must need data recovery software.
Data recovery
Data recovery is a process which involves recovering or restoring lost files or data from any storage. This process involves restoring the user's data from the damaged or formatted storage device. The salvaging corrupt or lost or damaged or formatted data from a secondary storage device is known as data recovery process. The process of recovering data or files is carried out by using different tools. One such tool used for data recovery is the data recovery software.
The data recovery software is a tool or software program which is used to recover or restore lost files and data from damaged or formatted storage device. For the data recovery purpose, wide range of products is available today and EaseUS is one among them.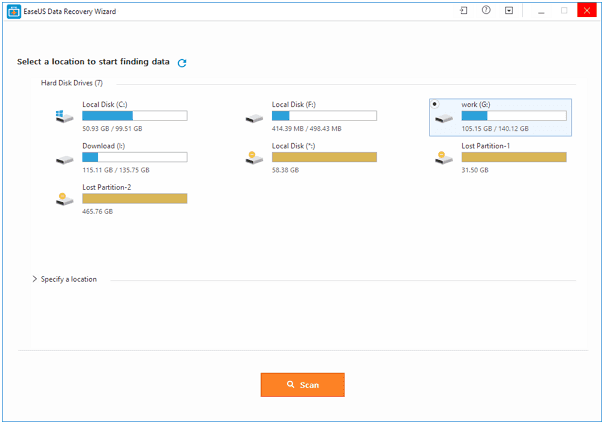 About EaseUS and how it differs from others?
The EaseUS file recovery software is powerful data recovery software which recovers files from deleted, formatted and partitioned storage device. One can avail this data recovery for free from the internet. If the users want to upgrade the software from free version to the next version, the user can upgrade it to the PRO version.
Simple steps to recover
Unlike the other data recovery software, the EaseUS data recovery software involves only three simple steps to recover lost files and data that are
Launch
At first, the users need to download the software from the internet and install it in their system. After installing the software, the users need to launch it. A free user manual is also available for free along with this software and users can utilize this manual for installing and using the software.
Scan
Once launched, the user needs to scan the system or storage device for the lost files. The EaseUS data recovery software involves two types of scan modes such as the Quick scan mode and Deep scan mode. If the user doesn't get their needed file in the quick scan mode, he or she can use the deep scan mode.
Recover
After the scan is finished, the software lists down the recoverable files in the system. The user can preview those files by using the "Preview" option. This helps them to recover their needed files only. Then, the users can recover their files.
EaseUS data recovery software, recover deleted files easily from any storage medium within short time. Thus, this data recovery software is flexible and time saving for the users. Whatever is the storage device, a memory card, USB, flash drive or any digital device EaseUS data recovery software is the perfect choice to recover files.