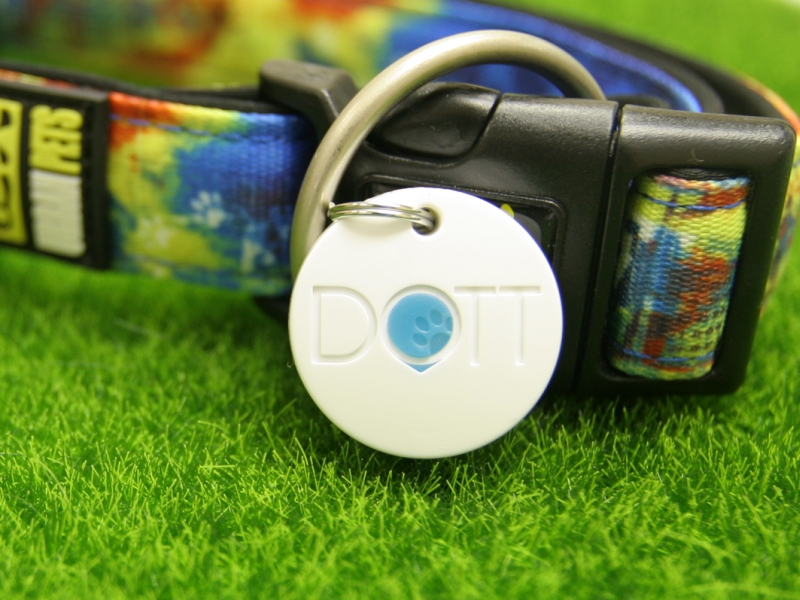 The Dott smart dog tag is a Bluetooth based location tracker that works like a treasure tag. You attach it to your pet's collar, and this allows you to track them with a virtual leash in a 350 foot radius. The Dott crowdfunded project wants to make sure that no one ever loses their dog again.
This week, the crowdfunding space is abuzz with the story of Robin, the "cloud-first" smartphone. It's a really great idea and one that's shooting past its targets very quickly. Since we've already covered the Robin though, our pick for this Kickstarter of the Week goes to the Dott, as one of the more interesting new pieces of pet-tech we've seen.
If your pet goes out of a predefined range while wearing the Dott collar, then the companion app will give you a warning, along with its last location. That's not all though – the Dott tag is constantly broadcasting its Bluetooth signal, and so if others in the community have also installed the app, then their phones also act as location beacons for your pets' tag.
When your dog comes within 350 feet of anyone with the free Dott app, it will send an alert to the phone, so that others can see your pet's name, your contact details, and it also automatically sends you the location details so you can find your dog.
Unlike other trackers, there's no monthly fee (for network connectivity) with the Dott either, and it's much smaller, and lighter, than most GPS trackers. Since it doesn't rely on GPS, it's not limited to specific geographies either, and can be used anywhere in the world.You can see the detailed explanation in the video below:The project, which is accepting funds until October 2, has already reached its funding goal of $10,000 (approximately Rs. 6.6 lakh). If you pledge $25 (approximately Rs. 1,660) you can get a Dott for yourself, with worldwide shipping estimated by December 2015. The project also has reward tiers for multiple tags – for example, you can get ten for $100 (approximately Rs. 6,600).
About Kickstarter of the week In this weekly column, we look at crowdfunding sites like Indiegogo and Kickstarter, to try and find the coolest new projects from the world of crowdfunding. Sometimes, we've found really interesting projects like the Here Wireless Headphones, which function as an audio equaliser for the real world. At other times, we've come across stuff that's just fun, such as the tobyrich.vegas gaming drones.
Not everything we find here is going to be the next Oculus Rift or Pebble Smartwatch(http://gadgets.ndtv.com/tags/pebble), and of course, with any crowdfunded project there's the risk that it won't actually ship, even after being funded. Still, if you can afford to set a little money aside, some of these projects can be really cool, and worth backing. To see more from the world of crowdfunding, check out our previous Kickstarter of the Week stories.
["source-gadgets.ndtv"]