Conversational AI can be a major asset to your social media presence. These days, 64% of people say they'd rather message a business than call it. If you're active on social media and talk to customers on your social channels, that statistic applies to you too.
Every month over 1 billion messages are exchanged between people and businesses on Facebook Messenger alone. With all those inquiries and only so many people to tend to them, a chatbot or virtual assistant can be a lifesaver. Conversational AI technology can increase your team's efficiency and allow more customers to receive the help they need faster.
Keep reading to find out how your business can benefit from using a conversational AI tool for social customer service and social commerce.
What is conversational AI?
The term Conversational AI (artificial intelligence) refers to technologies, like virtual assistants or chatbots, that can "talk" to people (e.g., answer questions).
Conversational AI tools function thanks to processes such as machine learning, automated responses, and natural language processing. The goal is for them to recognize language and communication, imitate them, and create the experience of human interaction.
Conversational AI applications are often used in customer service. They can be found on websites, online stores, and social media channels. AI technology can effectively speed up and streamline answering and routing customer inquiries.
How does conversational AI work?
Conversational AI primarily works thanks to two functions. The first is machine learning. To put it simply, machine learning means that the technology "learns" and improves the more it's used. It collects information from its own interactions. It then uses that information to improve on itself as time goes by.
The result is a system that will work better six months after you add it to your page and even better than that a year down the line.
The second is called natural language processing, or NLP for short. This is the process through which artificial intelligence understands language. Once it learns to recognize words and phrases, it can move on to natural language generation. This is the process through which it converses with your customers.
Natural language generation basically means that the AI simulates conversation. For example, if a customer messages you on social media, asking for information on when an order will ship, the AI chatbot will know how to respond. It will do so based on prior experience answering similar questions and because it understands which phrases tend to work best in response to shipping questions.
The theory may sound grueling, but conversational AI chatbots make for a very smooth customer experience. Here's an example of how you can expect it to look in action: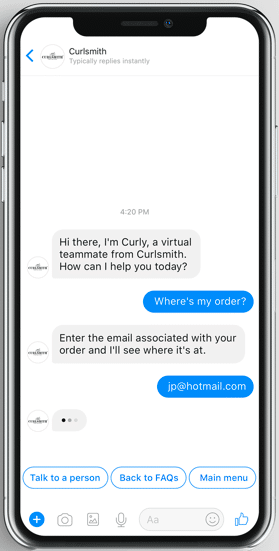 The benefits of using conversational AI tools
Save time
In an ideal world, every one of your customers would get a thorough customer service experience. But the reality is that some customers are going to come to you with inquiries far simpler than others. A chatbot or virtual assistant is a great way to ensure everyone's needs are attended to without overextending yourself and your team.
AI chatbots can take care of straightforward customer service issues and allow you and your team to deal with the more complex ones. It also decreases wait times on both ends. Our very own chatbot, Heyday by Hootsuite, helps businesses automate as much as 80% of all customer service conversations!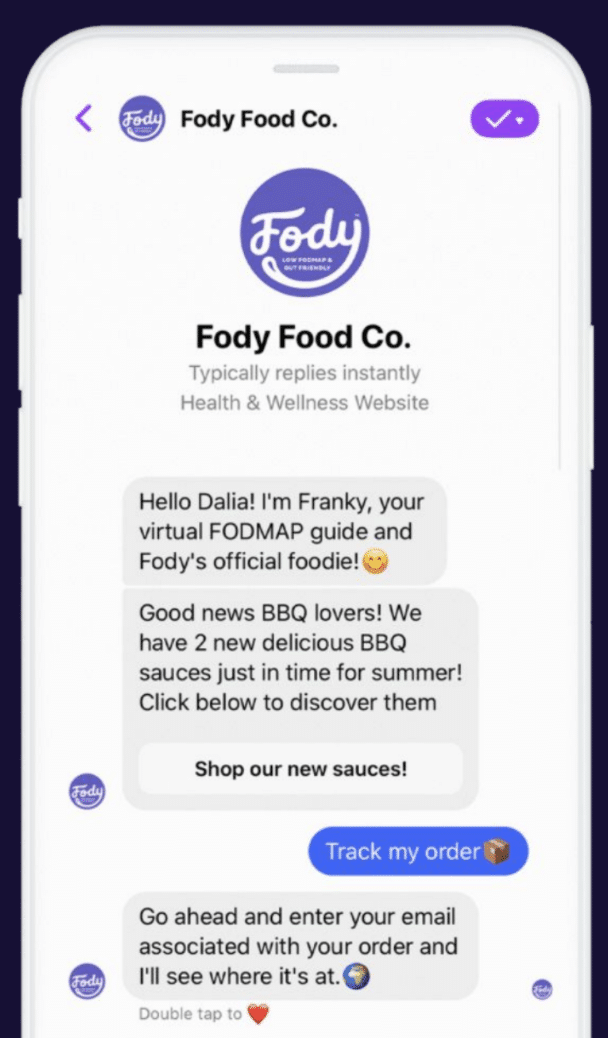 Conversational AI can handle multiple claims at once where you and your team can't. It makes for a far more efficient customer service system.
Increased accessibility
You can't be available to your customers around the clock seven days a week. Equipping your social media platform with Conversational AI solves this problem. If a customer needs help outside of regular business hours, a chatbot can attend to their issues. It solves a logistic problem and plays into how chatbots can save time, but there's more to it than that.
Conversational AI can make your customers feel more cared for and at ease, given how they increase your accessibility. The reality is that midnight might be the only free time someone has to get their question answered or issue attended to. With an AI tool like Heyday, getting an answer to a shipping inquiry is a matter of seconds: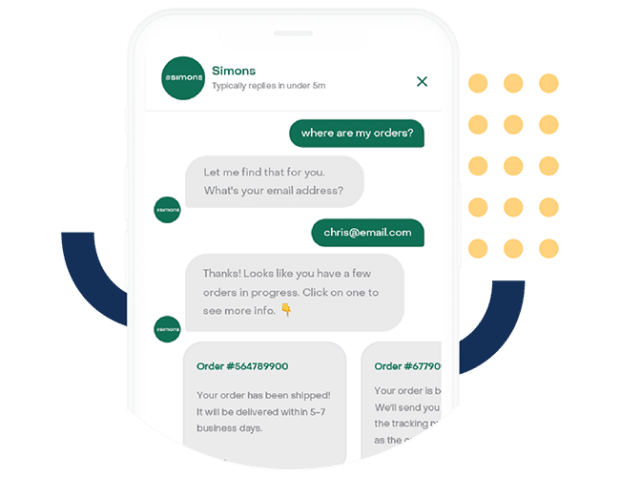 While not every problem can be solved via a virtual assistant, conversational AI means that customers like these can get the help they need.
Help your customers make purchasing decisions
Conversational AI can help solve customer support tickets, sure. But it can also assist in making and modifying sales.
One of the benefits of machine learning is its ability to create a personalized experience for your customers. This means that a Conversational AI platform can make product or add-on recommendations to customers that they might not have seen or considered.
Here's an example of what these recommendations look like in action: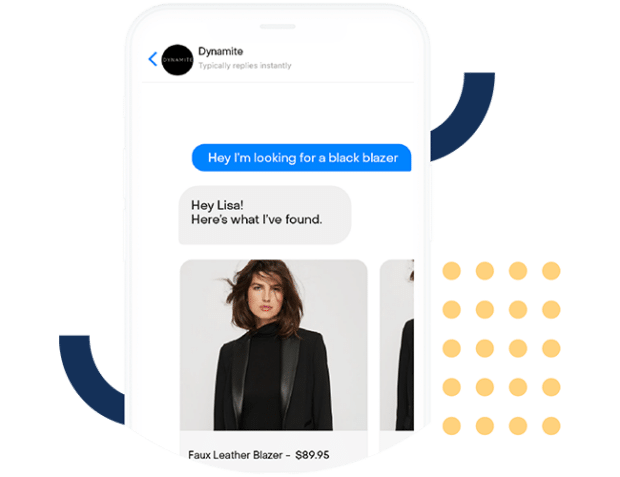 Conversational AI solutions like Heyday make these recommendations based on what's in the customer's cart and their purchase inquiries (e.g., the category they're interested in).
The result? More sales without you having to lift a finger.
Sell outside of business hours
Speaking of assisting customers in making purchase decisions, another benefit of Conversational AI comes back to the accessibility it offers. One of the great upsides to running a business online is the fact that sales can occur at any time. The only thing that can interfere with that are the sort of shipping, sales, or product inquiries customers might have when there aren't representatives available.
A chatbot or virtual assistant fixes this easily. Because it's available at all hours, it can assist anybody waiting to get a question answered before completing their checkout. It means those sales come faster – and that you don't run the risk of customers losing interest in their purchase before completing it.
With Heyday, you can even set your chatbot up to include "Add to cart" calls to action and seamlessly direct your customers to checkout.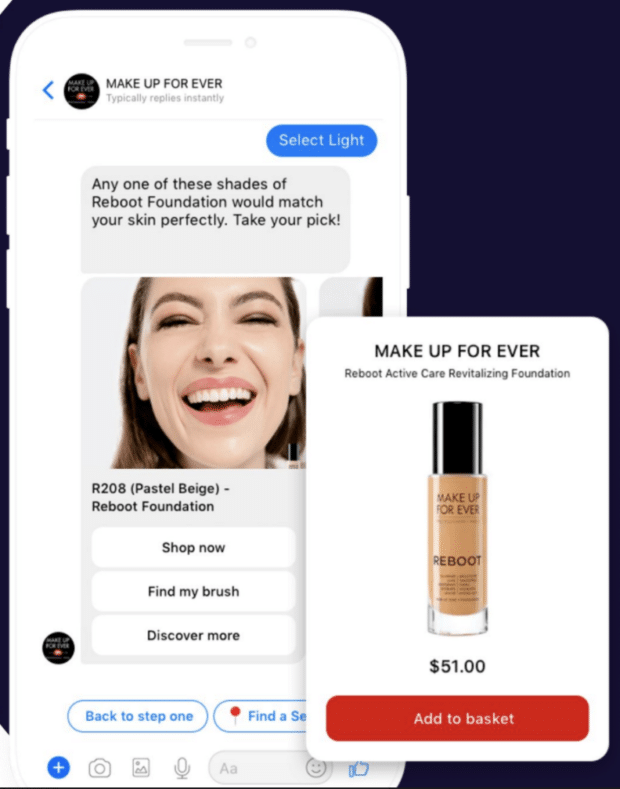 No more language barriers
An underrated aspect of Conversational AI is that it eliminates language barriers. Most chatbots and virtual assistants come with language translation software. This allows them to detect, interpret, and generate almost any language proficiently.
The result is that no customer service interaction is held back by linguistic differences. It makes your business more welcoming and accessible to a wider variety of customers.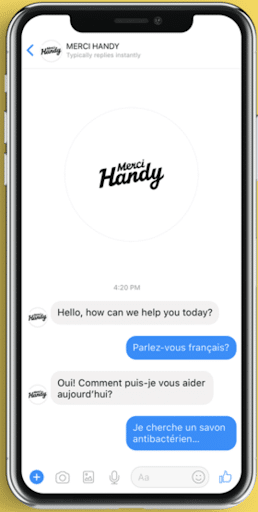 Conversational AI best practices
Know when to get (human) customer service agents involved
An artificial intelligence tool is great for solving simple problems. But it's good to know their limits. Not every customer is going to have an issue that conversational AI can handle. Chatbots are assistants to your customer service team — not a replacement. Make sure you have agents on standby, ready to jump in when a more complex inquiry comes in.
Optimize for social commerce
You want to get the most out of your Conversational AI. You also want to make sure your customers have as much access to the help they need as possible. The best way to accomplish both of these things is to choose a conversational AI tool optimized for social commerce.
Heyday is a tool design with the specific needs of retailers in mind. It integrates with ecommerce, shipping and marketing tools, seamlessly connecting the back-end of your business with your customers — and helping you create the best customer experience possible.
Some of Heyday's integrations include:
Shopify
Magento
PrestaShop
Panier Bleu
SAP
Lightspeed
780+ shipping providers
With Heyday, you can connect conversational AI with all of your customer's favorite communication channels, including:
Messenger
Instagram
WhatsApp
Google Business Messages
Kakao Talk
Web and mobile chats
Email
… and handle all of these interactions from one platform.
When optimized for social commerce, conversational AI is much more than a customer service tool — it can help you automate sales, too.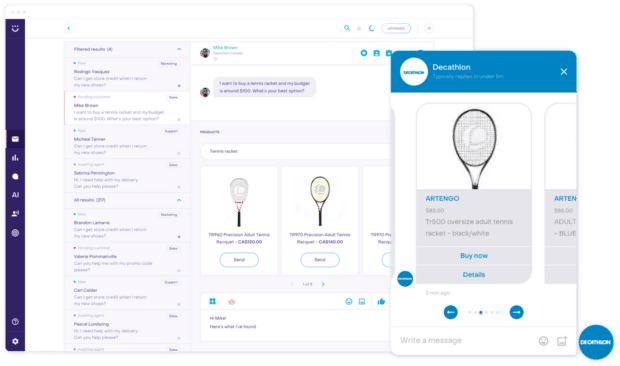 Conversational AI examples
Here's how brands big and small are using conversational AI-powered chatbots and virtual assistants on social media.
["source=hootsuite"]