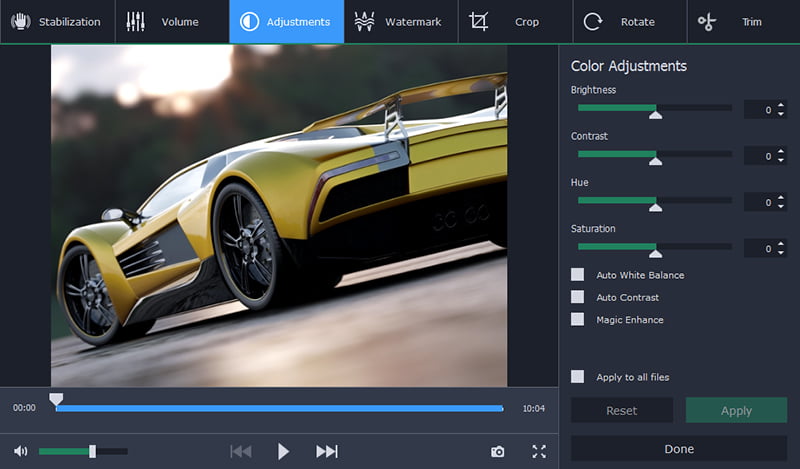 MOV format originally created for Apple Quicktime Player only work in a handful of media player. If your media player support MP4 but does not support MOV, you should convert your MOV video into MP4 format. By converting your MOV video into MP4, it will allow you to more easily upload the video onto the video sharing site because the video file size will be reduced.
The compressed MP4 video file also makes it suitable for you to share with friends through email or saved on your hard disk to watch later. You simply need a video converter software like Movavi Video Converter to convert a MOV video into MP4.
Movavi Video Converter is very easy to use because it has tool tips that guide you on what steps you need to take to convert the video from to convert the video from MOV to MP4 . Movavi video converter has recently changed its interface to make it more user friendly. The supported file formats that you can convert to are listed in big thumbnails at the bottom. More than 200 video formats are being supported on Movavi Video Converter.
Firstly, you must load the MOV video file by either dragging it into the work area or clicking on the Add Media button. Next, you must select the video tab and choose MP4. You will see that there are a few types of MP4 presets. Once you have selected the MP4 preset, you are to click the Convert button to start the conversion process.
The video format type that you have selected in the preset list will appear below. So, you should always look at the bottom to make sure you have selected the right format in case you choose the wrong format without being aware about it.
It not only can it be used to convert a video file into another format. It can also be used to convert audio, and picture files to other formats. The watch folder function allows you to convert the entire folder of videos into a similar video format at the same parameters.
Movavi Video Converter supports two pass encoding option so that the video quality and its size will be in balance during the conversion process. At the bottom, you will see a join files checkbox which you can check to merge all the files that are being converted.
Movavi Video Converter can convert your video into a format that is being supported by iPhone and Android. It can support a resolution of up to 1280 x 720 when converted into a format suitable for watching on an Android device. Most of the conversion formats in Movavi Video Converter are being supported by SuperSpeed technology.
Besides, Movavi Video Converter also comes with a built in video editor that you can use to fix flaws in your video. The video editor can be used to extract an audio track from your favorite video so that you can listen it on a music player without watching the movie. The video editor allows you to make adjustment to a variety of sound parameters. For example, you can eliminate noises in the video with the video editor.