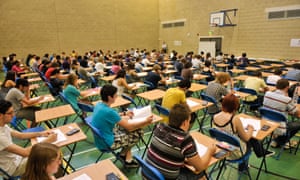 Bright students from disadvantaged backgrounds are falling behind after their GCSEs and are almost half as likely to achieve three A-levels as their better-off peers, according to research published on Tuesday.
Poorer youngsters' life chances are further compromised as they are considerably less likely to study the sort of A-levels that will help them get into leading universities.
The report by Oxford University's department of education found that just 35% of disadvantaged students (distinguished by their being on free school meals) who were identified as highly able at the age of 11 – on grounds that they gained level 5 or above in their end-of-primary-school national tests – went on to get three A-levels compared with 60% of their wealthier counterparts.
Only 33% of the disadvantaged group took one or more A-levels in the so-called "facilitating subjects" favoured by universities, such as maths, English, the sciences, humanities and modern languages, compared with 58% of their better-advantaged peers.
The research paints a bleak picture of the disparity between the most privileged and the most disadvantaged, but it identifies a number of factors that significantly improve poorer students' chances of gaining good A-levels.
If they go on trips to museums and galleries, and read for pleasure in a supportive home-learning environment, their chances improve markedly. And if they develop a habit of doing daily homework before and during their GCSEs, they are nine times as likely to get three A-levels.
The report – called Subject to Background, by Pam Sammons, Katalin Toth and Kathy Sylva – draws on data from more than 3,000 young people who have been tracked through school since the age of three for the Effective Pre-School, Primary and Secondary Education (EPPSE) project. It was commissioned by the Sutton Trust, an education charity that attempts to address educational inequality.
The study found that the bright, disadvantaged cohort were significantly more likely to get three A-levels if they had benefited from good quality pre-school education.
Their chances are also improved if they have been to a secondary school that has been rated outstanding by Ofsted, where there are trusting relationships between students and teachers and regular feedback.
Among its recommendations to address the disparity between rich and poor, the report suggests that "enrichment vouchers" – funded by the pupil premium – should be made available to encourage educational trips and out-of-school reading and study.
It also calls for schools to provide more opportunities for able students to undertake academic enrichment activities where these are not available at home, through "gifted and talented" programmes.
Progress should be monitored more effectively and better advice should be given on best subject choices to get into leading universities. And bright but disadvantaged students should have more opportunities to go to the best schools with better access through fairer admissions policies and free school transport.
The report also calls for particular support for white working class boys, whose under-achievement is a source of widespread concern, to help them with independent study, homework and reading.
"Schools may need to pay particular attention to ensuring that they can promote better outcomes for white working class boys by promoting additional or tailored opportunities for them to learn in and out of school," the report states.
Sir Peter Lampl, chair of the Sutton Trust and of the Education Endowment Foundation, said: "The fact that bright disadvantaged students fall so far behind when they reach their A-levels shows that government and schools urgently need to do more to support able students from less advantaged homes.
"We must ensure that access to the best schools and opportunities for academic enrichment outside school are available to all students. It is also vital that schools advise their students on the right subject choices at GCSE and A-level so as to maximise their potential."
Prof Pam Sammons, co-author of the report, said: "There is no silver bullet that alone can make a difference but a combination of good schools and pre-schools, the right home learning environment and supportive teachers ready to monitor progress and provide good feedback can all ensure that bright but disadvantaged students get the chance of a good university education.
"There are important lessons here for teachers and policymakers seeking to reduce the equity gap in attainment."
["source-theguardian"]