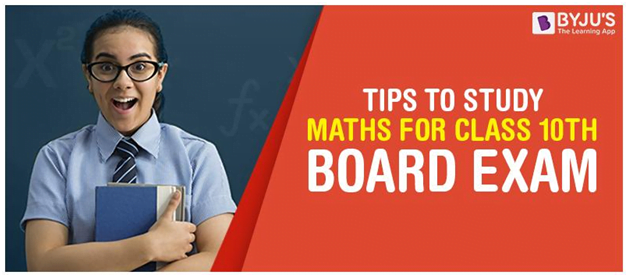 Maths is considered as one of the vital subjects for 10th standard students. In this competitive world, students must prepare well for this subject who are aspiring to join science stream and make a career in mathematics or engineering field. Maths is a very important section in engineering entrance examination like JEE, BITSAT, etc. Students must follow good preparation books like RD Sharma class 10 solutions, RS Agarwal, etc while preparing for their board examination. But along with books, students must also follow a well-structured study plan to excel in their Class 10 Mathematics examination. Some tips to prepare for mathematics for class 10 board examination is given in the points mentioned below.
Understand the syllabus
Class 10 Mathematics is filled with numerous principals and theories. The first step that students should take is to get completely familiar with the 10th standard mathematics syllabus of their respective board exam. Understanding the exam syllabus well will help students plan for the exam in a better way.
Follow a timetable
Timetable is one of the best ways by which students can prepare for math in a disciplined manner. After understanding the Class 10 Math syllabus, students must create a timetable. They must include all the topics of the math syllabus in the timetable and follow it strictly. Students are also advised to allocate time for revision and practicing question papers in the timetable.
Good preparation books
Books are very crucial when it comes to preparing mathematics for 10th standard board examination. Students are suggested follow the books which are comprehensive and easily understandable. To learn the basics they can refer to solution books like RS Aggarwal class 9 solutions and Class 10 solutions, etc.
Practice question paper
Students can master mathematics only by practicing. The best way to prepare for this subject is by practicing lots of question papers, sample papers, and previous year question papers. Solving math question papers will also help students to know the exam pattern and the marking scheme of the exam.
These were some tips which Class 10 students can follow while preparing for their board examination. To learn various math topics in an interactive way with the help of engaging videos subscribe to BYJU'S YouTube Channel.