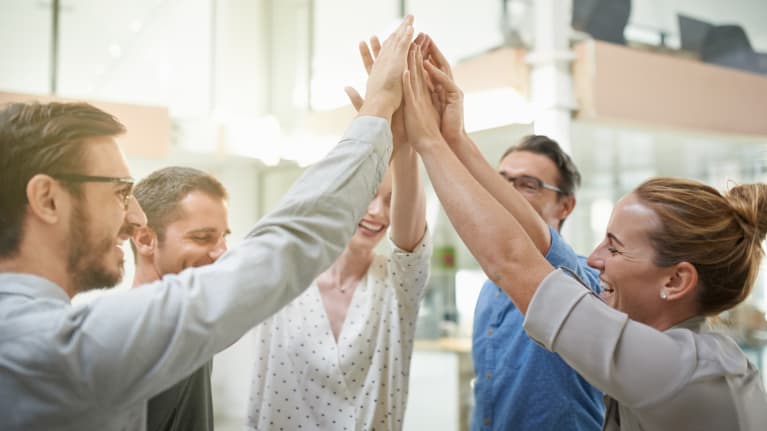 U sing analytics and online platforms to administer employee recognition programs would seem natural in today's digital era, but program vendors say many employers aren't taking advantage of tech solutions to make their rewards programs more effective.
"Organizations have been slow to adopt recognition technology," said Mike Byam, managing partner at Terryberry, a Grand Rapids, Mich.-based provider of employee recognition solutions. A study by the firm, which polled nearly 400 HR professionals from a range of U.S. companies last year, found that:
Only about 40 percent have online award selection/redemption for employees to choose their rewards.
Around 35 percent use online platforms to let peers nominate co-workers for awards, which "fits with the growing enthusiasm for peer-to-peer recognition," Byam noted.
Less than 15 percent use analytics technology in their employee recognition programs.
Managers also can use online platforms to communicate employee goals that, when met, earn rewards and to allow employees to track their progress, he pointed out. Structuring recognition programs around defined criteria spurs employee motivation by "providing significant awards for significant achievements," Byam said.
A well-run recognition program can "drive the right behaviors, improve retention and increase engagement," he pointed out. "But most businesses aren't getting the full value out of their recognition program" because they're not taking advantage of available technology.
Missed Opportunities
Over 78 percent of large companies have a documented employee engagement strategy but only 50 percent measure success, according to a new benchmark study by St. Louis-based Maritz Motivation Solutions, a provider of employee engagement and recognition programs.
Budget ranked as the "greatest inhibitor of success," with manager participation ranked No. 2.
The survey was conducted earlier this year with responses from 117 companies with at least 1,000 employees.
"Surprisingly, in today's digital age, 13 percent of [large company] respondents do not use a technology platform to support their employee recognition programs," said Kimberly Lanier, vice president of employee engagement at Maritz. "A full 25 percent of companies do not incorporate any form of social recognition as part of their employee approach."
Companies with no tech platform or social component in their employee recognition programs "are missing an enormous opportunity to connect with Millennials and Generation Z, who will be the workforce majority in the next few years," Lanier said.
[SHRM members-only toolkit: Managing Employee Recognition Programs]
Measurement and Training
Large companies that rate their programs highly "have a strategy, a documented plan and a way to measure success," Lanier said. "They invest more, communicate with employees frequently and train managers on the programs."
More than one-half of the companies Maritz surveyed provide formal training on how to use recognition programs effectively, but nearly 1 in 5 leave any training up to local managers.
"All significant HR programs should have some measures of success, and that includes recognition," Terryberry's Byam said. Having centralized administration and training, he added, "helps if the organization wants to invest in technology, measure the recognition program or ensure best practices are followed."
Was this article useful? SHRM offers thousands of tools, templates and other exclusive member benefits, including compliance updates, sample policies, HR expert advice, education discounts, a growing online member community and much more. Join/Renew Now and let SHRM help you work smarter.

["Source-shrm"]