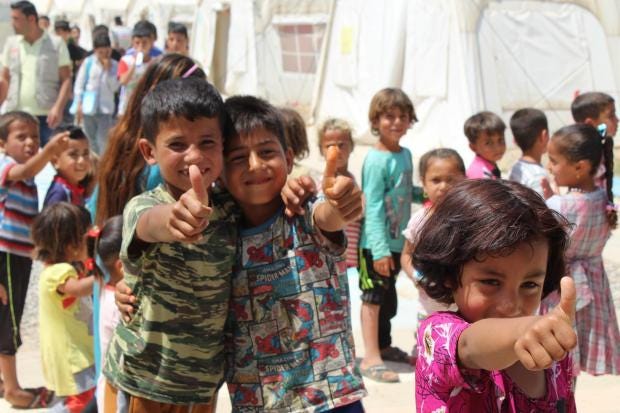 Around 480,000 people are currently displaced by the fight for Mosul, the UN says Photography by Bethan McKernan
"When I had to leave school it felt like the last day of my life," 12-year-old Ayesha says, sitting in an adult-sized chair from which her feet just about touch the ground.
"I don't remember much about when Isis came. But I know that that was when they killed my father and it was the last time I got to go to school for a long time."
The little girl, now living in Hasensham Internally Displaced Persons (IDP) camp just outside Mosul, is frank in talking about what she and her family went through living under Isis' cruelty for more than two years. But she's also clear-headed about what her future holds.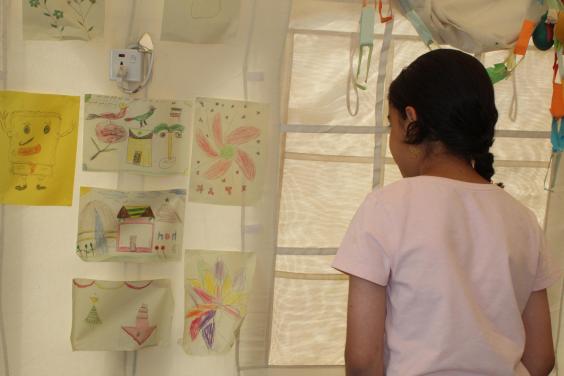 "School helps me be a strong person. It will help my generation and we can change the future if we have an education," she said.
Almost nine months into Operation Inherent Resolve launched by US-backed Iraqi coalition forces to liberate the country's second biggest city from Isis, the fight is not quite over yet. The army and counter terrorism forces are close to backing the militants into a few remaining neighbourhoods in the city centre, and most analysts expect the battle to be over within a month.
Even when Mosul is declared fully under government control again, for those who fled the city and surrounding Nineveh province since Isis swept across a third of Iraq in the summer of 2014, normal life is still on hold.
Around 480,000 people in total are currently displaced by the fighting, the majority living in IDP camps around the region which have added annex after annex to cope with demand.
New arrivals fleeing the fighting in West Mosul arrive at the UN and Kurdish Regional Government (KRG) run camps every day, after either walking for hours or being picked up by the army.
Since the battle for the city began in October 2016, more than 620,000 have at one point had to brave Isis sniper fire and improvised explosive devices (IEDs) to reach relative safety.
While some families have managed to return home to liberated areas, the US-backed assault has taken its toll on the area.
Just outside Hasensham camp, the neighbouring village of the same name is nothing but broken windows, cratered rooftops and crumbling walls from heavy coalition bombing.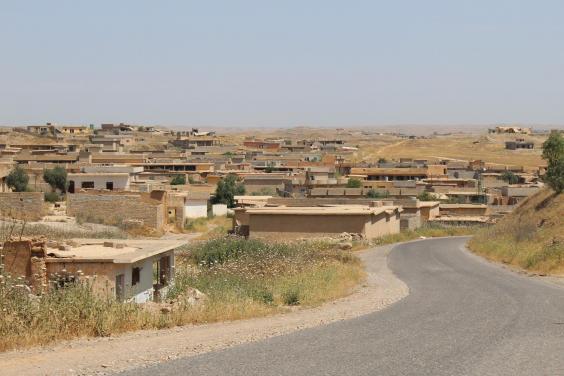 The village is still so littered with mines planted by retreating Isis fighters it is not safe to leave the main road.
It would take so much time and money to clear it and rebuild Hasensham's residents will probably have to abandon their homes for good.
Most people displaced in northern Iraq's camps are grimly preparing to be there for a few years. After having arrived in some cases with just the clothes on their back, many have no savings or income with which to return home and start rebuilding their lives.
Going back to school is one of the only returns to normality for children displaced by Isis. Children playing at Unicef-run child-friendly spaces are clearly delighted by the murals on the walls of the terrapin units and playgrounds; they provide the only colour breaking up the blinding whiteness of the tents and the dusty earth.
Many of the smaller children The Independent met are so traumatised they've become mute. When others first arrived, hearing music – banned under Isis – made them cry because they associated it with punishment.
Group therapy, psychologist family visits and a special focus on making sure disabled children can access classroom learning are all part of the rehabilitative process – but the thing that mattered most to all the children The Independent spoke to was being back in school again.
In some cases children have missed three whole grades, but they're eager to catch up.
When asked if they'd rather be on permanent vacation like some children in other countries would, a group of teenagers scoffed at the idea.
"Isis made us leave school," 13-year-old Zahra said. "Going back is our revenge against them. I'm going to be a doctor."
When the militants seized new towns they either took over or closed all schools under their control, implementing their own curriculum. Mathematics textbooks used sums such as "bomb plus gun equals…" to indoctrinate children from a young age, causing many parents to pull their children out to avoid the extremist influences altogether.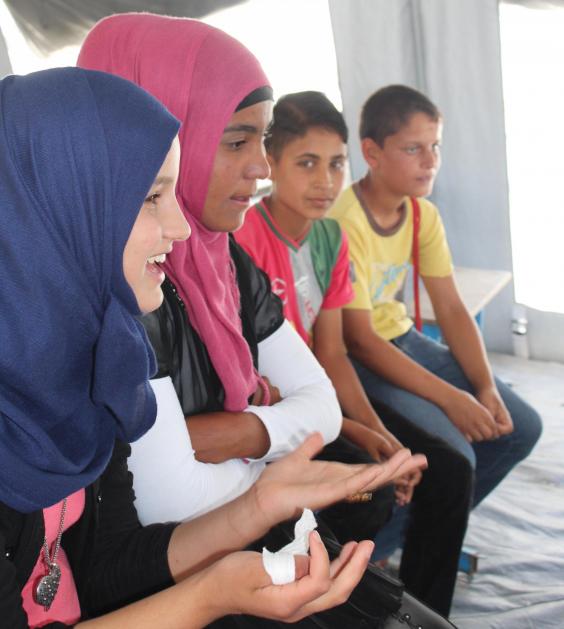 A headteacher from Singar now living in Dibaga camp described the day Isis stormed his village two years ago. The militants arrived, firing guns overhead, during the school day, prompting his staff to quickly send all the children home. He locked the gates to keep Isis out of the building.
A few days later, he and a few other teachers snuck back in to rescue students' papers and textbooks.
Now teaching in Dibaga's school, many others had continued working for free, he said.
"Education will be the next front line against Isis," he continued. "We must rebuild our school first when we get to go home. It's how you keep extremism out and you prepare to not let something like this happen again."
Maulid Warfa, Unicef's head of mission in Irbil coordinating the Mosul response, echoed the displaced headteacher's thoughts.
"There is an awful lot of ground to cover to get all displaced children back into school and make sure they do not become a lost generation," he said.
"We need to restrategise for the future on radicalisation," he added. "Iraq's youth are resilient and willing to rebuild their country. We need to give them the tools to be able to do that."
["source-ndtv"]