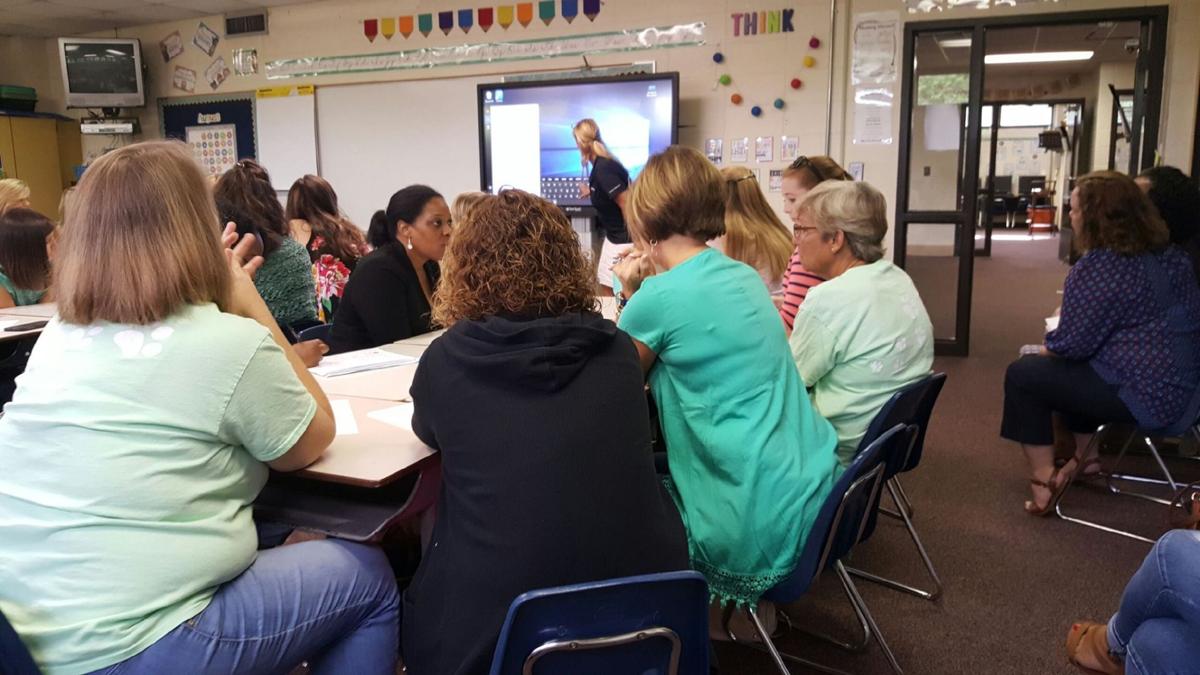 Opelika City Schools teachers are shown here being trained on newly-installed Clear Touch boards.
Opelika City Schools has been adding some new technology teachers can use in their classrooms to enhance the learning experience for their students who are going back to school today.
One of the newest forms of technology that is used in some of the system's schools is Clear Touch panels. There are a total of 108 panels in the system's schools.
"It's used as curriculum support," said Stacy Royster, district technology coordinator. "One of the things that we're trying to do now is get more interactive technology with the students that the students can actually use."
Personalized learning
Royster explained how the board works.
"It's got software on it that allows you to divide the board into regions and provide personalized learning to the students," Royster said. "Up to 10 students can be on that board at one time doing different things."
Back in May, the school system's technology team installed 79 of the 108 Clear Touch panels for all homeroom classrooms in grades K-3, according to Royster.
Royster said there are plans to add panels to all homeroom classrooms in grades 4-5 this year. Panels will eventually be installed in the homeroom classrooms at the middle and high schools as well.
The 79 panels that were installed this summer were purchased with Title I funding. The cost of each panel is roughly $4,000 with the addition of PCs and mouses with each of them, according to Jean Miller, assistant superintendent of curriculum and instruction.
Miller explained how the panels are beneficial to the teachers and students.
"It assists the teachers because it is intuitive for students," Miller said. "It is beneficial to the students in providing visual and hands-on interactive instruction."
Another type of technology that is utilized in the classrooms is the Google expedition kit, which allows students to learn about the world through virtual reality.
"The Google expedition kit allows us to take the kids on virtual reality field trips," Royster said. "It allows us to open the doors to places beyond where we are physically able to provide transportation. There are over 600 different field trips in the Google expedition's app that works with these kids."
The school system purchased one kit that comes in a set of 30 for the schools to share back in March to see if it would be beneficial for the students and teachers.
"The kids couldn't get enough of it," Royster said. "The teachers couldn't get enough of it. It was checked out every single day for the rest of the school year."
Royster said additional kits will be purchased in October. Each school's library will have a kit for teachers to check out.
Opelika High School Principal Farrell Seymore said the school is focusing this year on the differentiation of instruction in its classes.
"This is an exciting opportunity for teachers to reach students at different areas," Seymore said. "Not everyone learns at the same rate and in the same way. So equipping our teachers with instructional strategies to reach all learners is something we've really strived to do and we're entering some professional development this year through book studies and discussions and faculty meetings to meet those needs."
Testing and restructuring
After the Alabama State Board of Education voted in June to not renew ACT Aspire, school districts will now be using the Scantron program for federal accountability assessments for grades 3-8.
"We'll be giving the benchmark assessment in the fall and then we'll give it midyear and then again in the spring following whatever the state guidelines are," Miller said. "Then K-2 and 9-12, their benchmark is going to be Classworks. That's a new program that we're purchasing."
To monitor progress of children in grades 3-8, the Classworks program will be used.
This year, the school system is rolling out its reading program that was restructured for grades 3-5.
"It's the same reading program we've had, but we just restructured it to better meet the needs of the children," Miller said. "We've restructured it last year and are rolling it out this year with the foundation being on the Comprehension Toolkit. So we'll be monitoring and giving support to teachers."
There will be open houses for students at the following schools: Opelika High School, Aug. 7 at 6 p.m.; Opelika Middle School, Aug. 15 at 6 p.m.; Northside Intermediate School, Sept. 11 at 6 p.m.; Morris Avenue Intermediate School, Aug. 8 at 5:30 p.m. (third grade only), Aug. 10 at 5:30 p.m. (fourth and fifth grade); West Forest Intermediate School, Sept. 14 at 6 p.m.; Carver Primary School, Sept. 7 at 6 p.m.; Jeter Primary School, Aug. 24 at 5:30 p.m. (kindergarten), 6 p.m. (first grade) and 6:30 p.m. (second grade); Southview Primary School, Aug. 29 at 5:30 p.m. (kindergarten), 6 p.m. (first grade) and 6:30 p.m. (second grade); Opelika Learning Center, Aug. 24 from 8 a.m. to 3:30 p.m.
["Source-oanow"]