It's not until you start working from home that you realize just how much paper you produce during our day-to-day tasks. Back when you had a cubicle, there were several bins scattered around the office where you could drop off files. They were secure and, most importantly, under someone else's purview. Someone else emptied them to shred their contents. But at your home, you don't have several bins nor do you have an employee to look after your paper waste. Now your desk is covered by stacks of documents, and you've lost track of the amount of old invoices, receipts, and bills that have found a home in the many drawers of your desk.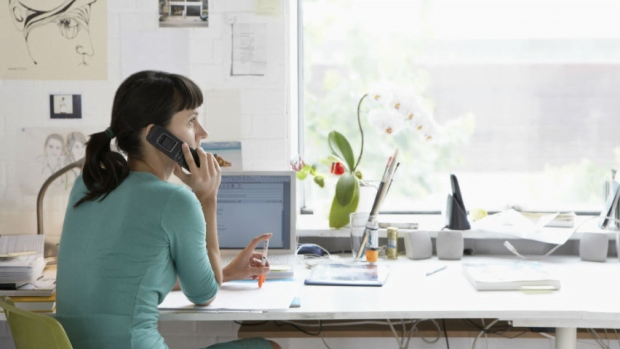 It can be tempting to spend one day clearing out your home office and dumping every single piece of paper in the garbage. While the immediate benefits will include a sense of accomplishment, it's not worth it. You could be throwing out material you need to keep; and the obsolete files your discard can make you vulnerable to identity theft.
That's because the information found on those statements, invoices, and receipts are exactly what criminals need to steal your identity. All they need is contact information and a few account numbers to open up false accounts in your name, and they have no qualms finding these by rooting through our garbage. If you think you keep a good eye on your bins to stop anyone from rifling through your stuff, think again. A recent experiment conducted by a journalist shows that when there's a will, there's a way. If people want to find your banking information (and you give them an opportunity), they will.
Don't give up on your hopes of having a clutter-free home office .You can still remove your obsolete files and return your office to its former (clean) glory by investing in a document shredding service. These services offer on-site destruction of your confidential material, and their mobile shredding trucks make short work of your documents—even if you have several bags worth! You can oversee everything as they shred your files into irretrievable pieces before they personally deliver it to a secure recycling plant.
You can schedule their services for a one-time purge or sign on for a regular pick-up of your waste. To see how easy it is to organize document shredding that fits your schedule, stop by Absolutedestruction.ca/residential_services.php. With one-time, weekly, bi-weekly, and monthly appointment options, there's something that will fit anyone schedule and paper consumption.
Don't assume you can provide the same service with a handheld or home shredder. These machines have very primitive blade formations, and it doesn't render the paper in small, irregular pieces. It only takes some determination to fit these pieces back together. Mobile shredders, on the other hand, nearly incinerate paper so there's no way anyone can put them back together. So if you're ready to de-clutter your office, call up a document shredding service in your area to protect yourself from identity theft.