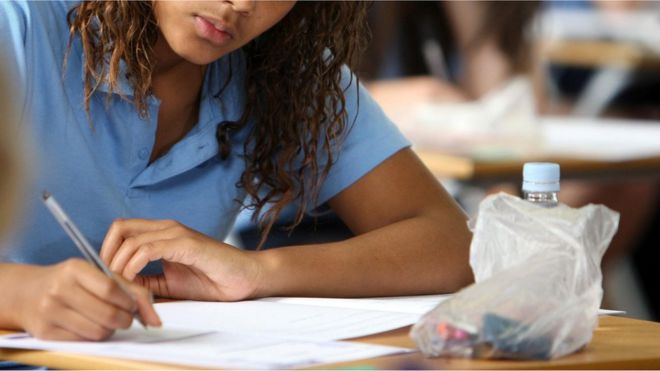 One in five students in independent schools received extra time to complete GCSE and A-level exams last year.
The proportion was significantly higher than those who received the special measure in state schools where the figure is fewer than one in eight.
The difference has come to light following an analysis of official exam data by BBC Radio 4's Today programme.
Exams regulator Ofqual said this may be because of the readiness of schools to find students entitled to more time.
HMC, a group representing independent schools, said the higher rate was down to "proper resourcing", which it said "can be lacking in state maintained schools".
But the head teacher of a comprehensive school in Suffolk said the different rates raised "serious questions".
And shadow education secretary Angela Rayner called on the government to look at the issue "urgently to make sure that no school is abusing the system".
Exam candidates receive 25% extra time, typically more than three hours to complete a two-and-a-half hour exam, because of special needs or disabilities like dyslexia.
The system has previously faced claims that better-resourced schools may be more likely to receive the measure, which is available as part of rules to ensure a level playing field for exam candidates.
Last year in GCSE and A-level exams, extra time was awarded to more than 27,000 independent school students – which represented nearly 20% of all candidates in the sector.
---
How is extra time awarded?
Allowing a candidate extra time in an exam is one of about 20 adjustments that can be made to take account of special educational needs.
These are not suddenly granted at the time of the exam, but set out in arrangements approved well in advance.
Extra time is granted to ensure that candidates who normally need more time are not placed at a disadvantage in an exam.
In order for the centre to award extra time, 25% extra in the cases cited in our story, it must assess the needs of candidates based on their education, health and care plans or statements of special educational need.
These are formal documents that detail pupils' special needs.
The assessor's report must show the candidate has a significant and long-term impairment, and that they are significantly below average in speed of writing, reading, reading comprehension or cognitive processes, leading to them working slowly.
In exceptional circumstances, a candidate with two low scores for speed of working may be considered for extra time but in these cases far more evidence proving need is required.
The need for extra time must also be part and parcel of the candidate's normal way of working and the claim must be backed up by the teacher.
Candidates may not need extra time for each subject.
---
In state institutions, about 200,000 students received extra time, which represented fewer than 12% of all state sector students taking the exams.
The total number of students awarded extra time in England, Wales and Northern Ireland has increased every year since 2011.
Ofqual has previously introduced measures to try to reduce requests for so-called Access Arrangements after claims the system was being abused.
The Joint Council for Qualifications (JCQ) which represents the UK's biggest exam boards, said it was important the arrangements were approved only for those who needed them.
In a statement, it said: "There's a rigorous process to ensure this, including annual inspections, and we review this process every year.
"Fairness is ensured by the process being the same, irrespective of location or type of school or college."
'Serious questions'
Geoff Barton, head teacher of King Edward VI comprehensive school in Bury St Edmunds, blamed a "high stakes" accountability system including results and league tables for influencing schools' use of the measure.
He said: "Whether they are getting special consideration does seem to be something that isn't only done in the interests of the youngster, but also can have an effect for the school.
"So there's no surprise that schools will reflect on that as they are planning the exam season."
He added: "What the data does is to raise some serious questions for schools."
Peter Hamilton, HMC's academic policy spokesman and headmaster of Haberdashers' Aske's Boys' School in Borehamwood, said the independent sector was able to apply for help for pupils "because of ever-improving monitoring and awareness of special needs".
He said: "We are also fortunate to have proper resourcing and specialist departments, which can be lacking in state-maintained schools.
"All heads want to see learning support staff given the time and money necessary to ensure all pupils are able to claim their rights."
The watchdog said the data did indicate some variation between types of examination centres.
It said the difference could be partly explained "by the ability and readiness of centres to identify students who are entitled to a reasonable adjustment".
Both state and private sectors involved in the data comparison include special schools, whose students are more likely to require access arrangements.
Ofqual said the private sector figures included independent special schools which may affect the percentages when making comparisons.
A spokesman said special arrangements for students with disabilities were "crucial for fair access to qualifications".
"Some schools make more requests than others. Indeed some schools have surprisingly few requests, others have many.
"We continue to work with the exam boards to ensure that the right students get the right support," said the spokesman.
An independent special schools source said the number of students involved in such exams was relatively low. It's thought unlikely to have a significant impact on the comparison between sectors.
A charity that supports people with dyslexia has previously said schools need better training to get pupils assessed, adding that students did not need formal or costly diagnoses to qualify for access arrangements.
The Today programme first used Freedom of Information laws in 2014 to ask JCQ for figures on access arrangements in various types of schools.
Following a ruling by the Information Commissioner, it emerged that the data would be supplied by exam boards to Ofqual.
[Source:- BBC]