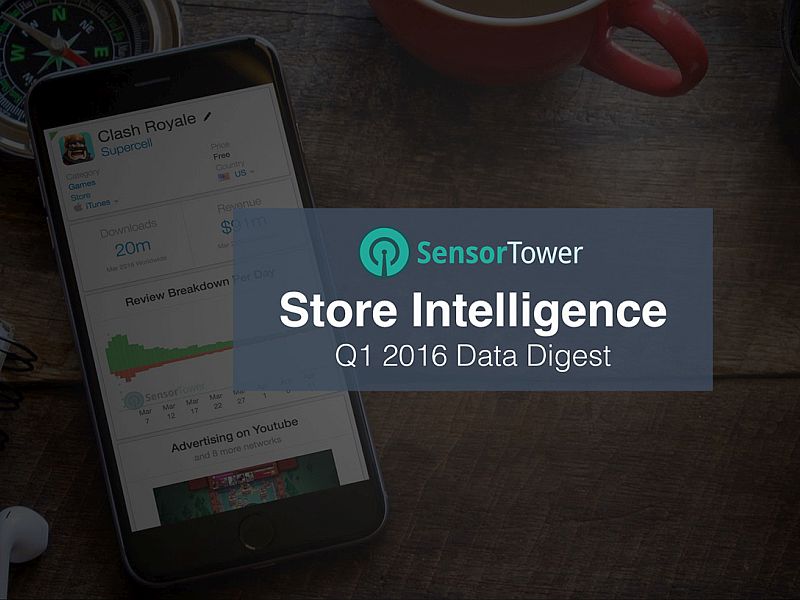 According to a report, Google Play in the first quarter of 2016 saw 11.1 billion app downloads. Sensor Tower, an app store optimisation company, has published a report claiming the number of app downloads from Google Play for January 1 through March 31 2016. It says that the number of app downloads saw an increase of 6.7 percent when compared to the same period last year. In Q1 2015, Google Play saw 10.4 billion app downloads.
"Download estimates presented are on a per-user basis, meaning that only one download per Apple orGoogle account is counted towards the total," notes the . The Android app install estimates represent downloads from the Google Play Store only and does not provide download estimates for third-party Android stores. The report also doesn't count the downloads of the same app by the same user to multiple devices, or re-installs of the same app by the same user.
Some of the apps that saw maximum downloads in the Q1 2016 were WhatsApp that crossed the 100 million mark. Facebook Messenger was second with close to 90 million downloads followed by Facebook with slightly less than 80 million downloads. Facebook's Instagram saw almost 50 million downloads. The report said that out of the top 20 Google Play apps by worldwide downloads were 3 messaging apps – WhatsApp, Facebook Messenger, and Snapchat (which saw more than 30 million downloads).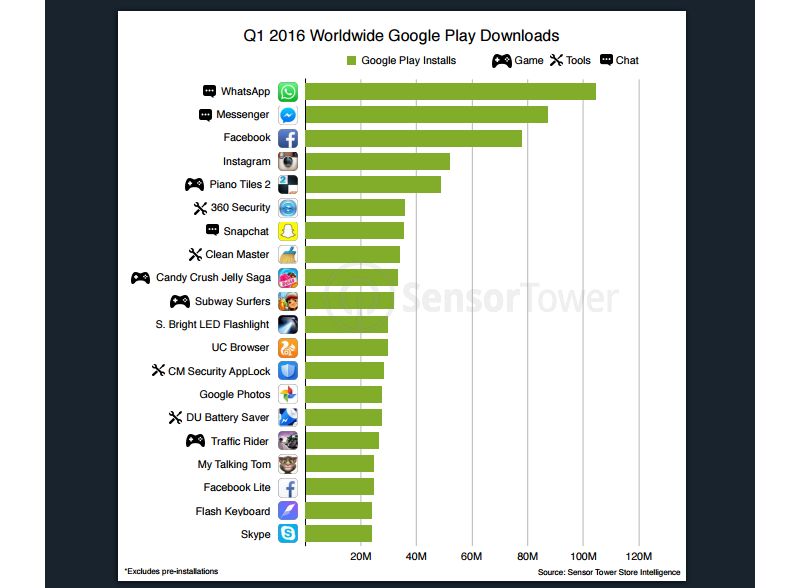 In the gaming section, Piano Tiles 2, Candy Crush Jelly Saga, Subway Surfers, and Traffic Rider apps were featured in the top 20 downloads. The list also showed that four of the top 20 Google Play apps downloads worldwide were tools/utilities apps. Notably, none of the video or music streaming apps made it to the worldwide Google Play top 20 for Q1 2016.
Compared to Google Play, App Store saw 6.1 billion app downloads in Q1 2016 which was 13 percent more than figures reported same time last year. As per Sensor Tower data, the top 20 iOS Apps by worldwide downloads include Messenger, Piano Tiles 2, Facebook, YouTube, and Color Switch as the top 5 apps. WhatsApp and Snapchat followed on at sixth and seventh most downloaded apps on App Store in Q1 2016.
The report added iOS apps from China increased from six of the top 20 in Q4 2015 to seven in Q1 2016. Further, the report showed that Facebook remained dominant publisher in worldwide downloads combined in both App Store and Google Play store. It had four of the top five apps including Facebook, Messenger, Instagram, and WhatsApp in worldwide download in Q1.
[Source:- NDTV]