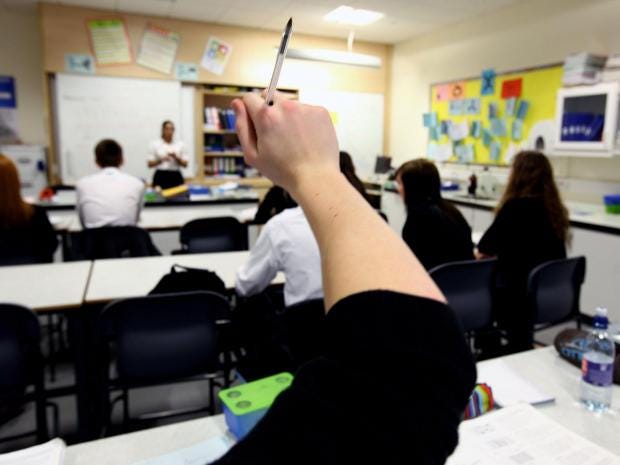 The UK's education class divide is wider now than it was half a century ago, new research has revealed, with children from poorer backgrounds already eight months behind their more privileged peers before starting school.
A study into international inequalities by the Sutton Trust found the UK falls behind Canada and Australia in terms of the literacy gap between pupils from the poorest and most affluent backgrounds.
Inequality levels are even larger in the US education system, where disadvantaged pupils are around one year behind before they even start primary school.
Five-year-olds in Canada and Australia with less educated parts fall behind their more advantaged peers by approximately six months at the point of starting school – a significantly smaller gap than in the UK.
While inequality has narrowed slightly in the past decade, there is still a noticeably larger gap between social groups than there was for children born 40 to 60 years ago, researchers warned.
The Sutton Trust said greater efforts were needed to reduce the disparity in the UK system, for instance by ensuring that well-trained staff are employed in Early Years settings.
Professor Jane Waldfogel, who led the research brief, said: "We have known for some time that achievement gaps in the US and UK are large. This international research puts them in context – and show that they can and should be smaller."
By analysing information gleaned from international workshops and recent OECD data, researchers said they were able to compare international practices for better understanding of the best possible policies.
The charity has also called on the government improve access for disadvantaged children to the best early years education and care, ensuring children arrive at primary school on a more equal footing.
Sir Peter Lampl, Founder and Chairman of the Sutton Trust and Chairman of the Education Endowment Foundation, said:  "There is a large difference between the reading attainment of the richest and poorest children in both the US and the UK. Tackling this disparity early on is critical to breaking the cycle of disadvantage and reducing inequality.
"We need to make sure that every child has access to high-quality early years education, so that rich and poor children arrive at school on a more equal footing."
A DfE spokesperson said: "We want all children to have the best start in life and latest results show the attainment gap between disadvantaged pupils and their counterparts is narrowing but we know there is more to do. We are giving disadvantaged families, including looked after children, extra support through 15 hours of free childcare a week for disadvantaged two year olds, and the Early Years Pupil Premium, which is worth over £300 a year per child.
 "There are already a record number of nurseries, pre-schools and childminders rated as 'Good' or 'Outstanding', the proportion of children reaching the expected learning standards continues to rise and more than 16,000 specialist early years graduates have been trained. To build on that success we are creating a workforce strategy to help attract, retain and develop the very best staff and investing more than ever in the sector – £6billion per year by 2020."
[Source:- independent]