ongratulations to everyone who finished year 12 this year. VCE is a hard enough during normal times, and these are not those. If you got the ATAR score you wanted, then I'm so happy all your hard work has paid off.
This story, however, is for everyone else who is now trying to work out what comes next after their plans were dashed by a number that is supposed to represent the sum of what they learnt in 13 years, but really just reflects two weeks of testing.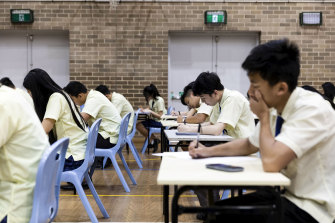 I'm going to let you in on a secret: I finished year 12 fifteen years ago, back when we got ENTER scores (yes, I do have lower back pain) and my score was nowhere near what I needed it to be. I still remember logging in to check my results that morning and feeling my heart sink.
I didn't have a pandemic to contend with, but I did have a difficult schooling experience, including four high schools, two of which I was asked to leave (a polite expulsion).
At my first high school, I started at the top of the class and was slowly worn down by teachers who hated both children and teaching. I was already predisposed to avoid homework (despite now having a career I love that is 100 per cent homework) and their lack of enthusiasm for the subjects, their casual cruelty and some other unpleasantness didn't help.
So, I moved onto the next school, which was a fundamentalist Christian high school that taught racist and homophobic ideas as fact and science as fanciful theory (no one in my family is religious and we don't know how this happened). I lasted three months there before I was asked to leave, with the official reason given that I wore trousers on a day it was snowing and too cold for the short skirt of the girls' uniform.
My third school was a country high school that wasn't the right fit. The fourth was mostly good, with the exception of my year 12 literature teacher who said I would never achieve anything that involved the English language. He couldn't pronounce Aristophanes and firmly fell into the category of hating children and teaching. But, by then the damage was done and it was hard to become re-engaged with the education system.
However, and this is the important part, aside from the universities that rejected me in 2006, no one has since asked what my ENTER score was. It hasn't come up once. I can't even remember what it was. If my career as a freelance journalist hadn't worked out, I could have applied to go to university the following year as an adult without having to use that damnable score.
I had a difficult time at school, and it didn't destroy my life. These past two years have meant everyone had a difficult time at school, and it won't destroy your life, either.
I was very lucky, and had parents who raised me to love reading and knowledge, and were willing and able to support me while I got my career off the ground. I recognise that not everyone has that, which will make this next bit harder.
The most important thing you can get from school, or life in general, is the ability to learn and be interested. As long as you are open to learning things and want to learn more things, the score you get on an exam doesn't matter.
["source=theagec"]