The Big Story: Yogic posturing
The Bharatiya Janata Party came to power in Uttar Pradesh in March promising to improve Uttar Pradesh's law and order. This was much needed. One of the poorest states in the Union, Uttar Pradesh has a law and order apparatus that was close to collapse. Unfortunately, rather than improve it, the new state government appears to be responsible for the increasing crime and disorder in the state under its watch.
The statistics are alarming. From March 15-April 15, 2017, the first month of the Adityanath government, rapes and robberies increased by more than four times as compared to the same period in 2016. Dacoities, in turn, went up by nearly seven times. Murder went up by more than two times.
As bad as the explosion in crime is, the Uttar Pradesh government's response was even worse. One would have hoped that the BJP's law and order plank would have led to a drive against violent crime such as murder and rape. Instead, it turned out, the most urgent law and order problem for the BJP was the selling of meat. Laying out its priorities, the first thing the BJP government did was crack down on the informal meat industry. Thus, what was sold as law and order eventually turned out to simply be a way for the administration to harass Muslims, who make up a bulk of the meat industry. Later on April 14, the BJP would take this further, ignoring police orders to lead a procession through the Muslim quarter of Sarak Dhudhli village. After this caused a small riot, BJP workers led by a MP attacked a senior police official's residence.
As if making meat a priority wasn't pointless enough, the Adityanth administration also set up "anti-Romeo" squads to stop young men and women from mingling with each other. This emphasis on stopping romance ­– with an emphasis on cross-religious love – has meant vigilante action that led to the murder of an elderly Muslim man because his relative eloped with a Hindu.
Later, in Saharanpur district, Thakurs would sack the Dalit quarter of Shabbirpur village on May 5. Again, the BJP's law and order plank did not mean justice for the socially and economically weak Dalits under attack. Instead, the administration backed the Thakur aggressors to the hilt. Dalit protestors were beaten up by the police on May 9 in Saharanpur town and Dalit organisations like the Bhim Army targeted. Thakurs would attack Dalits again on Shabbirpur on Tuesday, killing one.
As is becoming clear, the BJP's law and order plank had little to do with reducing violent crime. Instead, "law and order" is being used as a stick to beat depressed sections such as Dalits and Muslims. With an upper caste chief minister and the solid backing of Uttar Pradesh's upper castes at the hustings, there is an impression gaining ground that this government is interested only in upper caste welfare. This is an alarming development in a state where Mandalisation of politics has meant backward castes and Dalits getting access to a remarkable share of power.
Adityanath needs to press the reset button on this and stop the state's descent into jungle raj. Meat and young people dating can wait. Instead, the government needs to immediately crack down upon vigilantism, violent crime and anti-Dalit violence.
The Big Scroll
In eastern Uttar Pradesh, Adityanath led mob attacks on Muslims after making provocative speeches, reports Supriya Sharam. What do victims of the violence have to say about the new chief minister?
Ambedkarite 2.0: Saharanpur's Bhim Army signals the rise of a new, aggressive Dalit politics in Uttar Pradesh, writes Shoaib Daniyal.
Yogi Adityanath: "Give him a chance" and six other meaningless arguments busted by Rohan Venkataramakrishnan.
Subscribe to "The Daily Fix" by either downloading Scroll's Android app or opting for it to be delivered to your mailbox. For the rest of the day's headlines click here.
If you have any concerns about our coverage of particular issues, please write to the Readers' Editor at [email protected].
Punditry
Human shield debate: Barbarism is an excellent tool for punishing enemy populations, but it rarely wins peace, argues Praveen Swami in the Indian Express.
Three years of Modi: In Bloomberg, Pankaj Mishra explains what is wrong with Modi's outmoded idea of India.
State capitalism might be India's best bet forward, argues UD Chaubey in the Times of India.
Giggle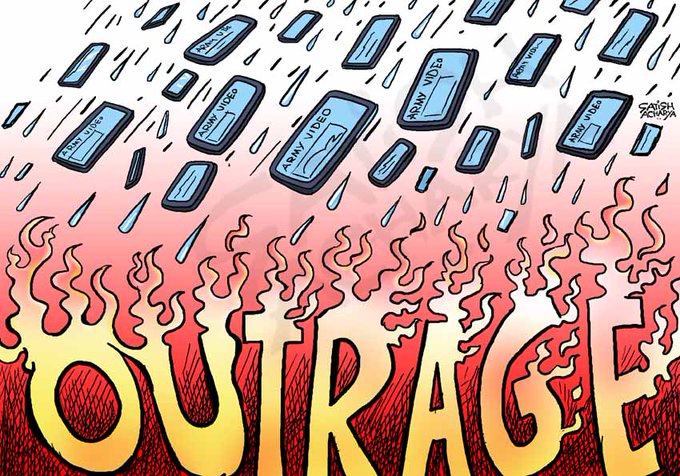 Don't Miss
Infant deaths are back to haunt Adivasi block in Kerala, three years after a major crisis, reports TA Ameerudheen.
The junior public health nurses tasked with keeping a tab on pregnant women in the Adivasi hamlets also failed to confirm Vinoja's pregnancy. The nurses are expected to report cases of pregnancy in their jurisdiction to the tribal welfare officer at the Government Tribal Speciality Hospital, and to ensure that the women are admitted to the hospital 10 days before their expected delivery date.

Both Parvathy and Vinoja said no government health official visited their hamlets when they were pregnant. Parvathy added that she is yet to receive financial support under the Janani Janmaraksha Scheme
The Daily Fix
Uttar Pradesh
Crime
Yogi Adityanath
Bhim Army
Dalits
["Source-ndtv"]