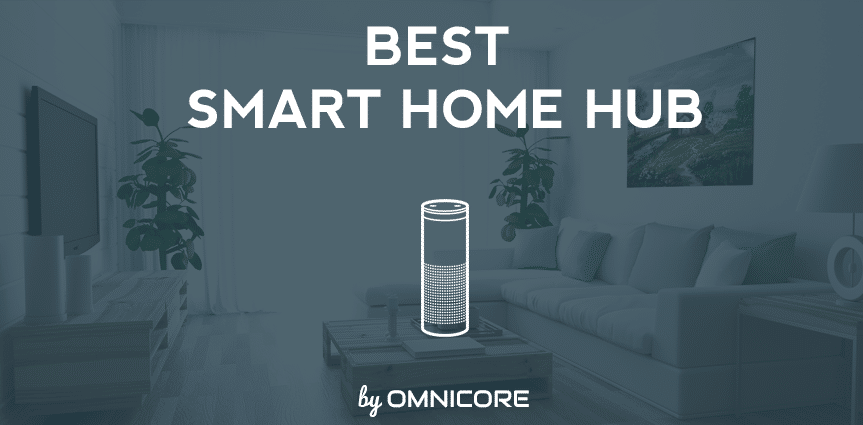 As smart home gadgets proliferate — from lights and digital locks to security cameras and thermostats — it can help to have a centralized method to control them all. Smart home hubs offer this functionality, as they can connect all of your devices to the cloud and give you one app that acts as a sort of universal remote. Additionally, a hub provides the ability to automate your gadgets. So, for example, when you unlock your door, the lights in your entryway will automatically turn on, and the thermostat in your home will be set to the temperature you like.
However, the smart home category as a whole is still in its infancy, so not only is there a lot of confusion around what gadget will work with what hub, but the companies that make the hubs themselves are still working out the kinks. We reviewed the top smart home hubs, and all of them had issues, such as a confusing app or complicated setup process.

Smart home hubs as stand-alone devices may not last long. Increasingly, gadgets such as the Nest Learning Thermostat, the Logitech Harmony Elite remote control, the Almond Router—even Samsung's newest Smart TVs—can act as a bridge between your other smart home devices and the cloud. And, with the advent of Apple's HomeKit and Google's Thread, all you may need in the future is your smartphone.
But if you're looking to get all your devices connected today, the Samsung SmartThings hub is your best option, as it connects to a wide variety of products, and is fairly easy to set up and use. If you want the ability to search for anything by voice in your home, then the Google Home ($129) could be your best bet, though its integration with other smart home devices is still in its infancy. However, it can automatically stream content to Google Cast-enabled televisions. Wink's second generation of its hub, the $99 Wink Hub 2, which also can work with a wide gamut of smart home devices, and can also be controlled using Amazon's Alexa and now Google Home.
Amazon's myriad Alexa-enabled devices, such as the Echo, Echo Dot, Echo Show, and Fire TV Edition, are also worth considering. Using your voice, you can control a fairly wide range of smart home gadgets, as well as do other things, such as ordering pizza, checking the weather, and the like.
Check out our summary of all the smart home hubs we've reviewed below, and tell us in the comments whether you've tried one of these devices or whether you see the need for one.
The second-generation Samsung SmartThings hub can connect to more than 200 devices — more than most other hubs — and lets you create a wide range of different scenarios for all of the gadgets in your home. However, the process to set up these automatic actions is a bit convoluted. Unlike the competition, the SmartThings also has a battery backup, which is good for when the power goes out.
If you don't want to purchase a standalone device, Samsung's 2016 SUHD TVs will come with SmartThings integration built in. It will also offer added benefits; for example, if your security camera detects motion, you'll be able to see it right on the TV.
SIZE

1.3 x 3.3 x 3.3 inches

WORKS WITH

Wi-Fi, Bluetooth

PORTS

3.5mm audio

BATTERY BACKUP

No
At just $49, the Echo Dot is half the price of most other hubs, making it an inexpensive investment for those just getting into smart home automation. However, it can control a wide variety of devices. While it lacks the booming speaker of the $179 Echo, the Dot's far-field microphones are just as adept at picking up your voice from across the room. In addition to turning your lights and other devices on and off, the Dot can also read news headlines, weather reports, sports scores, and a host of other things.
MORE: Amazon Alexa Guide: Tips, Tricks, and How-Tos
GOOGLE HOME
Best Voice Control Smart Home Hub
SIZE

5.62 x 3.79 inches

WORKS WITH

Chromecast, Nest, Philips Hue, SmartThings, IFTTT, WeMo, Honeywell

PORTS

None

BATTERY BACKUP

No
This Amazon Echo competitor also has a built-in speaker, can respond to voice commands, and can both control smart home devices and stream music. But where the Google Home separates itself is its integration with Google Assistant, which lets you search for everything and anything. Plus, if you also have a Chromecast, you can control it via voice through Google Home. And, at $129, it's less expensive than the Echo.
SIZE

7.25 x 7.25 x 1.5 inches

WORKS WITH

Zigbee, Z-Wave, Wi-Fi, Bluetooth LE, Lutron Clear Connect, Kidde, Thread, Alexa, Google Home

PORTS

Ethernet

BATTERY BACKUP

No
Slim and sleek, Wink's second-generation smart home hub connects to a large number of smart home gadgets: Alexa, Google Home, Z-Wave, Zigbee, Lutron Clear Connect, and Kidde devices. It will also connect to Bluetooth LE, and has built-in support for Google's Thread interface. Plus, Wink added a more powerful processor, eight times the amount of memory, as well as 5GHz Wi-Fi and an Ethernet port. As with the original Wink Hub, the Hub 2's intuitive interface is good for those dipping their toes into smart homes, but power users may be put off by its lack of advanced features.
NEW & NOTABLE
Samsung Connect Home
SIZE

4.7 x 4.7 x 1.2 inches

WORKS WITH

Amazon Alexa, Belkin WeMo, GE, Google Assistant, Honeywell, Hue, Iris, Keen Home, Kwikset, Lutron, Rachio, Ring, Schlage, SmartThings, Yale, ecobee, iHome

PORTS

Ethernet (2)

BATTERY BACKUP

No
With the Connect Home, Samsung is combining its smart home hub with a mesh network router. Makes sense, doesn't it? The Connect Home will be able to do everything its SmartThings Hub does, but can also better distribute Wi-Fi throughout the home. Connect Home will be sold in three versions: a single AC1300 Connect Home hub for $169, a pack of three for $379, and the Connect Home Pro AC2600 (a single unit) for $249. All can be mixed and matched.
["Source-tomsguide"]