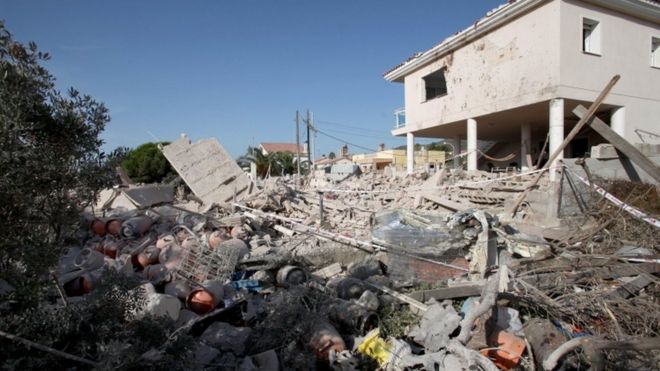 A 12-strong terror cell that carried out two attacks in Spain this week had collected 120 gas canisters and was planning to use them in vehicle attacks, Spanish police say.
Canisters were found at a house, said to be used by the cell, that blew up in the town of Alcanar on Wednesday night.
Police are still hunting for the driver of the van that hit dozens of people on Barcelona's Las Ramblas, killing 13.
On Sunday, a Mass was held in Barcelona to mourn the victims.
In addition to the 13 killed on Thursday afternoon on Las Ramblas, a woman died in a second vehicle attack early on Friday in the town of Cambrils. Five suspected jihadists were shot dead by police in the second attack.
The Catalan authorities have also confirmed that a British-Australian seven-year-old, Julian Cadman, was among those killed in Barcelona.
He had been declared missing since becoming separated from his injured mother in the attack, and his family had made appeals for news of his whereabouts.
What we know so far
Barcelona tells world 'I'm not afraid'
Barcelona rejects hate after attacks
Catalan police chief Josep Lluis Trapero has given an update on the investigation.
He said the cell was still believed to consist of 12 men and had been planning attacks for more than six months. One person remained at large, four were under arrest and there were two sets of human remains to be identified, he added.
The person at large was the driver of the van, Mr Trapero said, adding that police knew his identity but would not reveal it.
But police have confirmed they are hunting Moroccan-born Younes Abouyaaqoub, 22, who Spanish media say was the driver.
The two sets of remains to be identified may refer to victims of the house explosion at Alcanar.
Spanish media have speculated the two may be Youssef Aallaa, the brother of one of the suspected jihadists killed at Cambrils, and Abdelbaki Es Satty, an imam from the town of Ripoll, north of Barcelona, where a number of the suspects lived.
The imam apparently left the mosque in June for an extended trip to Morocco, but a flatmate told the BBC he had been seen in Ripoll as recently as last Tuesday.
"We're starting to see clearly that [the Alcanar house] was the place where they were preparing explosives for one or more attacks in the city of Barcelona," Mr Trapero said.
He added: "We are not in a position to say what caused the radicalisation of these people."
American honeymooner killed in Barcelona
Spain attacks timeline
Spain's long anti-terror experience
Mr Trapero said police could not rule out that the suspect still at large had crossed the French border, although he had "no specific information on this".
The father of two of those shot dead by police in Cambrils, Mohamed and Omar Hychami, told the BBC he was devastated. Hecham Igasi also accused the imam of radicalising his sons.