Want to stay up to date with the latest wonders in the tech industry? Maybe you don't have time to search all over the web for the most inventive and original stories, but you can definitely let someone else do the work for you. You can subscribe to the best free tech newsletters of the moment and you're covered.
In this kind of newsletter, all the articles and links are curated by people who are probably as passionate about technology as you are, so you will get all the great news right in your inbox, most of the time for free.
Whether you want weird, out-there news, or just straight-laced commentary on the latest topics, we've got you covered with a bunch of interesting and ingenious newsletters that will keep you informed and entertained.
1. Bizarro Devs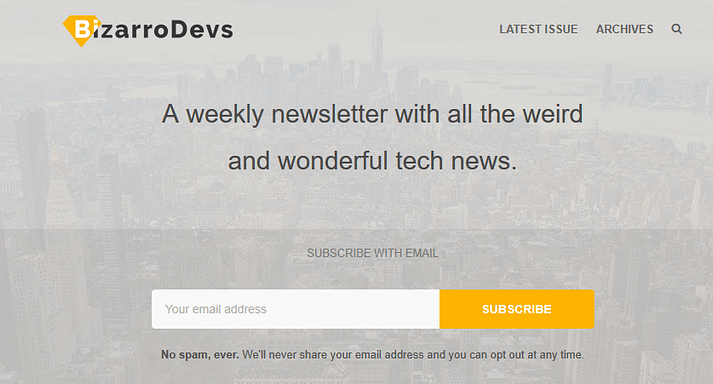 Bizarro Devs is one of my favorite newsletters out there, not only because it's our own side project (curated by our word juggler, Chris Fitzgerald) but also because it provides a collection of articles, tools, and websites that you won't easily find in the regular, popular publications. And it lives up to its name: it's bizarre in a lovely way.
Even though it says "devs", it's not entirely for developers; you can still enjoy this newsletter because it features all kinds of topics while remaining in the technology range. So don't worry if you're not a dev, it has links that non-coders will love too.
We release Bizarro Devs weekly, so expect it every Thursday with unusual, unique, and inspiring news for devs and non-devs. This free newsletter exists thanks to its author's hobby for technology and eccentricity.
2. TLDR
What I like about this newsletter is that it's short and concise, just how a daily news roundup should be. It brings you a maximum of 10 titles at once, just the number you need to start your day or take a break from your routine tasks. TLDR only focuses on tech, so you will rarely find mixtures with other news segments (unless they're somehow linked).
The layout is clean, simple, and displays the topics by categories:
Big Tech & Startups
Science & Cutting-Edge Technology
Programming
Design & Data Science
Miscellaneous
I personally love this newsletter – I always find curious stuff to read or share with others.
3. Benedict's Newsletter
Benedict Evans is doing a great job with his free newsletter by curating the freshest stories and resources from the realms of mobile, productivity, innovation, cars, machine learning, AR & VR, plus a lot of other topics that you will discover yourself after subscribing.
Benedict's newsletter comes to you weekly with a minimalist structure and design.
4. The Download
The Download is a weekly newsletter that has a modern, colorful presentation. It's not just a pretty face, though; the content is also interesting as it goes with a lot of concrete, futuristic, or potential perspectives of the world we live in.
The newsletter is weekly and has many other topics to subscribe to, as a bonus to the standard one: economy in tech, AI, blockchain, space technology, and everything you need to see covered by a newsletter. You can subscribe to all or only to those that you care most about.
5. Next Draft
Next Draft is interesting due to the fact that it doesn't come only with tech links per se, but it mingles tech with other global topics of interest. For instance, how historical figures are seen by internet users, impactful social stories and analysis from all over the world, and usually outside-the-box articles that make you see things from a different perspective. And tech, tech is there.
This newsletter is written and curated by Dave Pell and, once you subscribe, you'll find it in your inbox every morning.
6. Exponential View
Exponential View is a nice tech newsletter that will get you occasional public posts involving an intriguing analysis or theory about the world. "Occasional" means any time but not that often. If you pay for a premium plan, you will be treated with subscriber-only posts on a regular basis.
The topics include AI, robots, technology in politics, future, society, devices, machine learning… you got it. To sum it up, innovation.
7. Fully Charged by Bloomberg
What's nice about this newsletter is that it delivers the content in a story-like manner by linking all the resources and articles together. I like this storytelling approach because it makes you read further without skipping parts, worrying that you might be missing the point. In the end, you'll also get individual links with short global technology news.
The story comes in a simple, distraction-free email layout which, even though it provides a lot of information, somehow manages to keep the content short and not crowded at all.
8. Box of Amazing
Another great free newsletter that arrives in your inbox every Sunday and brings your weekly dose of everything tech: from AI and robotics to cryptocurrency, drones, 3D wonders, apps, e-commerce, and anything that entails the evolution of our world.
The curated articles come in nice separate boxes where you can find the summary of each story. Everything is well arranged and structured in a distraction-free design. Still, if you want to read more than the short summary, you can dig deeper by clicking on the original post.
9. The Hacker News Newsletter
This is a simple newsletter that will share with you a bunch of interesting links from all across the web, so you can sort out which stories to read further. The links are put in many categories, from startup to code, design, working, long reads, fun, videos, learning resources, and more.
As you can see, this is a very diverse newsletter that will keep you informed and entertained at the same time. You'll receive the Hacker News email one time per week, but get ready 'cause you have a lot of content to go through.
10. Tedium
A twice-a-week newsletter about "the dull side of the internet". It's just that Tedium is not dull at all; on the contrary, it can be a great and helpful resource against boredom. What's different about this newsletter is that it has a personal note. The author is talking to you just like you talk to your friends. He's telling you his latest tech-related experiences, acquisitions, and why you should invest in this or that.
Everything in Tedium is conversational and you will actually feel as if someone you know is talking directly to you, sharing some practical advice with you. You will get a lot of insights about hardware so, if you're a hardware fan, you will love this gem.
11. The Information
The Information is not a newsletter per se, it's actually a news site covering all things tech that you can subscribe to. Its content is similar to what I've already presented in this list, keeping you up to date with both mundane and futuristic topics that have the power to amaze you every day.
If you subscribe for free, you will get five days of briefings, aka daily recaps from the tech world (and sometimes outside tech too). Basically, you'll get the main events of the day as seen by The Information staff.
12. Other Valleys
Other Valleys is another one of the free tech newsletters that mix economy, politics, and technology in a conversational tone. Here, you'll get a lot of links and recommendations from the author – Anjali Ramachandran – all curated and selected out of her love for this topic and the desire of staying updated with what's happening around the world.
13. CB Insights
This is for the heavy tech news consumers. From this newsletter, you will get very niche data on startups, trends, future industries, venture capital – all explained and presented with nice charts, graphs, and illustrations.
CB Insights newsletter is pretty visual and nicely organized, also inserting tweets, screenshots, infographics and all sorts of visual representation of the information. CB Insights is partly text, partly visual.
14. The Hustle
The Hustle is a newsletter that provides a lighter tech approach; it has nice stories about business, tech and culture, all written in a rather funny tone. The news is softer technology-wise but the authors make some great correlations between the hard stories and the fun element in a savory way.
15. Quartz
Another light newsletter when it comes to tech but rich in content, in general. It combines tech articles with politics, curiosities, funny stories, subjects of debates, discoveries, and a lot more. In short, Quartz will send you a daily email with brief stories about almost anything.
["source=themeisle"]