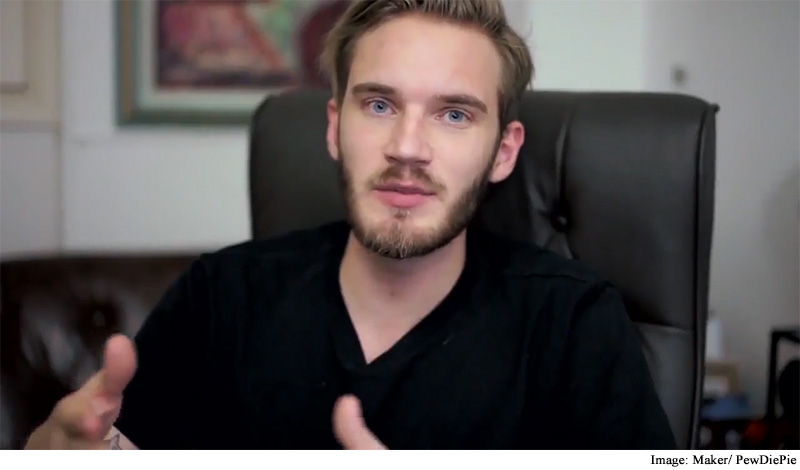 In a partnership with Disney-owned Maker Studios, Internet and YouTube sensation PewDiePie has announced the launch of a new content network called Revelmode which will feature other YouTube creators and himself in a bunch of original series among other things.
"I started as a gaming and digital-content fan long before making this a profession. The idea of Revelmode was built from my own experiences and will aim to bring together an Avengers-like talent squad to work and grow a business together," Felix Kjellberg aka PewDiePie told Variety in a statement.
He will be joined by CinnamonToastKen aka Ken Morrison, Dodger aka Brooke Lawson, EmmaBlackery aka Emma Blackery, JackSepticEye aka Sean McLoughlin, Jelly aka Jelle van Vucht, Kwebbelkop aka Jordi van den Bussche, Markiplier aka Mark Fischbach, and his girlfriend CutiePieMarzia aka Marzia Bisognin.
The nine of them together have over 75 million subscribers on YouTube itself. Swedish-born 26-year-old Felix Kjellberg is YouTube's biggest personality with more than 40 million subscribers on his personal channel and well over 10 billion views in total on his videos. It makes sense that Maker would want to capitalise on such an existing large audience, and it's positioning the new network as more than just new content.
Revelmode will also develop music, produce merchandise, and hold charity drives. And in continuation of Kjellberg's work on 2D side-scrolling platform game – Legend of the Brofist – the new venture will also focus on developing new games.
PewDiePie earned more than $12 million last year thanks to his YouTube channel, and the site's biggest stars have been expanding their ventures beyond the video hosting site. In October, Kjellberg said he would be starring in a video game-inspired reality series called "Scare PewDiePie" that would debut on YouTube's paid subscription service, YouTube Red.
["source-gadgets.ndtv"]