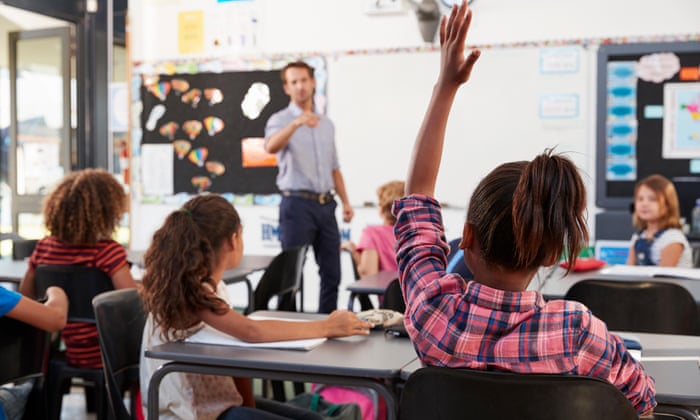 'The consultation looks at giving all teachers the chance to become leaders in their field, without necessarily taking on management responsibilities.' Photograph: Alamy
During a visit to Oakwood High School, my old comprehensive school in Rotherham, I was reminded of the role great teachers play in unlocking children's talents. It meant a lot to me to see some of my old teachers, and the visit underlined how important it is to keep more teachers in our classrooms. But to do that it is vital that teachers feel supported to progress and develop throughout their career.
Yesterday I published an action plan for improving social mobility through education. At the heart of this was a commitment to providing additional support for teachers – especially those working in more disadvantaged areas – as the key to improving our schools.
We are now launching a consultation on strengthening qualified teacher status and improving career progression for teachers. We want to find ways to attract the best and brightest people into the profession, invest in them throughout their careers, and keep them in our classrooms.
We are looking at how we can strengthen support and development for new teachers in the key early years of their career, including guidance from experienced staff who know what it's like to be starting out. To enable this, the consultation proposes potentially lengthening the newly qualified teacher period. This could give new teachers time and support to hone their skills and develop their teaching style.
The consultation also looks at giving all teachers the chance to enhance their specialist knowledge throughout their career and become leaders in their field, without necessarily taking on management responsibilities. This will help create clear and rewarding pathways for more teachers, that don't necessarily involve leaving the classroom.
We've developed these proposals with the support of experts from across the sector, working the unions, the Chartered College of Teaching and the Teacher Development Trust. Now I want to ensure all teachers have their say.
We want to make it easier for all schools to better support the development of their own staff. Not only will this help to improve the quality of teaching, but it will also help with staff retention. We are also providing further details on how to apply for the Leadership Equality and Diversity Fund next year, which aims to attract under-represented teachers, including women and those from black, Asian and minority ethnic backgrounds, into leadership roles.
The consultation builds on the work we have already done with the profession to strengthen national professional qualifications available to teachers, so they are held in higher esteem. It sits alongside our work with the Chartered College of Teaching on its new chartered teacher status.
Teachers play an essential role in discovering the talents and skills of every pupil in their classrooms, and are key to improving social mobility. Only by investing in in teachers we can truly offer every child, wherever they are, the world-class education they deserve.
["Source-ndtv"]