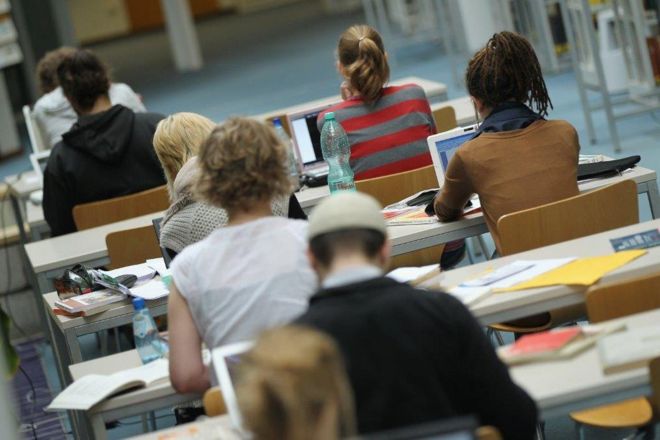 A record 33,000 students have found university places through clearing since last week's A-level results day, says the admissions service Ucas.
This figure is up 13% on the same period last year and brings the total number of people with higher education places this year to almost 468,000.
Overall, almost 44,000 people have had their places confirmed since midnight on Thursday, says Ucas.
A spokeswoman confirmed this year's clearing as the busiest ever.
The clearing total is made up of 27,900 people placed after applying through the main Ucas scheme as well as 5,400 who applied directly to clearing after the 30 June deadline, according to Ucas analysis.
The equivalent figures last year were 25,160 and 4,260.
'Don't panic'
Ucas says clearing got off to a flying start on results day, opening two hours earlier than usual, to cope with the removal of the cap which until this year has limited the number of places universities in England could offer.
Universities have been particularly keen to attract students as the change has coincided with a demographic change which means there are fewer 18-year-olds seeking places this year.
The final date for applying to university is 20 September and teenagers who may have missed their grades or are considering applying in the wake of receiving their results last Thursday, are being encouraged to use clearing.
The consumer group Which? says clearing can open the eyes of would-be undergraduates to courses and universities they might not have previously considered.
"If you still haven't secured your place at university and are looking to go through clearing, don't panic," said Alex Neill, director of policy and campaigns at Which?.
"While it can feel stressful, we found that many students found the process worked well so do your research and consider all your options."
[Source:- BBC]