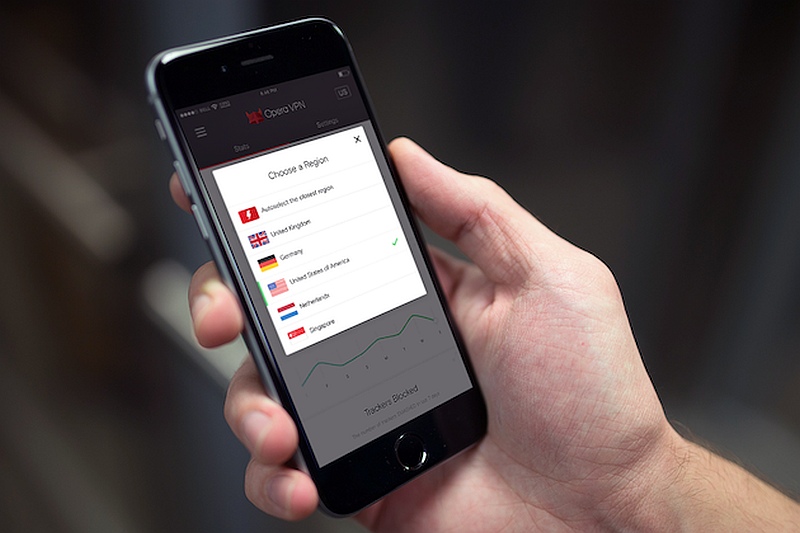 Want to access a site that's blocked in your college or workplace? Opera has launched an app to help you do that. Opera VPN is a free iOS app that will help you bypass these filters or even access websites that are restricted in your region.
Opera VPN app, now available via the App Store, lets you choose from one of five locations – Canada, Germany, The Netherlands, Singapore, and USA. This will allow you to pose as someone who's visiting any given website from one of these five nations. This, in turn, will allow you to access region-locked content. The app supports English, Arabic, French, German, Indonesian, Japanese, Portuguese, Russian, and Spanish languages.
The app comes with a built-in ad blocker too. Opera says when users enable the VPN on their iPhone or iPad, the app will remove ads across apps and browsers. This, Opera says, will help users save mobile data. The company claims that Opera VPN also prevents trackers from storing your information, meaning that ads can't follow you across the Internet.
Opera VPN is the company's first free VPN app. To recall, Opera had introduced a built-in VPN for its Windows and Mac desktop browsers earlier this year. The iOS app comes from the Surfeasy division of Opera, which the browser maker acquired in 2015. "Every day, millions of people, from students to working people, find that social-media sites like Snapchat, Instagram, and Facebook are blocked when they surf on their campus or workplace Wi-Fi. The same goes for video-streaming sites," Chris Houston, President of Surfeasy, said.
"With the new Opera VPN app, we let people bust through firewalls, break down the barriers of the web and enjoy the Internet with freedom," he added.