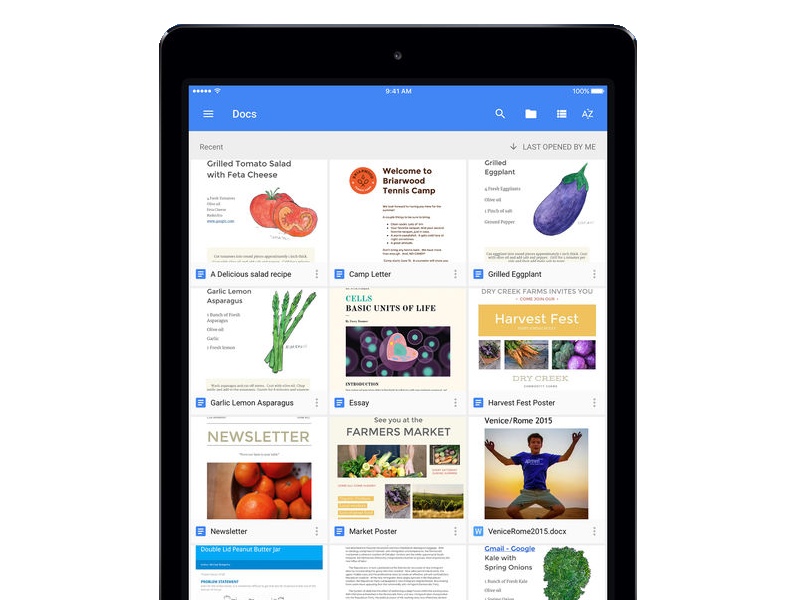 It has taken a while but Google has finally introduced multitasking support for its Drive productivity apps (Docs, Sheets, and Slides) on iOS. The Split View and Slide Over feature that Apple introduced last year with the iOS 9 made multitasking on the iPad a whole lot easier. Soon after, many developers including Google began updating their apps to support Split View and Slide Over multitasking.
Google has been slowly updating its iOS apps over the months. It began by updating Chrome to support Split View multitasking feature for iPad back in October, and also added the support for apps such as Google Photos and YouTube. In March, Google updated the Google Docs app for iPad Pro that brought native resolution support but was still missing the multitasking features.
The Slide Over feature allows users to see an app over other running apps, while the Split View feature allows the user to run two apps side-by-side in equal or adjustable windows. These features for Google Docs means iPad Pro, iPad Air 2, iPad mini 4 users can now simultaneously edit their documents and browse the net or social media apps like Twitter without having to close one or the other. The multitasking feature will make editing, researching and browsing a whole lot smoother and convenient.
Apart from the Split View and Slide Over support, the update also includes some bug fixes and improvements. The update also supports inserting images and page breaks in Docs. All three updates app are available on the App Store.
In the meanwhile, Google has also updated its Docs, Sheets, and Slides apps for Android, bringing improved table and chart functionality, reports Android Police. Users can now copy cells from a Sheets worksheet to Docs or Slides, and get a formatted table as a result. This new functionality applies to copied cells not more than 400 in number. Sheets' chart functionality has also been improved, specifically with they way they are drawn. The updated apps will roll out gradually to all users.
[Source:- gadgets.ndtv]