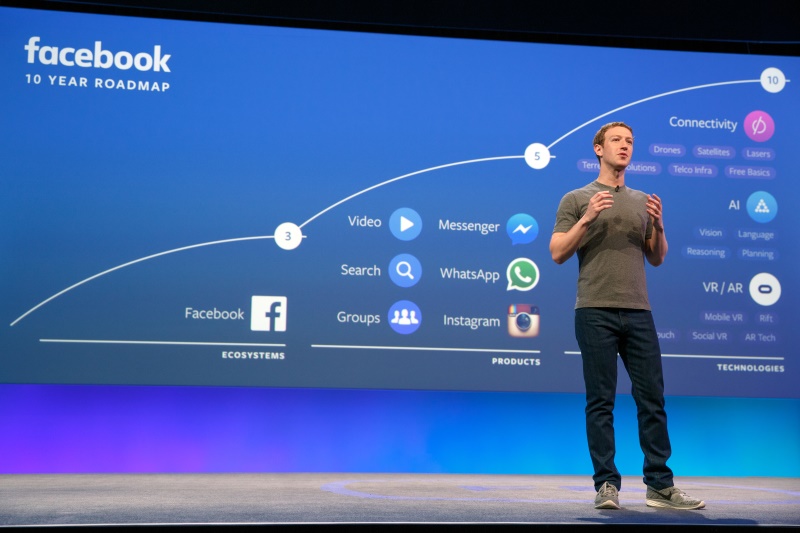 Facebook on Wednesday reported a huge quarterly profit jump fueled by strong growth in revenues and its global user base, powering shares higher for the top social network.
Net profit leapt 186 percent from a year ago to $2.05 billion (roughly Rs. 13,740 crores) in the second quarter, as Facebook blew past most analyst forecasts.
With its global base of monthly active users growing to 1.7 billion, Facebook saw a 59 percent jump in total revenues to $6.4 billion (roughly Rs. 42,897 crores), mostly from online advertising.
Facebook shares jumped 6.3 percent in after-hours trade on the stronger-than-expected results.
"Our business is growing at a healthy rate," Facebook founder and chief executive Mark Zuckerberg told a conference call, noting that the company has strategic plans for the next five and 10 years.
"Our results show our progress in our goal of making the world more open and connected."
Zuckerberg said a key part of Facebook's strategy was using video, which he said was "at the heart of all our apps and services."
Facebook used video to boost engagement and has drawn considerable interest in its Facebook Live platform that allows any user to stream live video.
Facebook has been dominating the social media space as well as related online advertising as it seeks to diversify into areas such as messaging, virtual reality and other fields.
The research firm eMarketer estimates Facebook is taking in two-thirds of social media ad revenues, trouncing rivals such as Twitter, which this week reported disappointing results.
The number of monthly active users, a key metric for social networks, grew 15 percent from a year ago, Facebook said.
Mobile, mobile and mobile
Almost all of Facebook's revenue, $6.2 billion (roughly Rs. 41,560 crores), came from advertising, and 84 percent of ad revenues came from messages delivered to mobile devices.
Facebook said it had more than one billion daily active users on mobile at the end of the quarter June 30, up 22 percent from a year ago. Monthly active users on mobile grew 20 percent to 1.57 billion.
It ended the quarter with more than $23 billion (roughly Rs. 1,54,173 crores) in cash and cash equivalents.
Zuckerberg said he sees "one of the biggest opportunities" for growth in developing countries, where high-speed Internet is not widely available.
He noted that Facebook is working to expand internet access around the world through a variety of initiatives, including its drone project aimed at bringing online access to underserved areas.
Last week, Facebook announced it had completed the first successful test of its solar-powered Aquila drone, calling it a "major milestone" for the project.
Facebook has been winning plaudits from analysts as it grows its base and extends into new services, including its Instagram photo-sharing service, messaging applications and its Oculus virtual reality gear.
"Facebook remains a top pick for us, given its position as the largest/most engaging mass-reach Internet platform for advertisers, unmatched targeting potential, and very potent monetization formats," said a note this week from Cantor Fitzgerald analysts.
"Mobile has been the main driver of growth to date, video and Instagram should start moving the needle more meaningfully in the second half of 2016."
RBC Capital Markets analysts said in a research note they see room for Facebook to grow further.
"Facebook still has many growth levers left to pull, not least of which is video advertising," the analysts wrote.
Facebook said earlier this month it was ramping up availability of its Oculus virtual reality gear.
Oculus began selling its Rift virtual reality headsets earlier this year for $599, a price that does not include the cost of a computer that can handle the processing and graphics demands of the technology.
Oculus is also increasing inventory at US shops.
[Source:- gadgets.ndtv]