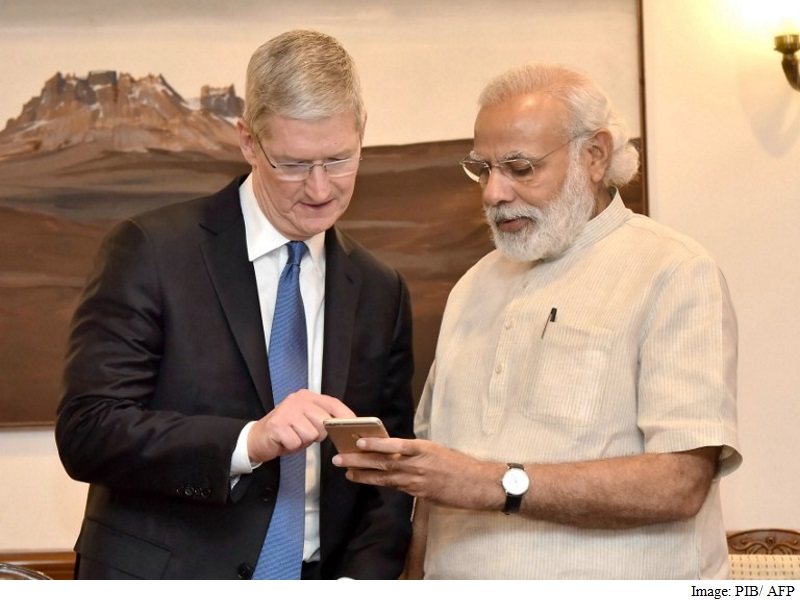 On his maiden trip to India, Apple CEO, Tim Cook on Saturday met Prime Minister Narendra Modi and launched an updated version of the Narendra Modi Mobile App for iPhone.
"Thank you @tim_cook! Friends, welcome and happy volunteering. Your views and efforts are always enriching," Modi tweeted.
Cook replied: "Thanks PM @narendramodi for a great meeting. Already looking forward to next visit to India. Best wishes on the app!"
The updated version contains a new volunteering network on the app. "I am delighted to share that Mr Tim Cook launched an updated version of the 'Narendra Modi Mobile App'. Thank you, Mr.Cook," said Modi in his tweet.
Apple CEO Tim Cook has had a whirlwind tour of India thus far, meeting telecom operators, Bollywood stars, inaugurating the Maps development centre in Hyderabad, and also speaking with NDTV in an exclusive interview.
In his interview with NDTV, Cook spoke about everything from the company's India strategy, to how much the country had influenced former Apple CEO and co-founder Steve Jobs.
Cook said India was one of Apple's top priorities for the next decade, and that the company was investing "enormous energy" in the country. Apple was thinking of long term prospects in India, he said, adding, "we are here for [a] thousand years."
As for plans to open Apple Stores in India, Cook said that though it wasn't a "done deal" yet, the company had applied for the right to do so and was working closely with the government to achieve that goal.