The head of one of England's largest academy chains says creating more grammar schools will do little to raise standards.
Jon Coles, chief executive of United Learning, which runs 60 schools, says the government has failed to explain how the plans will help most children.
He told the BBC the success of schools in London had shown that non-selective schooling could work.
The government said there would be strict conditions on new grammars.
Mr Coles says it is clear the government is facing "significant political opposition" from within the Conservative party and from other parties to plans to allow more schools to select by ability.
'Pass or fail'
Mr Coles, who is also a former director general of schools for the Department for Education, says there is little evidence that increasing the number of grammar schools will have much impact.
He says he is concerned about what will happen to children who do not get a place in grammar schools.
"They've said they don't want to it to be a return to the 1950s, they've said they don't want it to be a return to the binary system of pass or fail.
"Yet they've given no visible means of support to that yet."
Prime Minister Theresa May announced plans to expand the number of schools in England that would be allowed to select by ability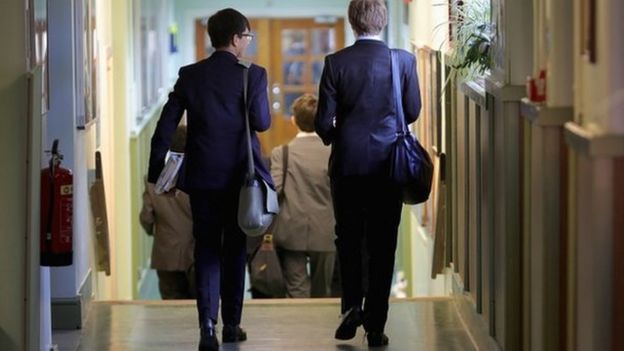 This could mean all state schools being allowed to introduce selection "in the right circumstances" and where there is demand
But new selective schools would have to meet access conditions, such as taking a share of pupils from low-income backgrounds, setting up a new non-selective secondary or primary school or backing an underperforming academy
Like many other academy chiefs, Mr Coles said he was surprised by the scale of the plans for more selection, but few have been prepared to voice their concerns publicly.
It is academy trusts that are being asked by the government to take on the running of schools in challenging and deprived areas.
He and other academy chiefs argue the new grammar policy is a distraction from raising standards across the system.
Struggling
Mr Coles led the improvement of schools under the London Challenge programme, which resulted in schools in the capital – many of which were previously struggling – to perform about 10% better than most of the rest of England.
"I think it asks a lot of questions – why aren't people as angry that we're not learning the lessons of the London challenge as they are about grammar schools."
In the climate of post-referendum politics, he says the key question is how to galvanise change in working-class communities that feel left behind.
"So people who feel they're struggling to get by, who want something for their children, we don't put them in a position where they're hoping they're the one in three that get through the test.
"We have to put them in a position where they're part of the 100% who get something better."
The Department for Education said: "These proposals are about creating more good schools in more areas, giving every child the opportunity to fulfil their potential so we can build a country that works for everyone.
"The binary system is one of the past and, as set out in the consultation document, we are clear that relaxing restrictions on selective education can and should be to the betterment, not at the expense, of other local schools."
[Source:- BBC]